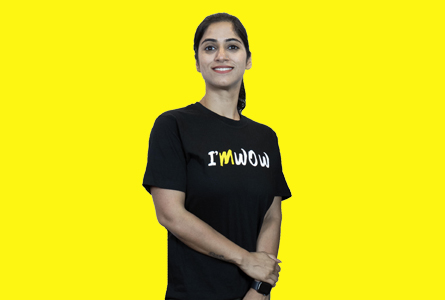 Founder's Message
Until I discovered the secrets of Healthy Living, I was an overweight and under-confident person who could not even wear clothes of her choice. But now, I just don't feel physically fit but I feel more confident and Positive than ever! So from my own experience and learning's I decided to launch this simple and effective "Transformation Program" for you.
Gunjan Taneja: Founder I'MWOW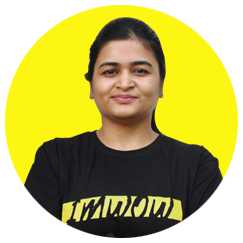 Aditi Agrawal
Hey, I am an expert Nutritionist who is certified in Dietetics Health & Nutrition Education. I have experience in transforming people for over 4 years now with medical conditions like Thyroid, PCOD/PCOS, Hypertension, or Cholesterol problems. I believe in following a diet plan that is sustainable, includes taste with health, and of course, that suffice appetite.
Ankita Rawat
I am Ankita- your fitness and lifestyle coach. I have done UG &PG in clinical nutrition and dietetics. As a dietitian I have worked in hospitals, health clubs and educational institutions. I will not just take care of your diet, but I love to help people by improving their overall lifestyle that remains with them forever. According to my clients I am passionate, empathetic and patient towards them and above all an active listener.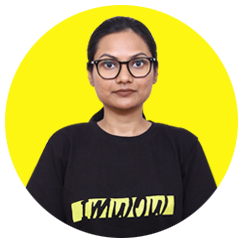 Ankita Srivastava
Hey, I am Ankita and a certified dietitian and lifestyle coach. I have helped clients with a wide range of nutritional needs to enhance their athletic performance, improve their physical and mental health, and make positive lifelong eating and exercise behavior changes. I am also is a certified heart failure counselor, and hold a certification from the International Diabetes Federation for Prevention of Type 2 Diabetes & Cardiovascular Disease. I have also given talks on an array of nutrition related topics at colleges, health fairs, health and community centers, and corporate sectors across India. Apart from this I am a state level classical Kathak dancer who loves travelling and doing Yoga.
My motto is: "Be Smart - Eat Smart - Live Smart"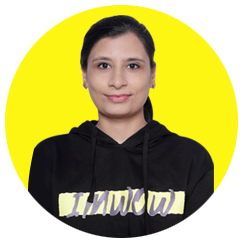 Bhumika Sharma
I'm Dt. Bhumika Sharma from Mumbai. Certified in Dietetics, Health and Nutrition Education. I have an experience of working in the hospitals too. Working with Imwow since its foundation and handled 2000+ clients with 99% success rate. So, from now onwards your goal is my goal. Let's start this journey together.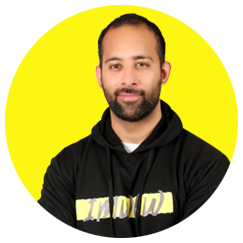 Chetan
I am a certified personal trainer, fitness expert, and sports nutritionist. Also, I have attended workshops in core blast training. I have 5+ years of experience and transformed 800+ clients till now. I not only believe in transforming people physically but also mentally. At I'MWOW, we not just provide diet and exercise plans but also change people's lifestyles and boost their confidence. Skills: Weight training, weight loss, inch loss, fat loss, muscle gain, strength training, core training, Stronger Body, improving workout, diet planning, exercise technique, breathing pattern, and many more Expertise: Muscle gain, weight loss, old age, PCOD, PCOS, diabetes, thyroid, hypertension, teenagers, weight maintenance.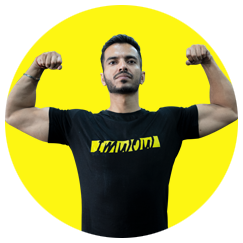 Rajinder Singh
Hi!! I am Rajinder Singh, I am certified from INFS in a Nutrition and fitness expert course. I specialize in the area of Fat loss, muscle gain, and General well-being. I have been training people for more than 7 years. To me, fitness is a lifestyle and instead of a choice, it's our responsibility to keep our bodies healthy and fit. One size doesn't fit all, hence I focus on building a training plan according to your goals and lifestyle. I will help you to achieve your desired fitness goals, so let's start your fitness journey today toward a healthy life.
Reetal Godhwani
Hello, I am Dt. Reetal Godhwani, a qualified nutritionist from India with an M.Sc. degree and a Diploma in Food and Nutrition. With five years of professional experience, I have had the opportunity to assist more than 1000 clients in achieving their health goals. Contrary to popular belief, I am not the food police, nor do I intend to pass judgment on what you eat. My primary objective is to educate and empower you to make healthier choices without resorting to strict diets or restrictions. I firmly believe that life revolves around food, and it should be enjoyed. Throughout my career, I have successfully supported clients dealing with various health conditions, such as PCOS/PCOD, diabetes, thyroid disorders, blood pressure issues, low fertility levels, liver and kidney disorders, gastrointestinal tract problems, heart-related concerns, and providing guidance for pre and postpartum nutrition as well as post-chemotherapy diets. I am passionate about improving your overall well-being through proper nutrition. Together, we can work towards achieving your health goals while embracing a balanced and fulfilling relationship with food. Let's embark on this journey of learning, growth, and healthy living together.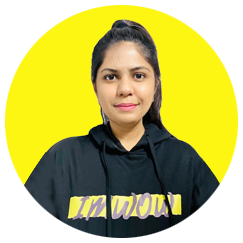 Richa Kakwani
Hey, I am Dt. Richa Kakwani, an expert in making concise meal plans based on specific dietary needs to help you get into shape and achieve health goals. I am certified in Intermittent fasting, cardiovascular disorders, diabetes, morbid obesity, therapeutic diseases and sports nutrition.
After having an experience of more than three years, I firmly believe that health is a conscious lifestyle choice and is necessary for longevity and long-term happiness.
Shraddha Kapil
Greetings, lovely human! I'm a certified Dietitian with expertise in chronic diseases, weight management, therapeutic nutrition and gut health. I am passionate, reliable, diligent and possess the depth knowledge and experience that consistently benefits the patients and clients under my care. I take great pride in my ability as a dietician to successfully educate and persuade people to develop strong habits that have a lasting, positive impact on their lives. Therefore let's adequately fuel our body so that it can function effectively. Get ready with this health friend of yours to embrace balance inside and out!
Surbhi Rajpoot
Hey there, everyone! I'm Surbhi, a clinical nutritionist with a passion for all things related to food and workouts. With a Master's degree in Nutrition and Dietetics, I am dedicated to promoting self-care as a vital aspect of our daily lives. My mission is to accompany you on a transformative journey towards a healthier and happier version of yourself. By providing personalized support and guidance, I aim to empower you in making informed choices that benefit your body, mind, and overall well-being. Whether your goals involve weight management, increased energy levels, or simply achieving overall wellness, I am here to assist you. I offer practical strategies, delicious recipes, and evidence-based advice to help you reach your desired outcomes. Together, let's create a harmonious balance between physical and mental well-being. Every day, we will strive for greatness, embracing the power of nourishment and self-care. Get ready to embark on a fulfilling journey towards a healthier lifestyle!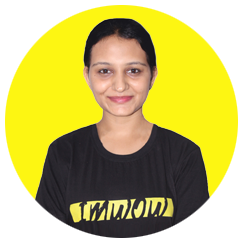 Vidhi Rajesh Parekh
I'm Dt Vidhi Parekh. My goal is to educate and help people about food and its nutrition and how our body consumes it to keep you fit. I want to make them aware that being just slim or maintaining a particular weight isn't enough to make you healthy. Health is related to all aspects, not just the food and body but also having good peace of mind. I strongly believe in " Being healthy and fit isn't a trend, It's a routine lifestyle one should follow.
Disclaimer
The nutritional content of food items is mentioned as per the Indian food composition tables published by the National Institute of Nutrition, India.
All our nutrition and workout coaches are highly certified and have been practising in their respective fields for years. All copyright trademarks, and other intellectual property rights in the app and its content (including programming, exercise descriptions, fitness programming, video-guided workouts, graphics, photography, and all software and source code connected with the app are owned by or licensed to IMWOW or otherwise used by IMWOW.
None of the content may be downloaded, copied, reproduced, transmitted, stored, sold, or distributed without the prior written consent of the copyright holder - IMWOW.