Jasma
I would like to Thankyou my coach reetal for being there for me the last 24 weeks when I started my journey with pcod in these 24 weeks I cured my pcod lose weight I feel more energized whenever I need help reetal is there for me she always motivates me thankyou reetal Thankyou Gunjan Thankyou team imwow ??????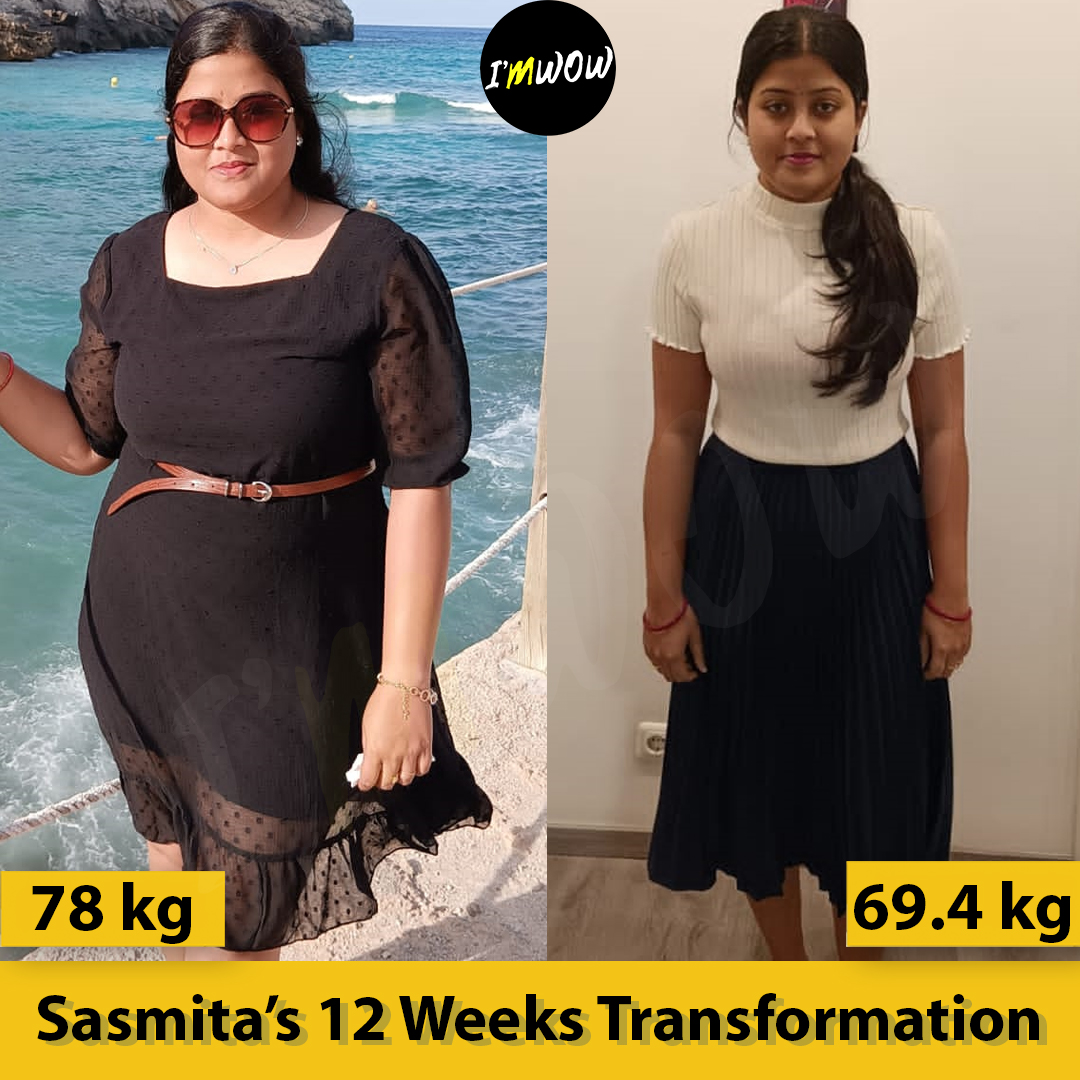 Sasmita Das
Thank you Richa (my coach), Since I have been training with you, I have more energy, I sleep better, and I feel better about myself. Thank you for being flexible with your schedule, and ensuring I get the most out of the time I have with you. You take great care of me and I am thrilled to be on this fitness journey with you!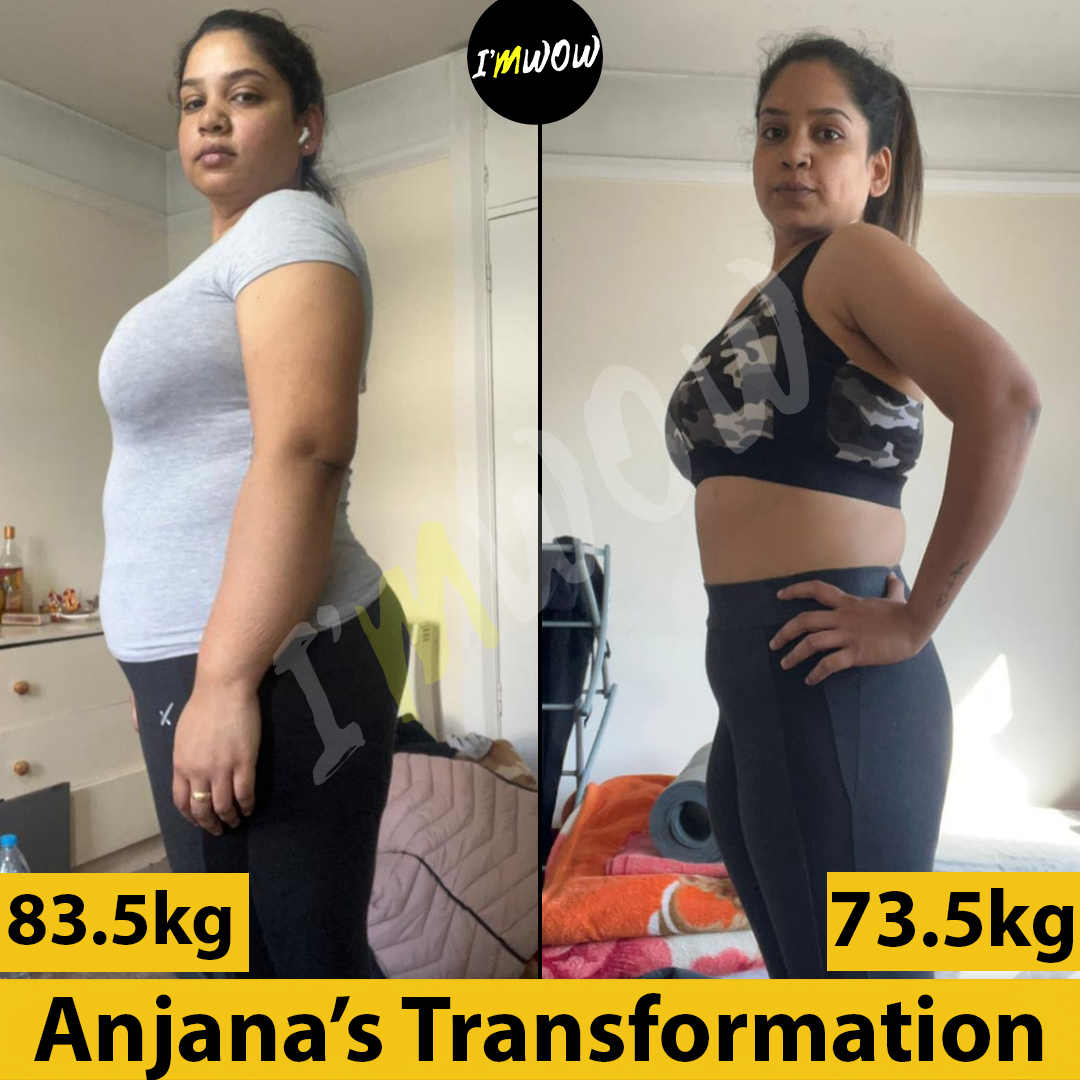 Anjana Kumari
I wanted to express my deepest gratitude for your guidance in my weight loss journey. Thanks to your diet plan and support, I have lost an incredible 10 kilograms. Your expertise and motivation have been instrumental in my progress. I have started new plan under your guidance and feel incredibly motivated. Your belief in me has inspired me to set higher goals, and I'm confident that with your continued support, I will achieve them. Thank you for teaching me the importance of healthy choices and nourishment. Your dedication is truly commendable, and I'm grateful to have you as my guide. Thanks a lot Richa and I'MWOW for your continuous support!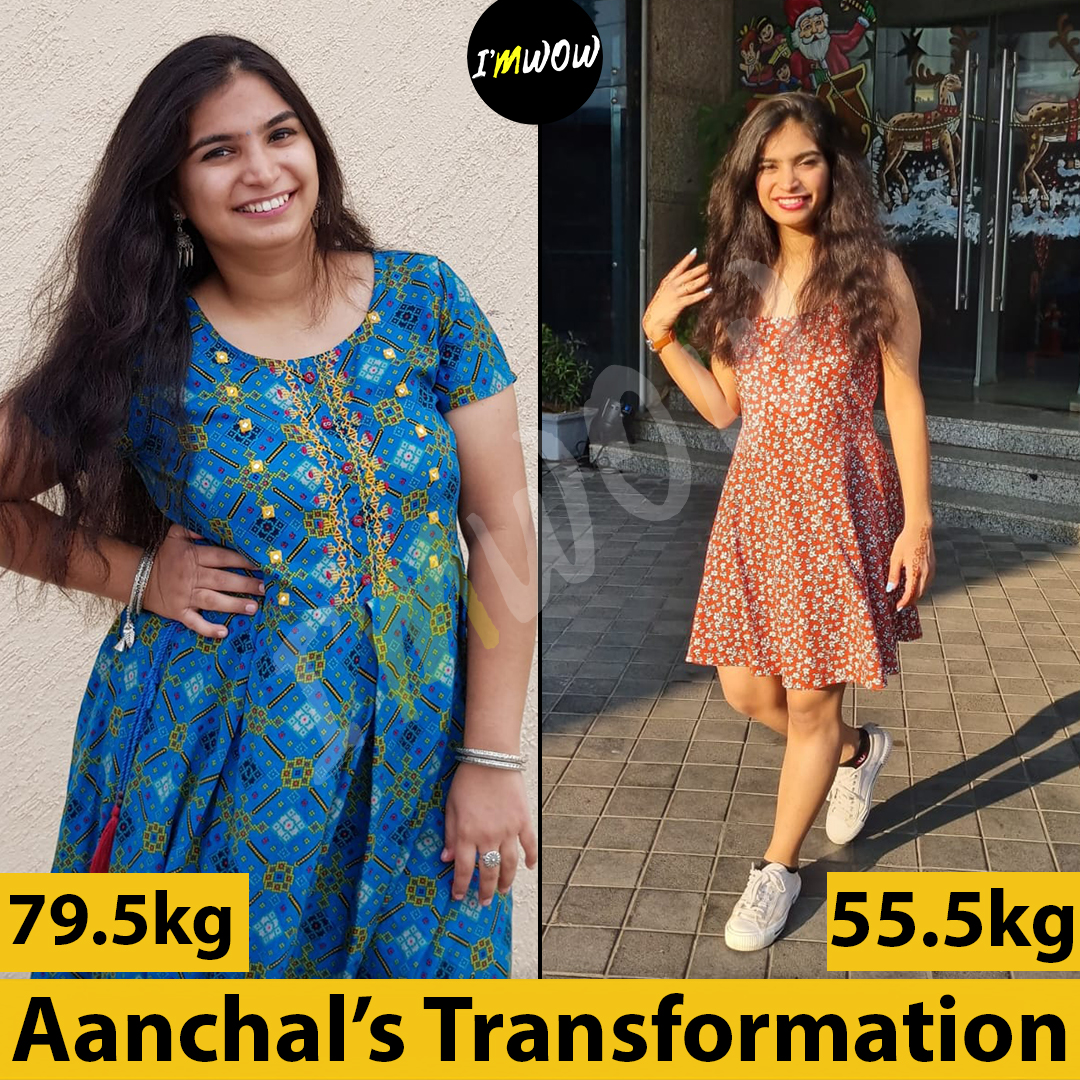 Aanchal Tejsinghani
IMWOW is a really good program. Even on being on weight loss journey, I didn't feel like I was on diet ??. Enjoyed it and could see loss in my weight and inches ?. My Coach Shreshta was always there for me and guide me in the right direction ?. Thank you Shreshta ?. And big thanks to Gunjan ma'am ???. Also it is because of this program I could loss almost 25kgs ?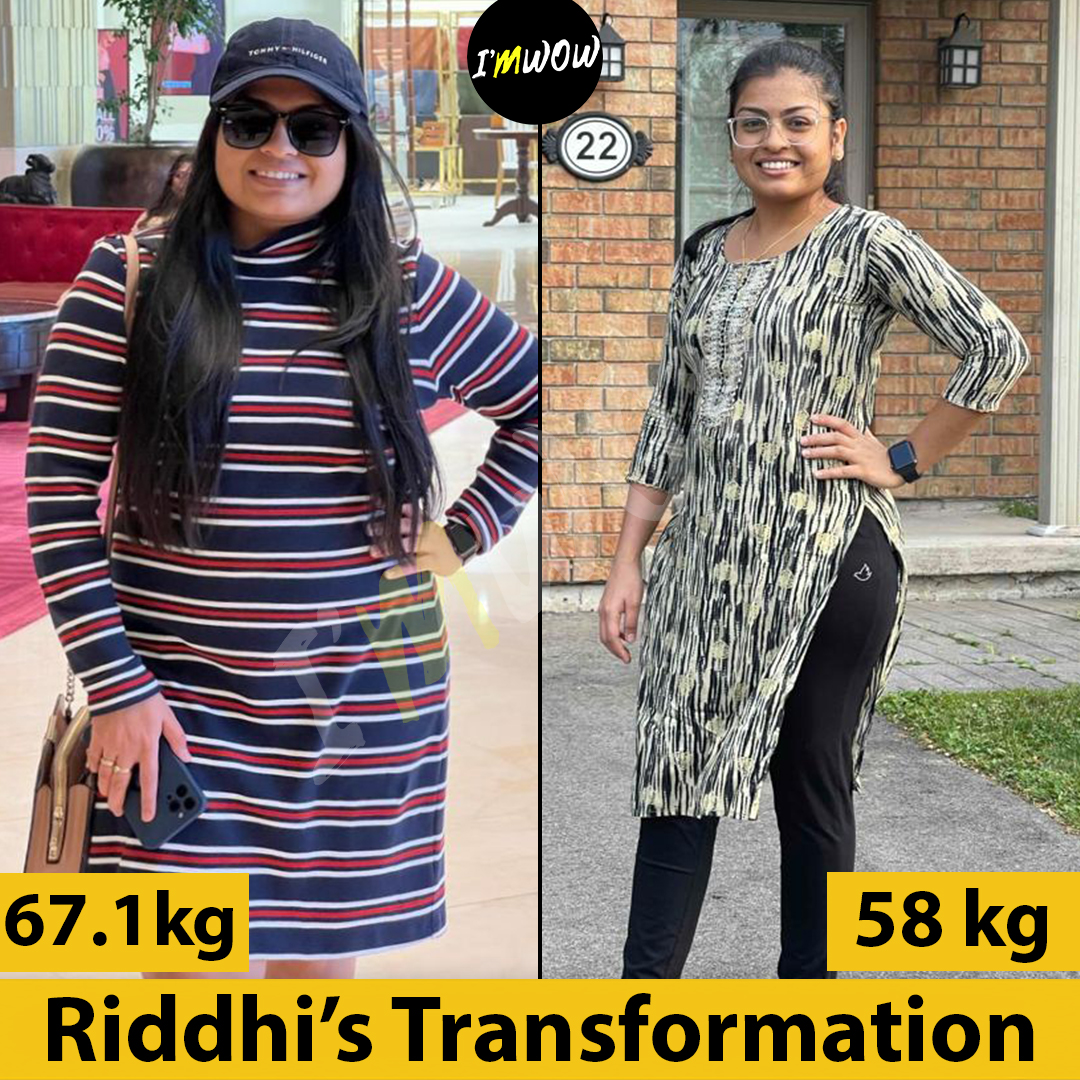 Riddhi Swami
Thanks a bunch to Gunjan for building up I'm wow app and very good team, Thanks a lot to my coach Richa and team I'm wow for always being there for me. It's been 12 weeks now from when I started my journey and I've lost 10 kg and good inches. Thank you Richa for designing diet plans according to my needs and fulfilling my cravings. Thank you for following up with me regularly. I never felt that I'm on restricted diet, I enjoyed almost everything what I craved for through all over my journey. I had pasta with cheese, bread pizza, suji halwa, kheer, mango and many more things, what normally is not expected while you're on restricted diet, and still lost weight. I never felt alone in my journey, Richa was always there for me if I had any questions, if I need motivation, if something happens to my health she gets me the solutions regarding that as well. She keeps pushing me up, making me more confident and making my mindset more powerful to archive my goal. Very pleased to have Richa as my coach. Now I feel like I should be enrolled forever.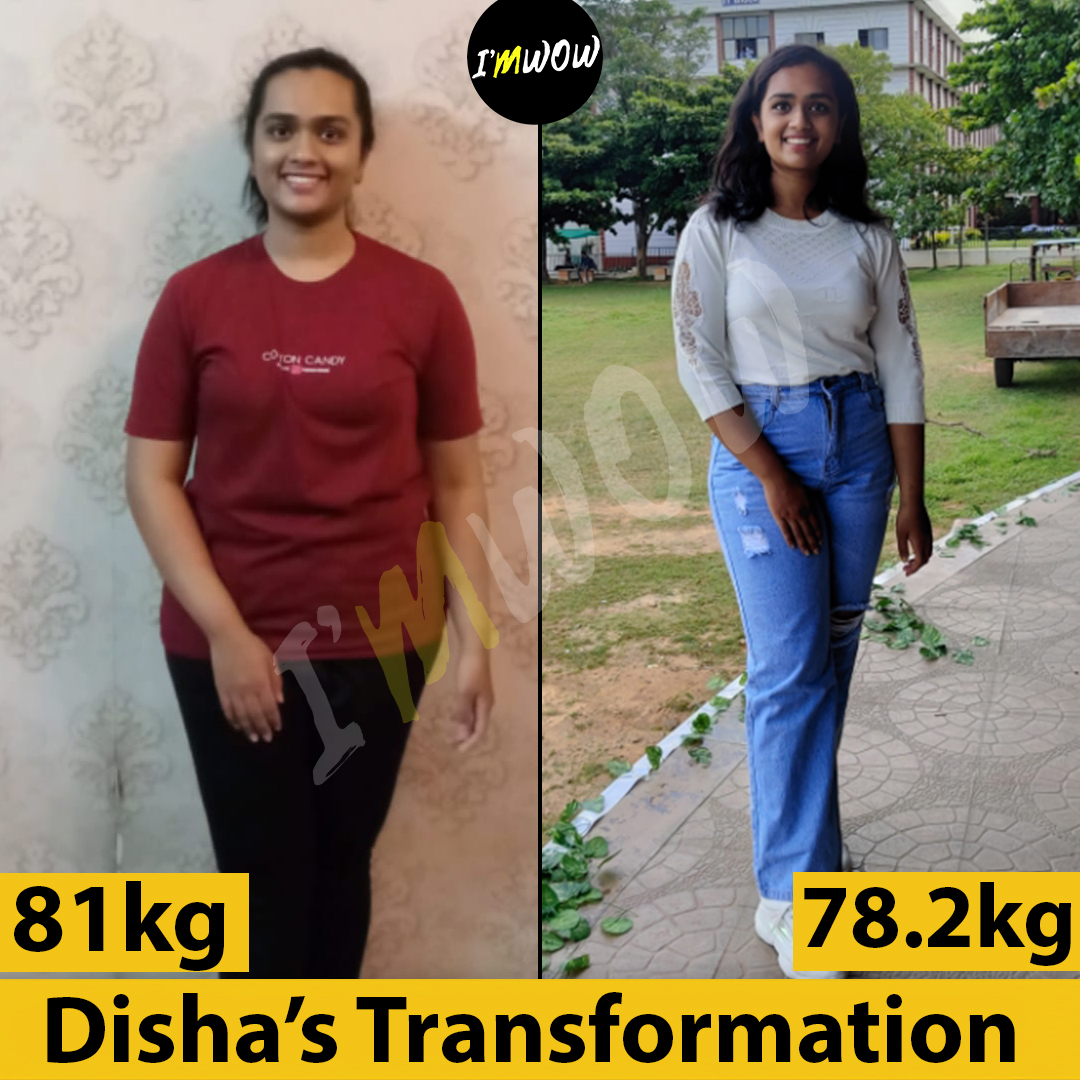 Disha
During weight loss, many people always said you need to eat only salads and nothing else but here the diet meals were so amazing got to enjoy pancakes and pasta too. Always thought i had to avoid them but here. I got to know you can make a healthy version of it. None of the meals were boring. I enjoved it a lot and finally today |lost 4 kgs. I was 82kgs in the beginning now with proper guidance i am 78.2 learned a lot during the journey.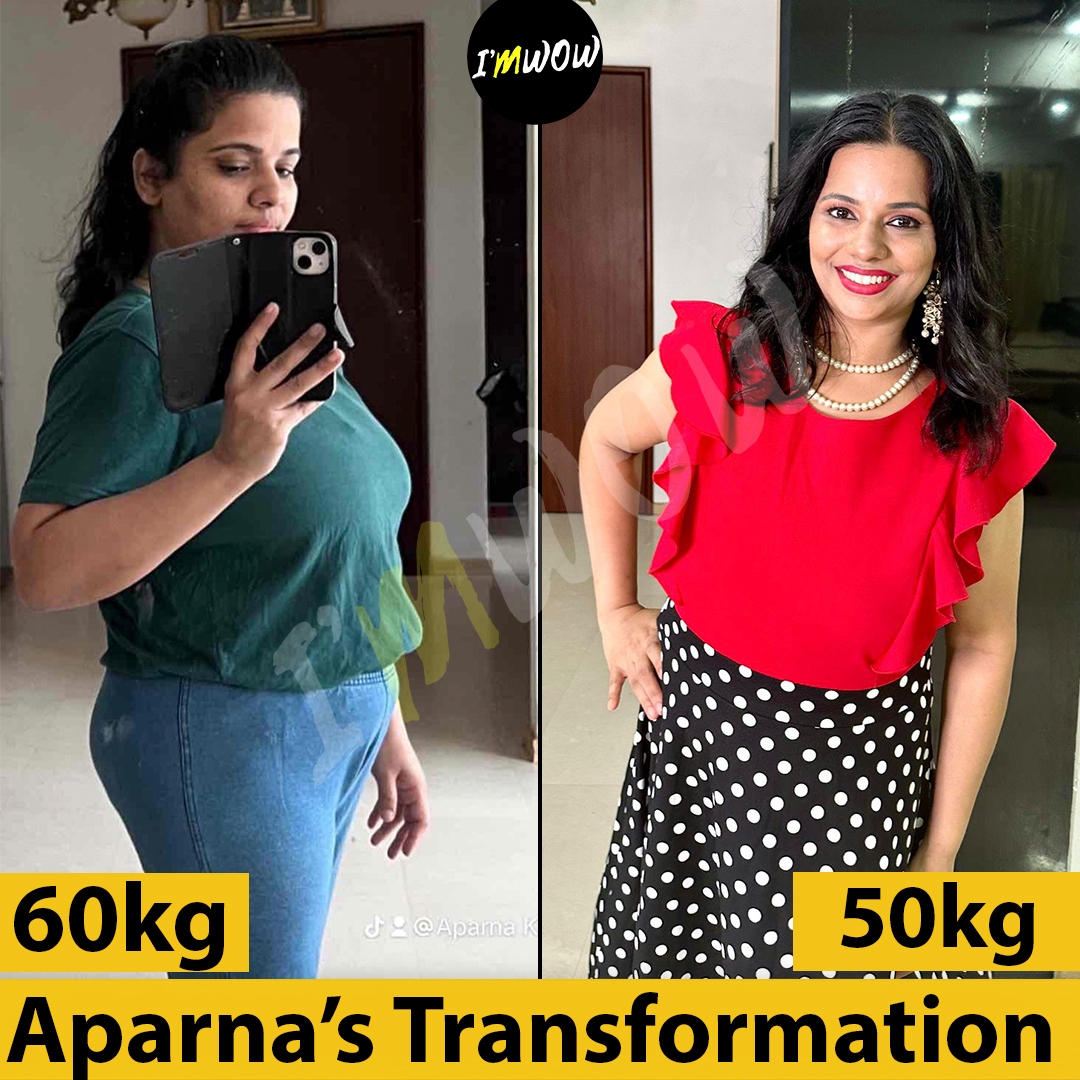 Aparna Karthik
I've lost a remarkable 10kgs thanks to the I'MWOW personalised diet plan services you provided! Your guidance, tips, and constant motivation have been incredible. You've steered me towards a new lifestyle, and now I feel healthier and more confident than ever before. From the bottom of my heart, thank you, Coach! I'm eager to achieve more goals, and I know I can count on your continued support. Keep up the fantastic work!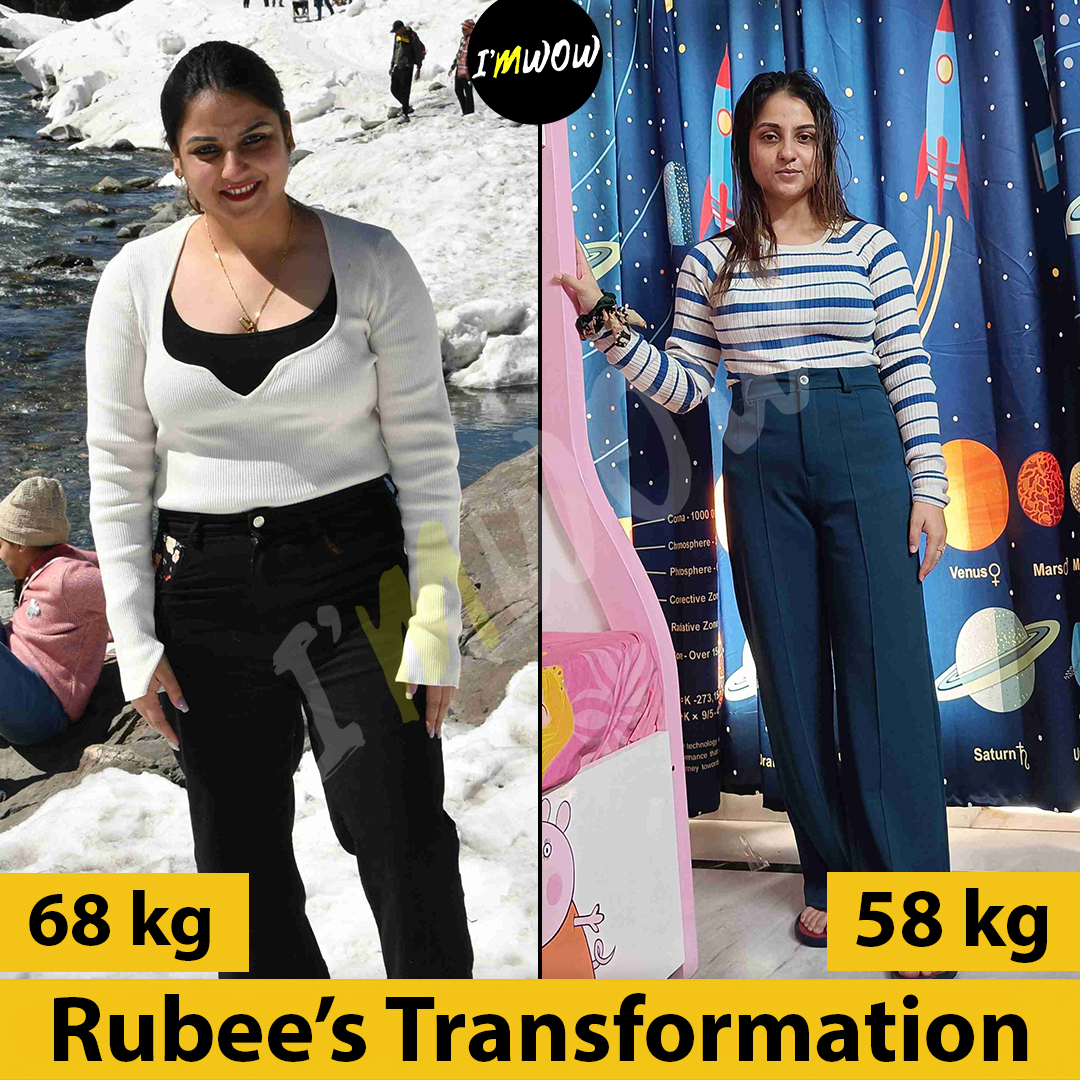 Rubee Begum
Thanks to your phenomenal I'MWOW customised diet program, I've achieved incredible results. I'm thrilled to share that I've successfully shed 10kgs, going from 68kgs to a fabulous 58kgs! But that's not all, I had been battling skin allergies for so long, and guess what? Your diet plan worked like magic, and I'm finally free from those irritating allergies too! Your expertise, care, and dedication have made this journey smoother than I ever imagined. Thank you for being my rock throughout. You've transformed not just my body but also my overall well-being. I'll be forever grateful!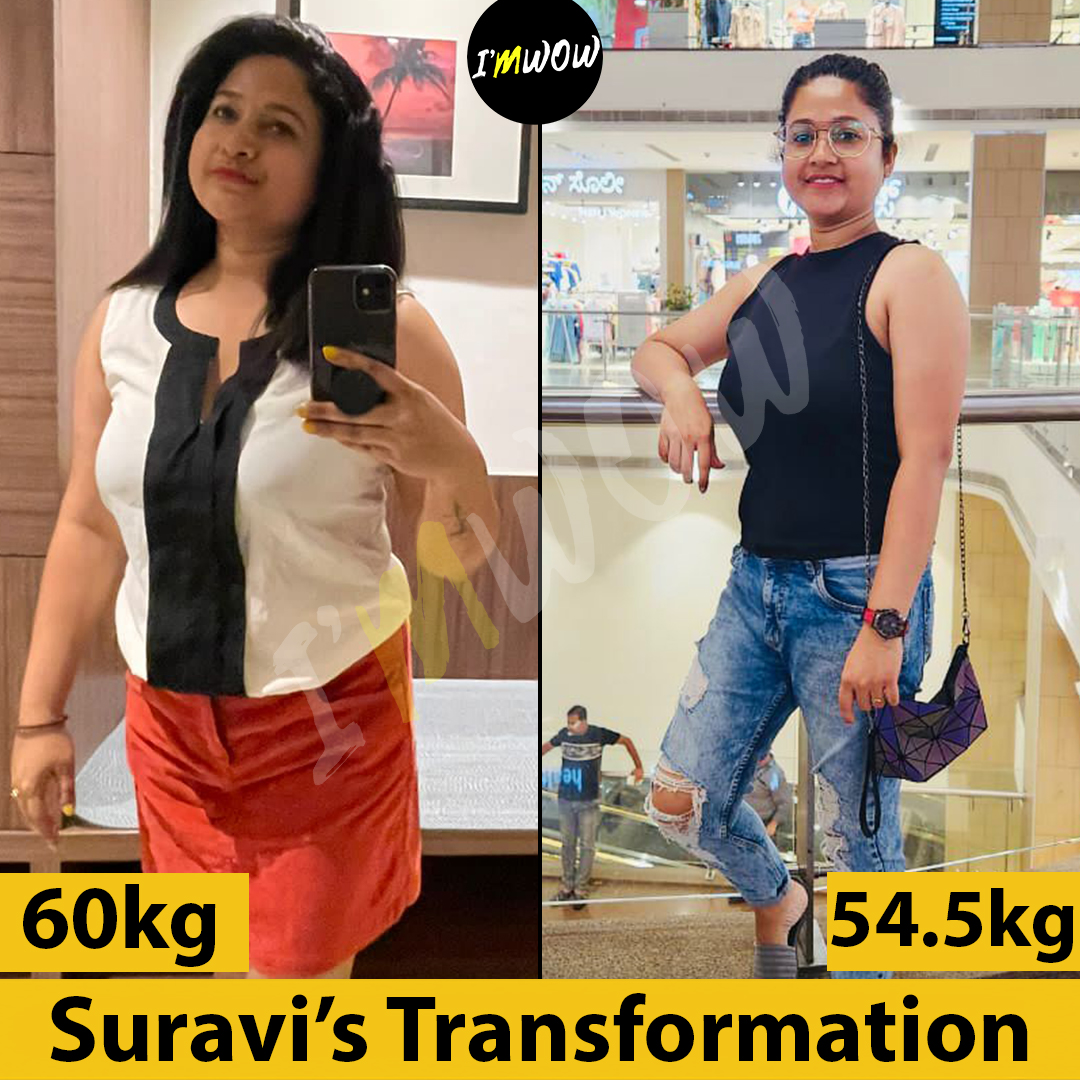 Suravi Banerjee
Thank you iamWow and My best and lovely coach Vidhi . My journey along with you was very nice. I have learnt good food habits & quantify food count. When I started my weight was 60kg now I am 54.5kg. Specifically thanks to my coach Vidhi?? Every week we had our vertual call. She always encouraged me. Overall my experience was really good and improving. Future again wants to walk with you.. Thank you Coach Vidhi? &IamWow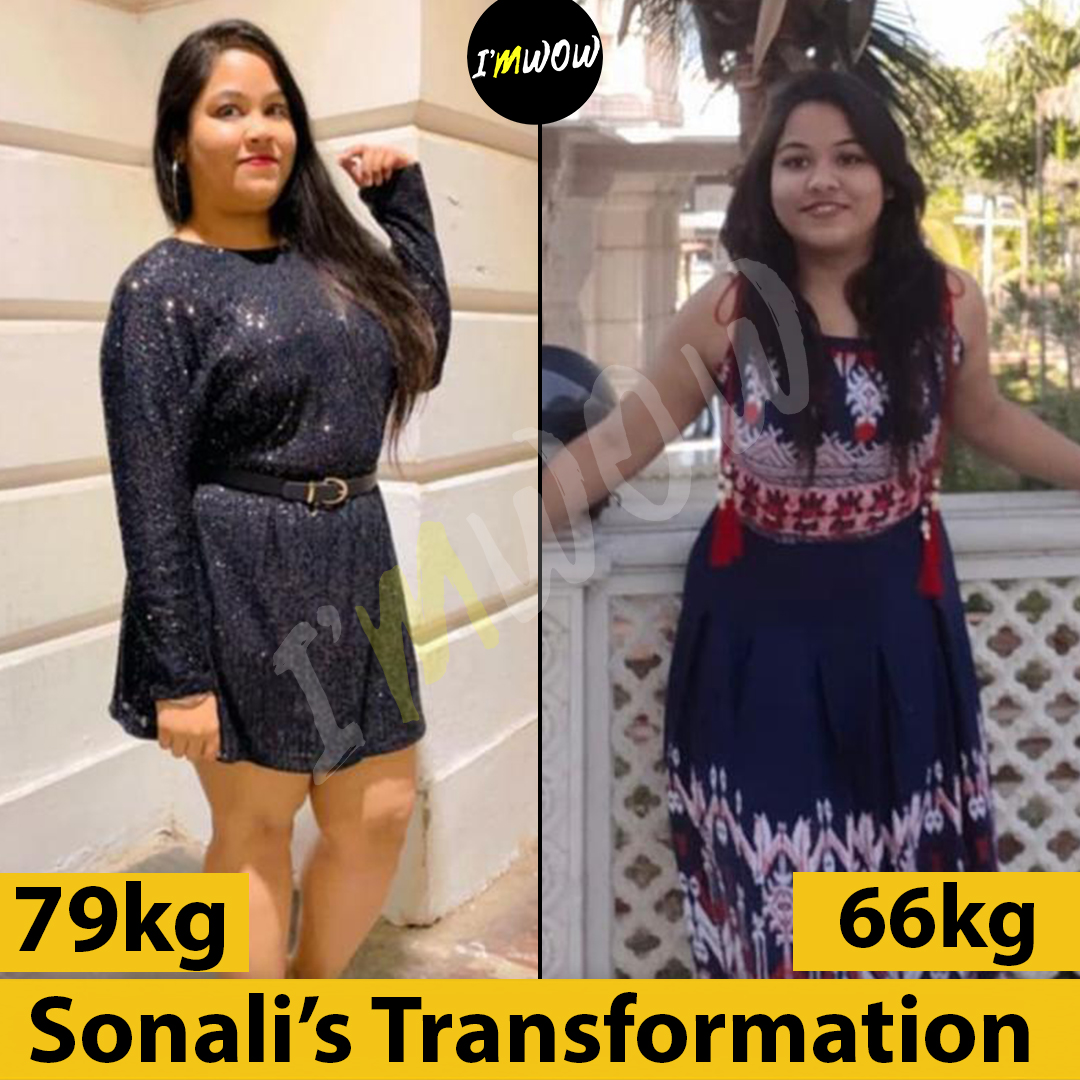 Sonali Shreshtha
I would like to thank you from the bottom of my heart for the change u brought in my lifestyle by ur tips and guidance… I lost almost 14 kg in 3 months.. all thanks to your sessions… The biggest change you have made is in my outlook towards food… I am glad that I made the decision of consulting imwow and these 3 months have changed the way I eat food… Thanks for making me a healthier person …. Thanks a lot and best wishes to u….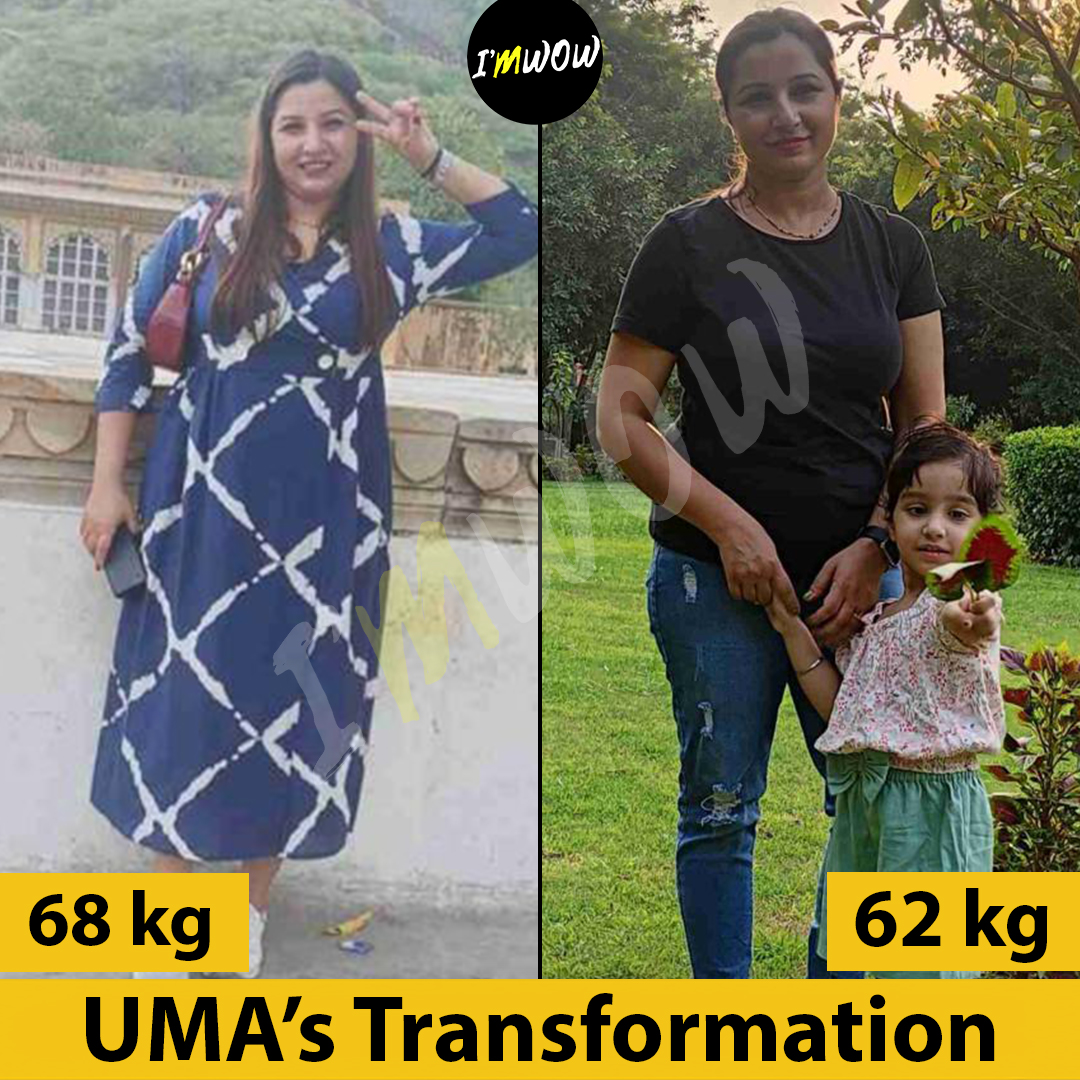 Uma Adhikari
I wanted to take a moment to express my heartfelt gratitude for the incredible transformation I've experienced under your guidance and the I'MWOW customised diet program. Living and working in the fast-paced city of New Delhi, I was struggling to maintain a healthy lifestyle. But thanks to you, I've achieved something remarkable – I've shed 6kgs and now weigh 62kgs, feeling fitter and more energetic than ever before!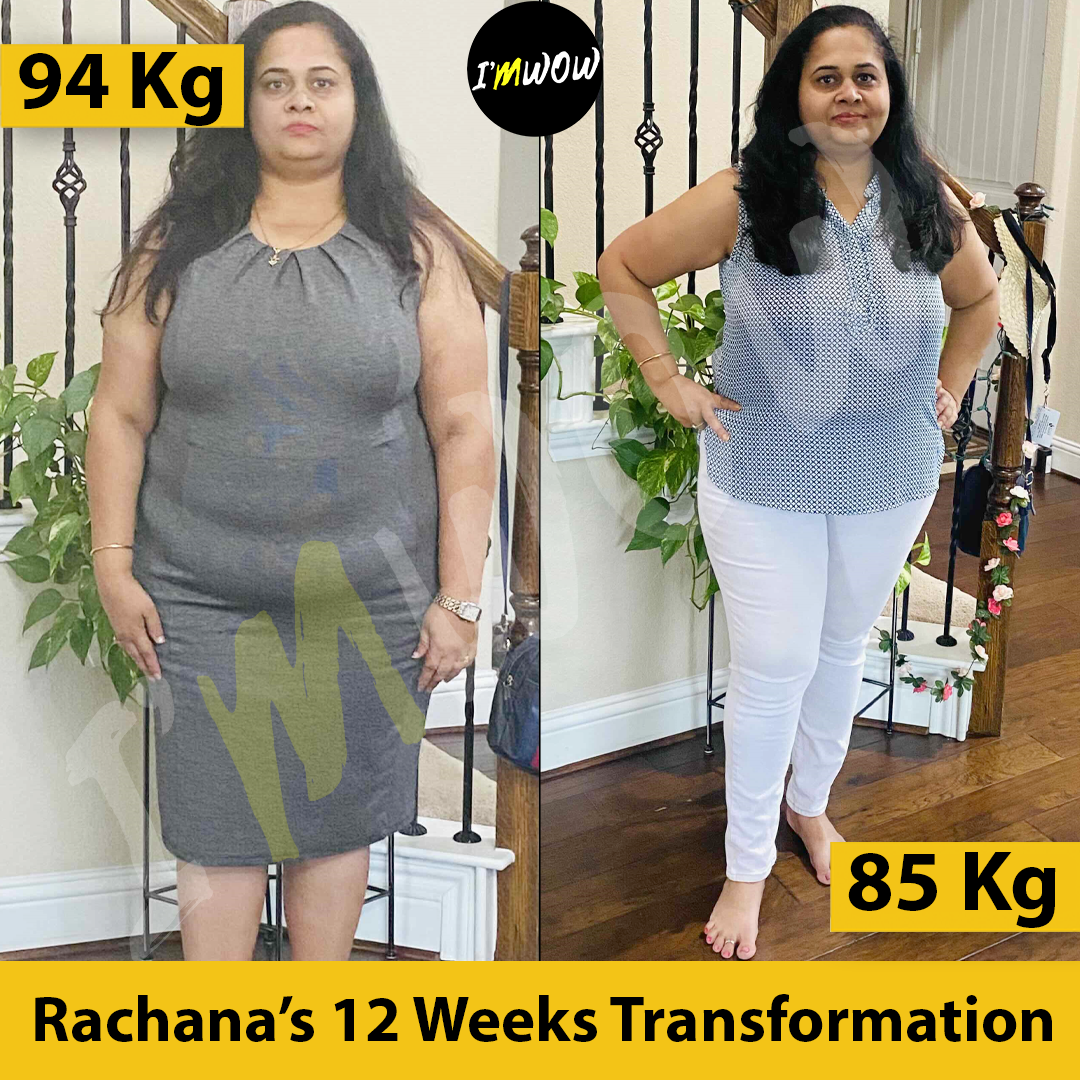 Rachana Nath
Awesome journey.. being 46 years old mom of two teen kids with hypothyroidism. Coach Ankita did a fabulous transformation. I never went for any diet plan just don't want to do any crash courses that have after effect on my health. I came across IMWOW by chance, which helped me balance my food habits and routine. I lost almost 20 pounds in 12 weeks and a lot of inches from all over. Thank you IMWOW and coach Ankita for helping me lose stubborn fat even with my hypothyroidism. I can eat and I can lose weight too.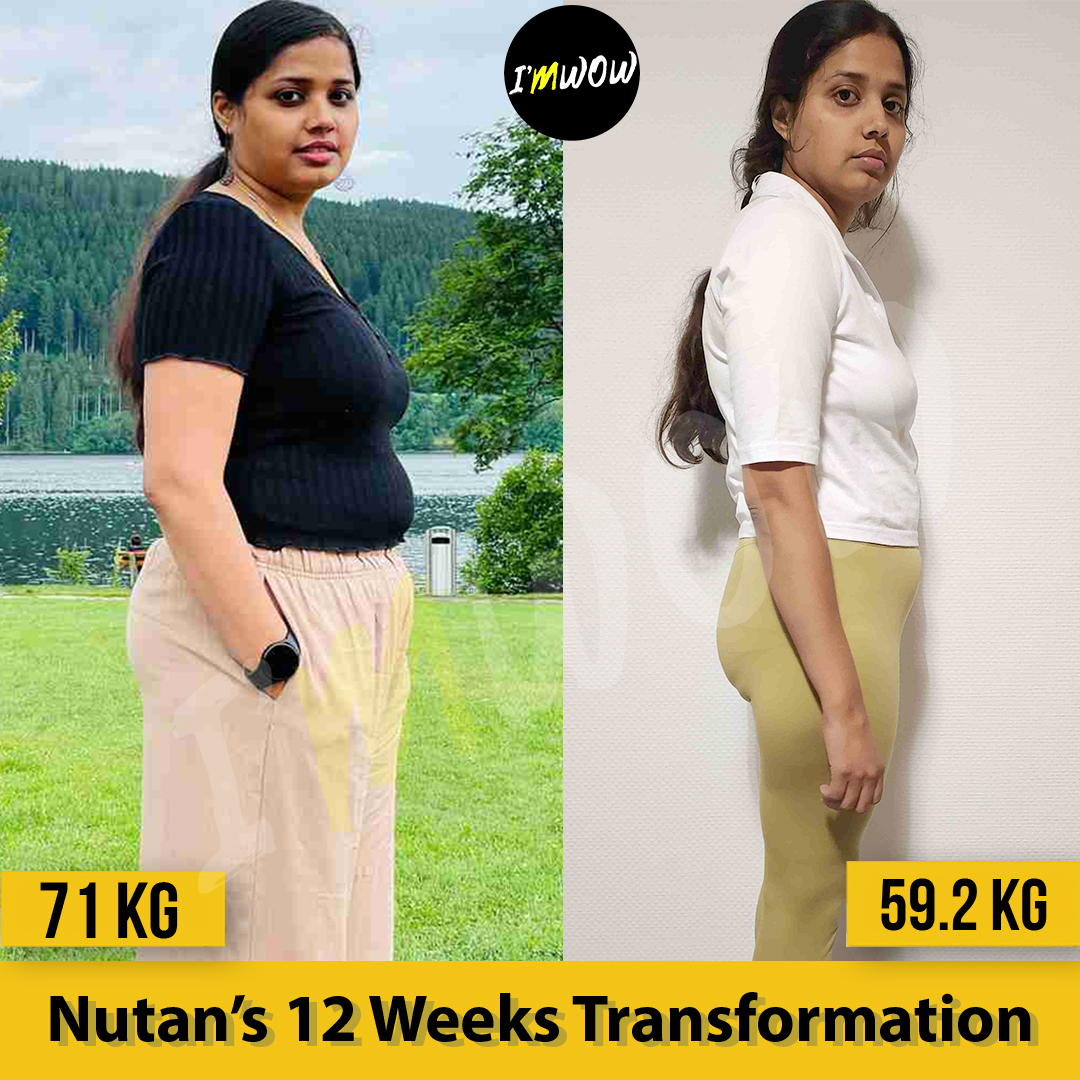 Nutan Chaturvedi
Hi I am Nutan Chaturvedi I am Thankful to my Coach Richa the IMWOW team and my family Using this app and diet plan allowed me to lose almost 11 kg I Can clearly see the difference in me I did not just lose weight and inches but also changed my junk lifestyle to a healthy lifestyle This happened because of my diet plan workouts and recommendations from my Coach Richa for special occasions A big thank you to Coach Richa for such an exciting diet plan I was never bored with my diet plan as it was always interesting I will for sure recommend this to my family friend I started this diet plan at a weight of 71 kg now Im at 592 kg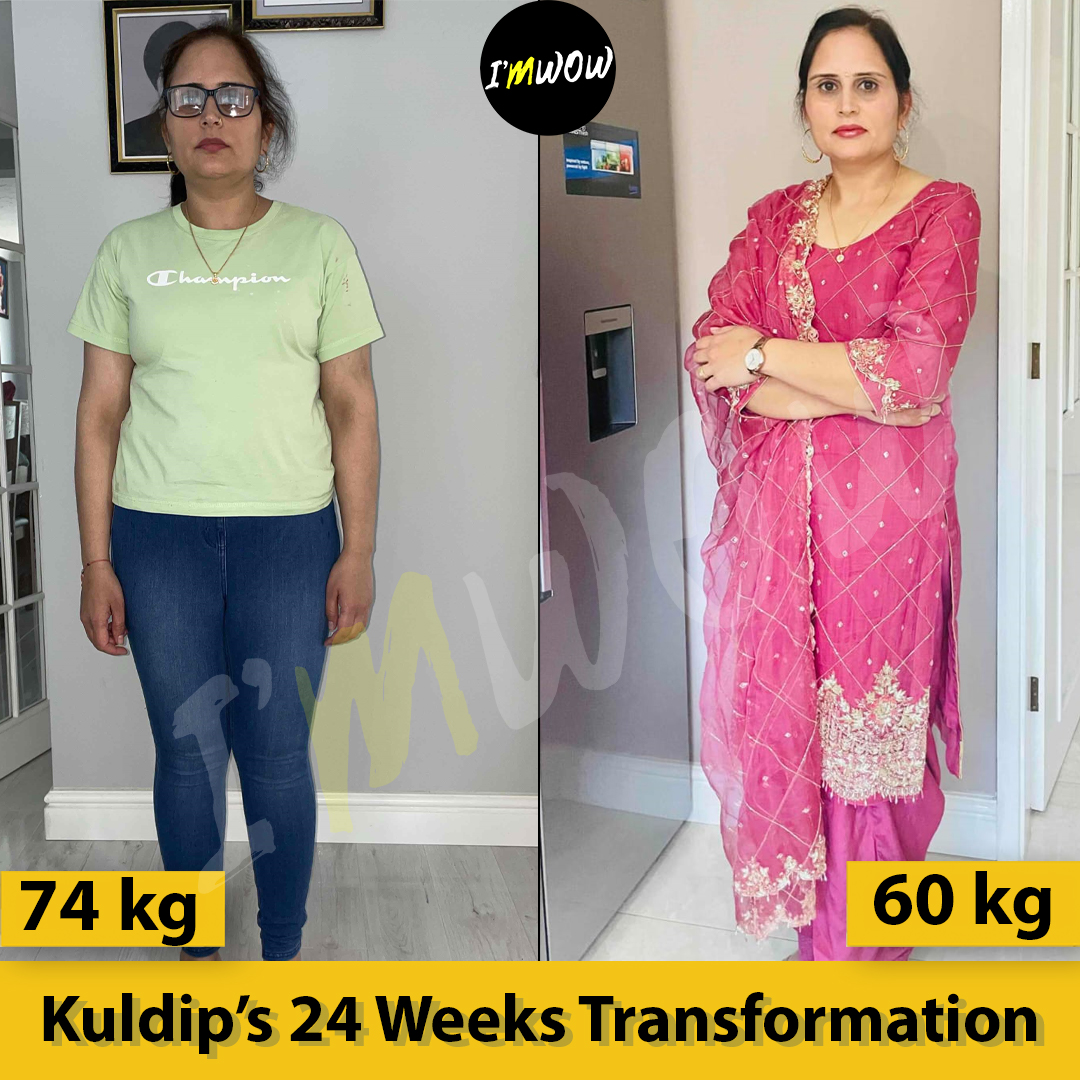 Kuldip Kaur
The diet plan has helped me lose lots of weight in a very healthy way. I am more energized, more productive, and more positive. I never used to eat oil and ghee at all and now I can eat these things casually without worry. There are many food options I have always felt satisfied with my meals and have not gone hungry. Dietician Bhumika has been very patient with me and I have also enjoyed all the normal meals I have treated myself to at weddings, events, or just going out. Nothing has stopped me from losing weight and I want to deeply thank the IMWOW team, from the bottom of my heart. I have learned so much about food and dieting correctly. I am confident in maintaining my weight now. Thank you very much, Bhumika!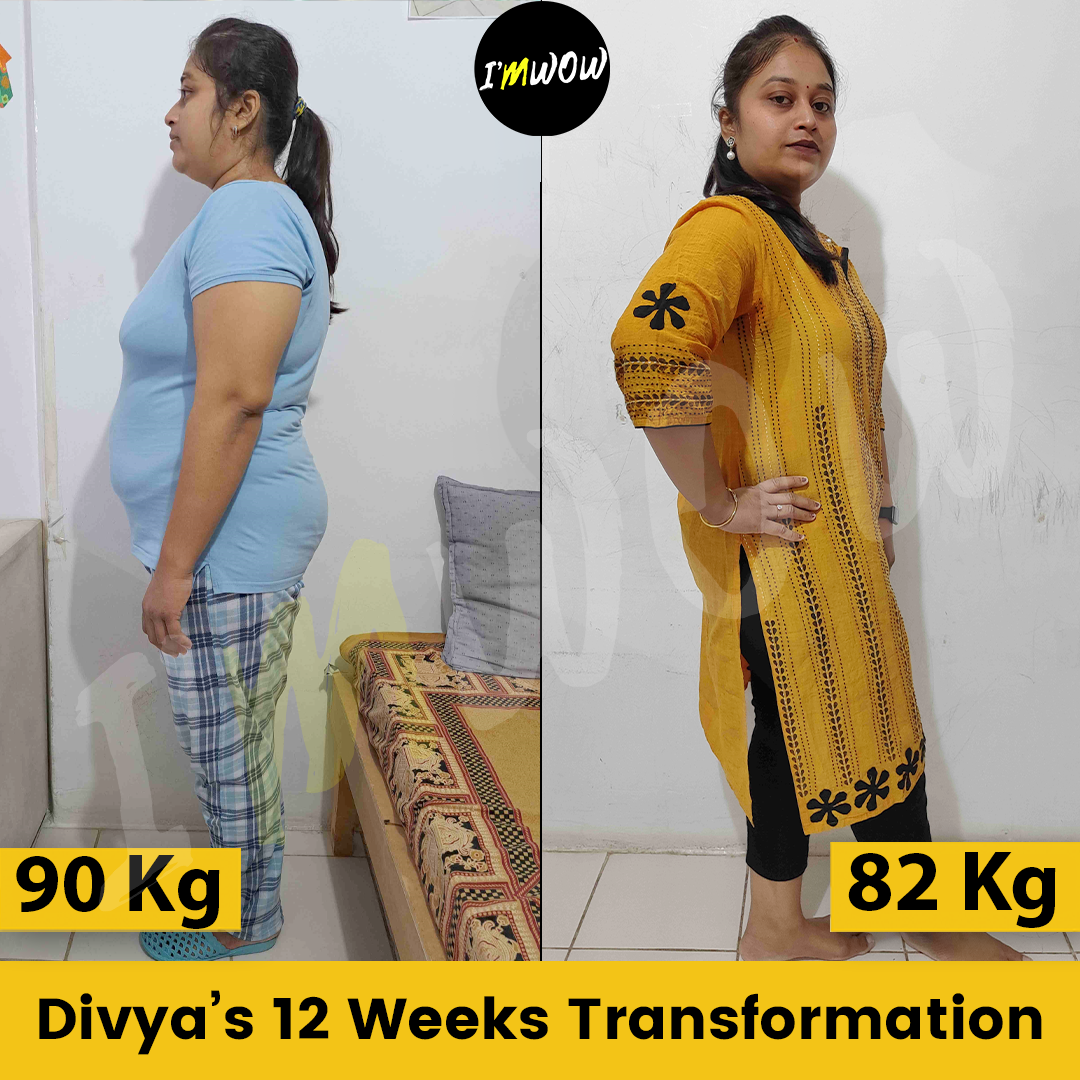 Divya Tejaskumar
Thank u so much Bhumika di. You are a wonderful guide. I enjoyed these 3 months program. I was satisfied with this diet plan and exercises I am so happy about this journey because of your constant guidance and motivation. you are very helpful and your nature is very good. Again thank u Bhumika di.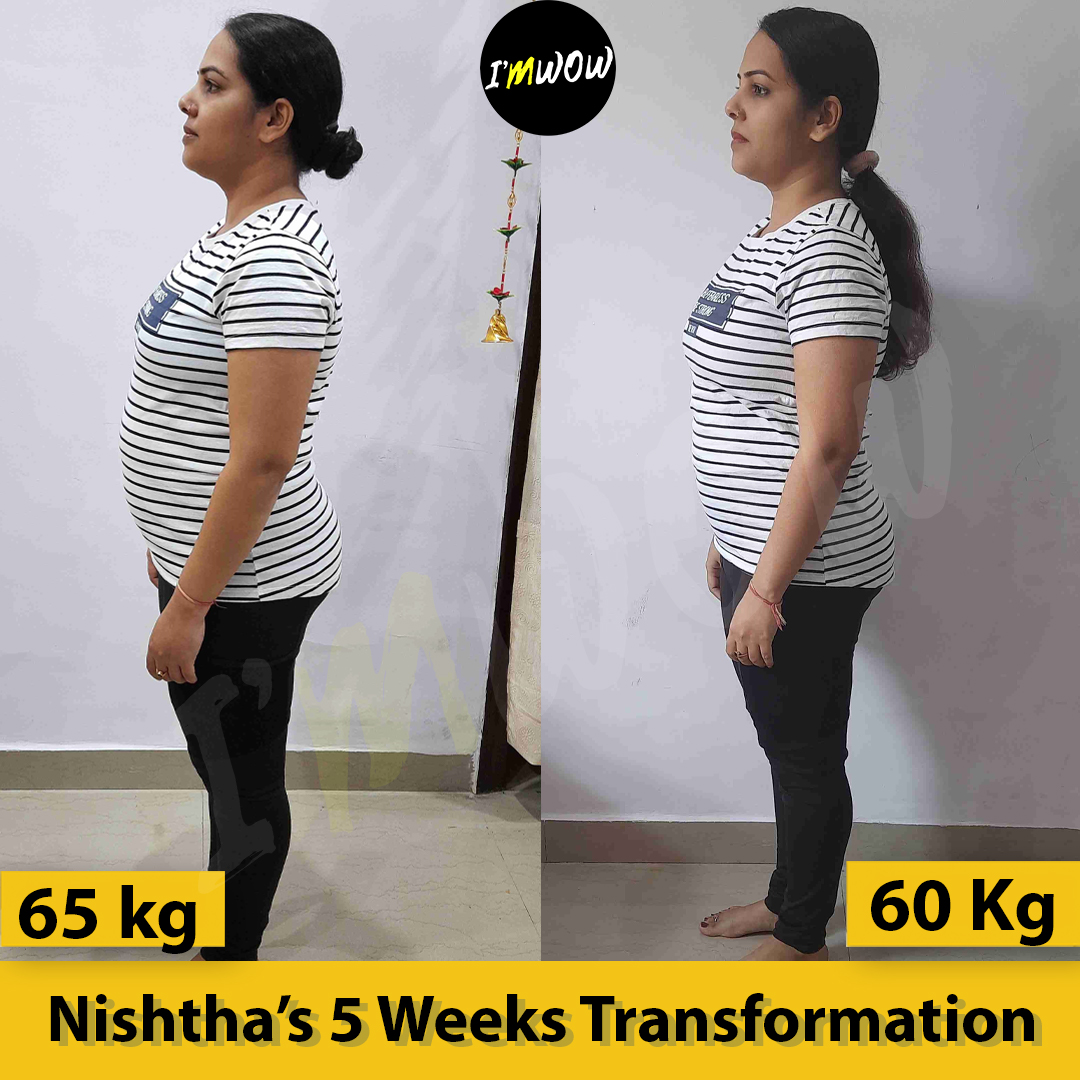 Nishtha Sharma
Hi Coach Aditi, Thank you so much for your guidance to make my weight loss journey that easy. I have learned so many things during my plan like it's not good to skip a meal for weight loss. Because many people do this mistake usually. I have shredded 5 kg weight in 5 weeks. I am feeling more confident and motivated. My diet plan included very tasty recipes that I have got the opportunity to make for the first time. And there was not any hunger ness or cravings like something. My Coach Aditi had considered all the aspects of my health while creating the diet plan. Thank you once again. Also, I wish to continue with the plan.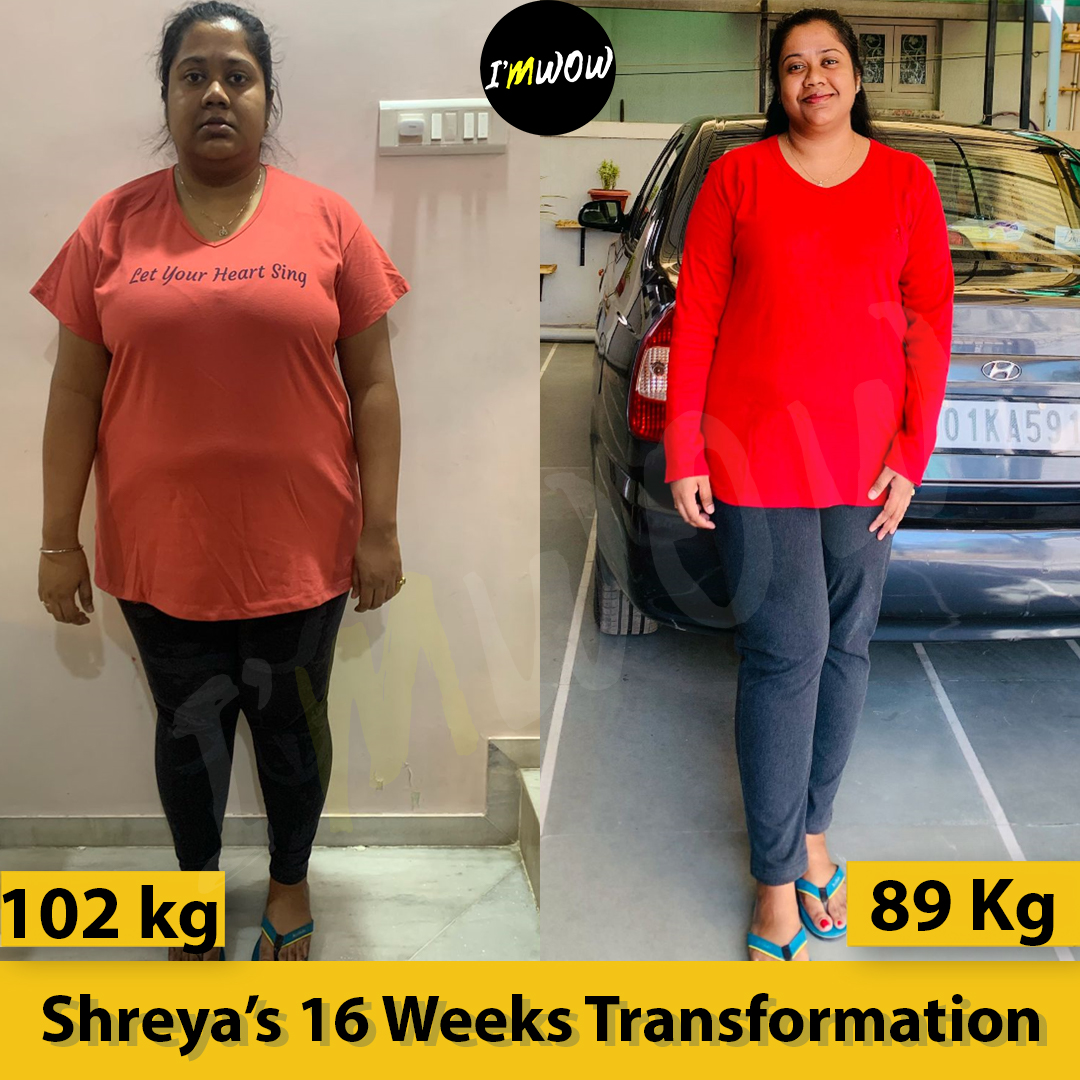 Shreya Verma
Hey Aditi, I am really thankful to you for suggesting intermittent fasting. I have lost weight in the last week and surprisingly this time it has not been very difficult to follow the plan. I plan to continue intermittent fasting for the coming months. Because of your guidance, I have been able to reduce 13 kgs in a span of 4 months which in itself is a huge achievement for me. Thank you for showing me faith when I myself didn't think I had it in me to do this. Yes, I have lost a few more kgs also and my periods have also become regular since the last 4 months. All thanks to you.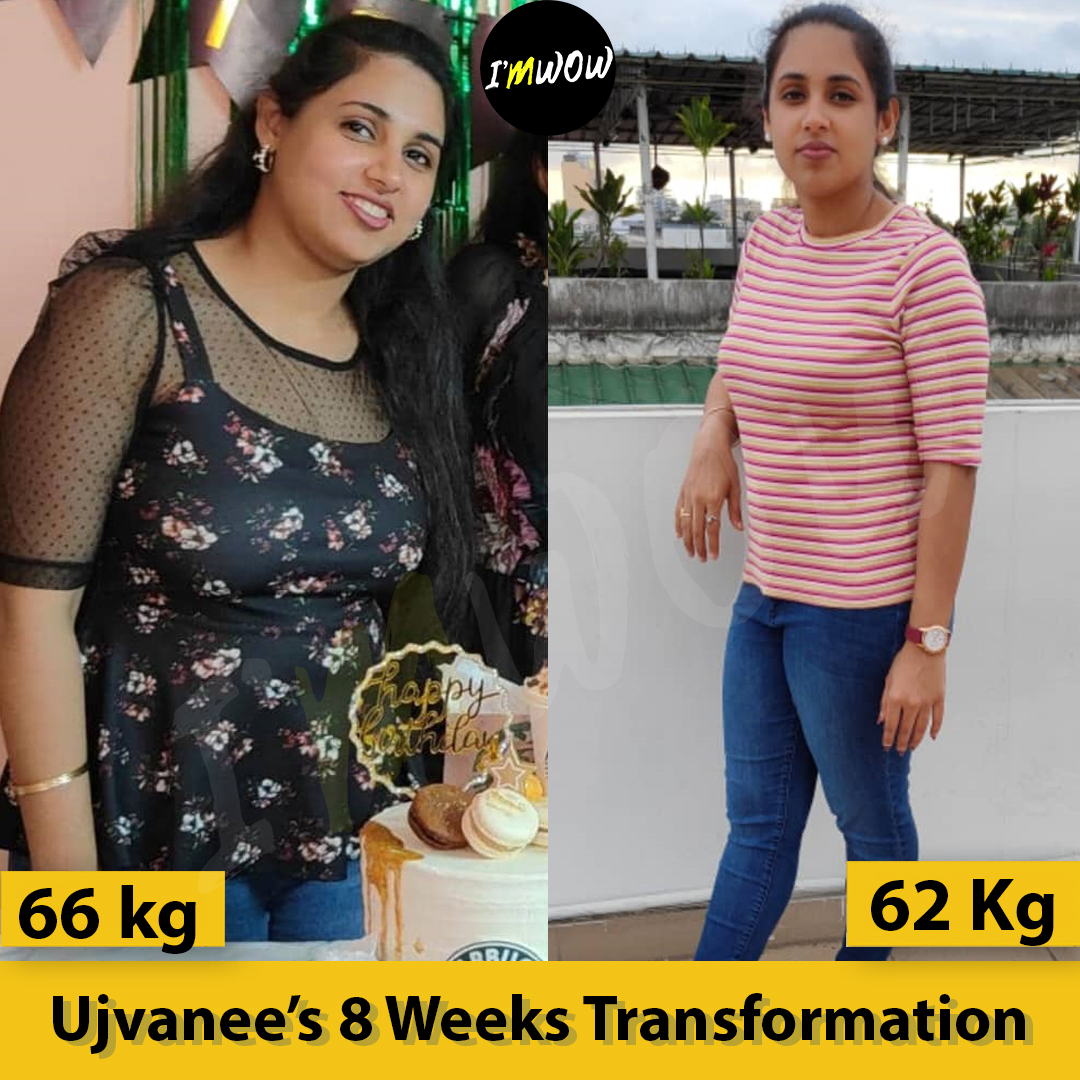 Ujvanee
I'm glad my week 4 diet plan is completed I'm delighted as I'm eating my favorite foods and losing weight I started my journey from 66.5 and now I am 62 hoping to lose more weight in another month.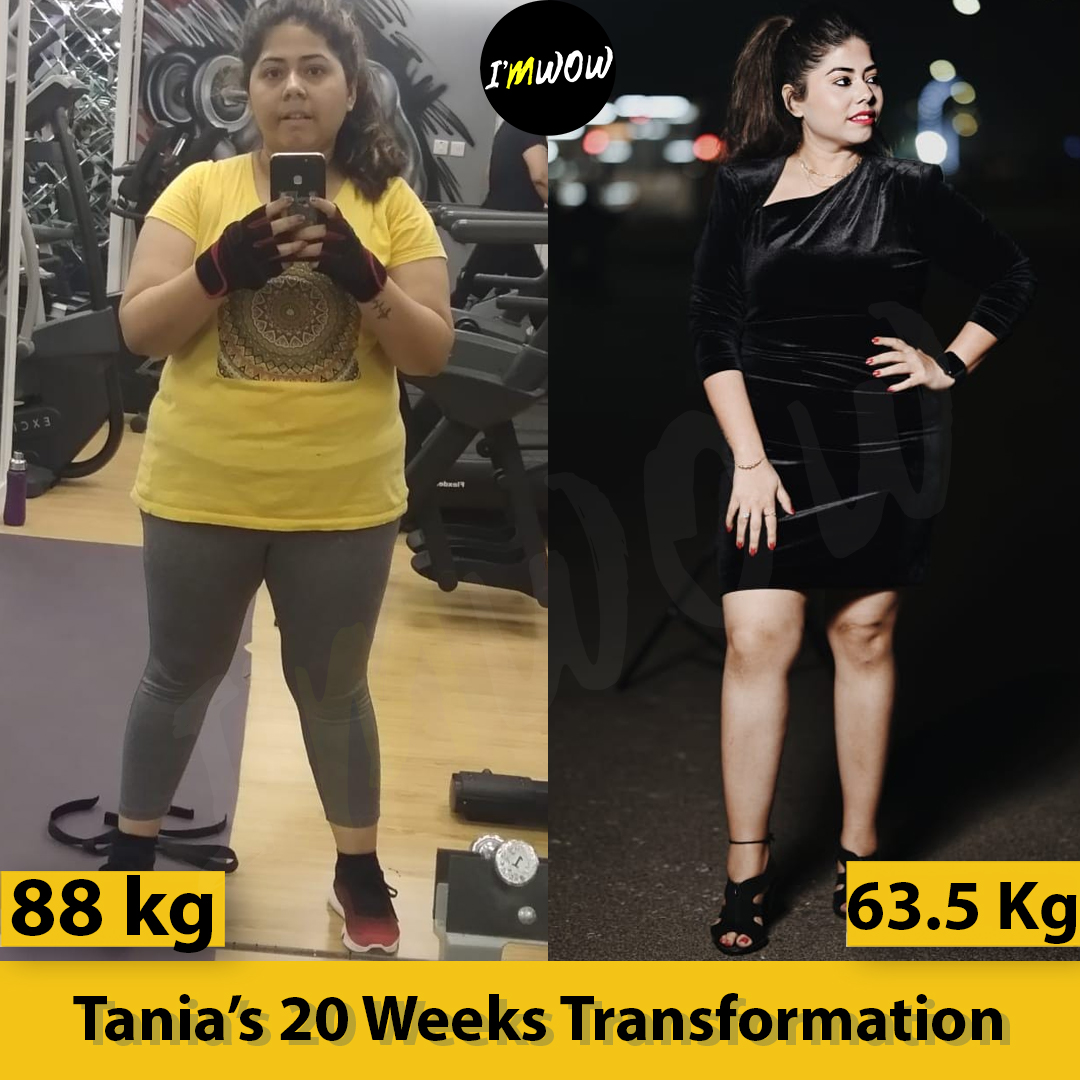 Tania Das
Hi Vidhi, I would like to thank you for giving me a good lifestyle and food habits which I have never realized to keep me healthy in such a way. I was overweight around 88 KG. And now I can proudly say I'm 63.5 kg in the process of more to lose. It was a great experience with Vidhi, she understands my situation and health problems and solves my issues. I recommend her to anybody if they really need to see their lifestyle change. She is the best Dietitian I could have ever asked for. A lots love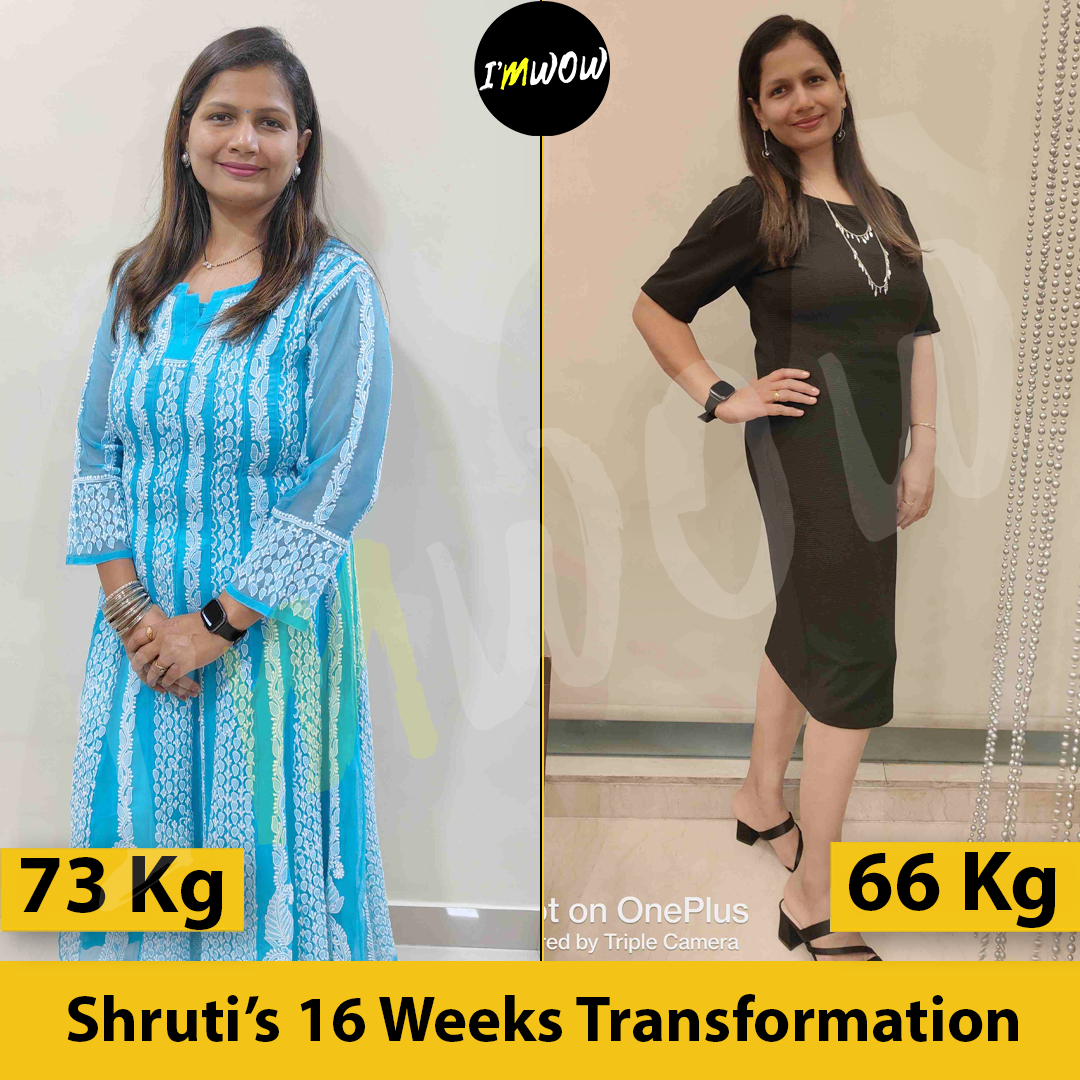 Shruti Khole
I am so satisfied to join this program and I fill it is very trustworthy .thanks Chetan sir for always supporting me and making this journey very easy. I want to continue this program till my goal is complete. very very thankful for changing my lifestyle and making my better version. I adopt this for a lifetime for sure.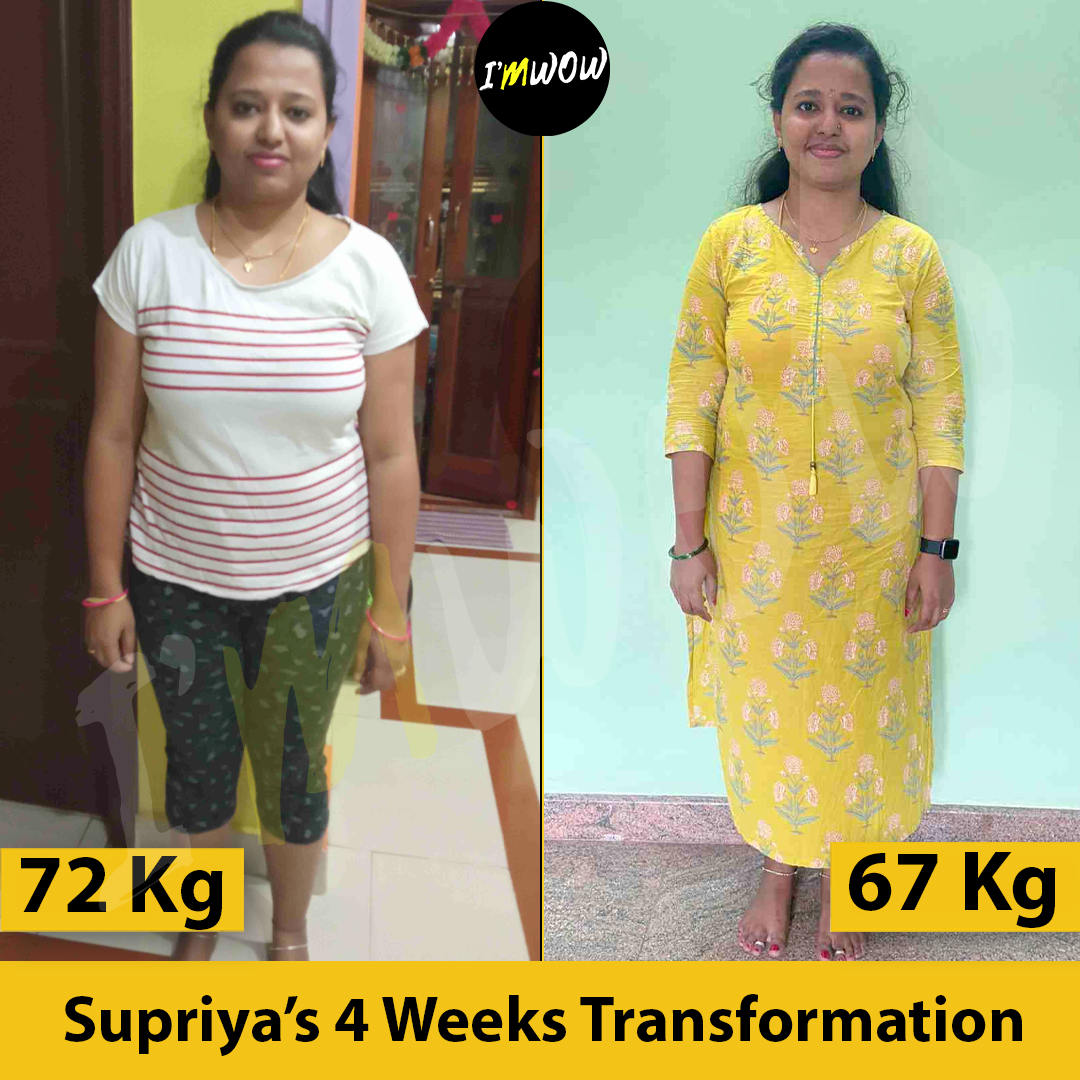 Supriya
It was a great experience with the IMWOW team, Coach Reetal was very friendly, respective and she was a very much understanding person I was soo comfortable with her, best and easy diet plans and exercise video. I can see the difference in my body inches and weight, thank you, team.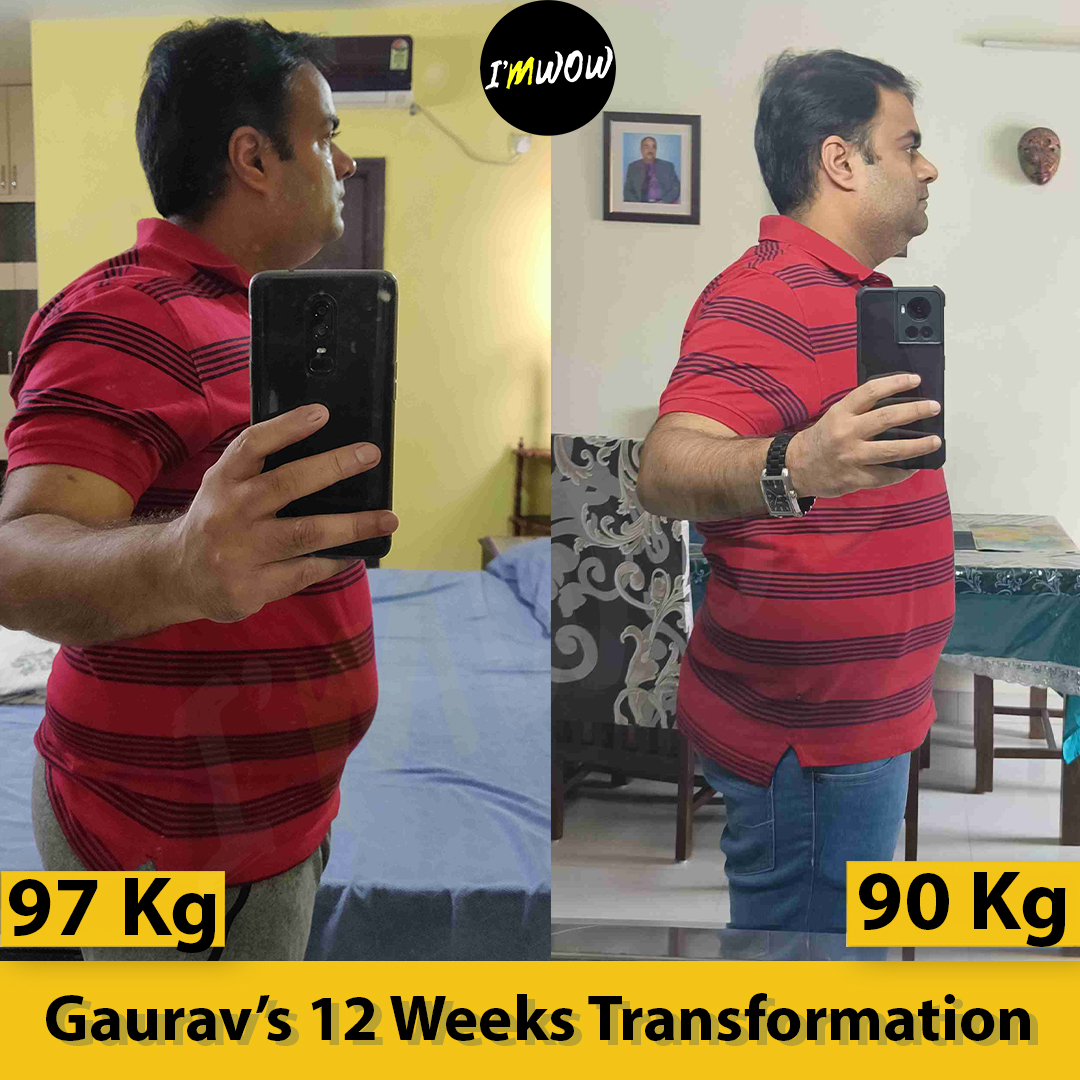 Gaurav Srivastava
I got superb guidance from Chetan from the IMWOW team. He helped me to reduce weight and simultaneously increase muscle mass. I lost 7 kg in my journey but the most significant achievement was I was not even able to exercise for 10min and now 2hrs easily Every day.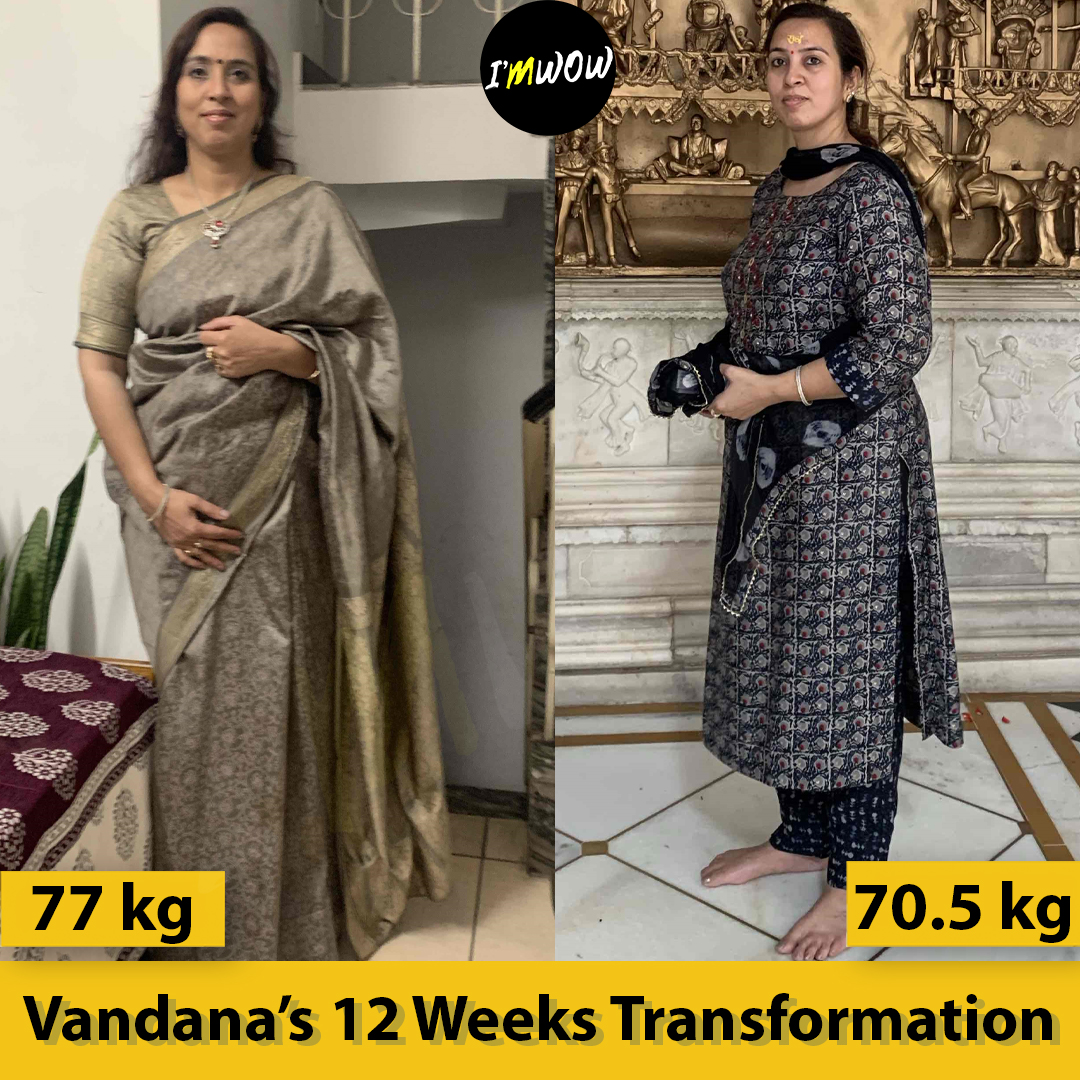 Vandana Mehra
Hi I m highly thankful to you and coach Ankita for guiding me and motivating me in the weight loss journey it was tough for me to lose weight as I have a tendency of low bp but during the diet and exercise program, I haven't faced any problems Thanks once again.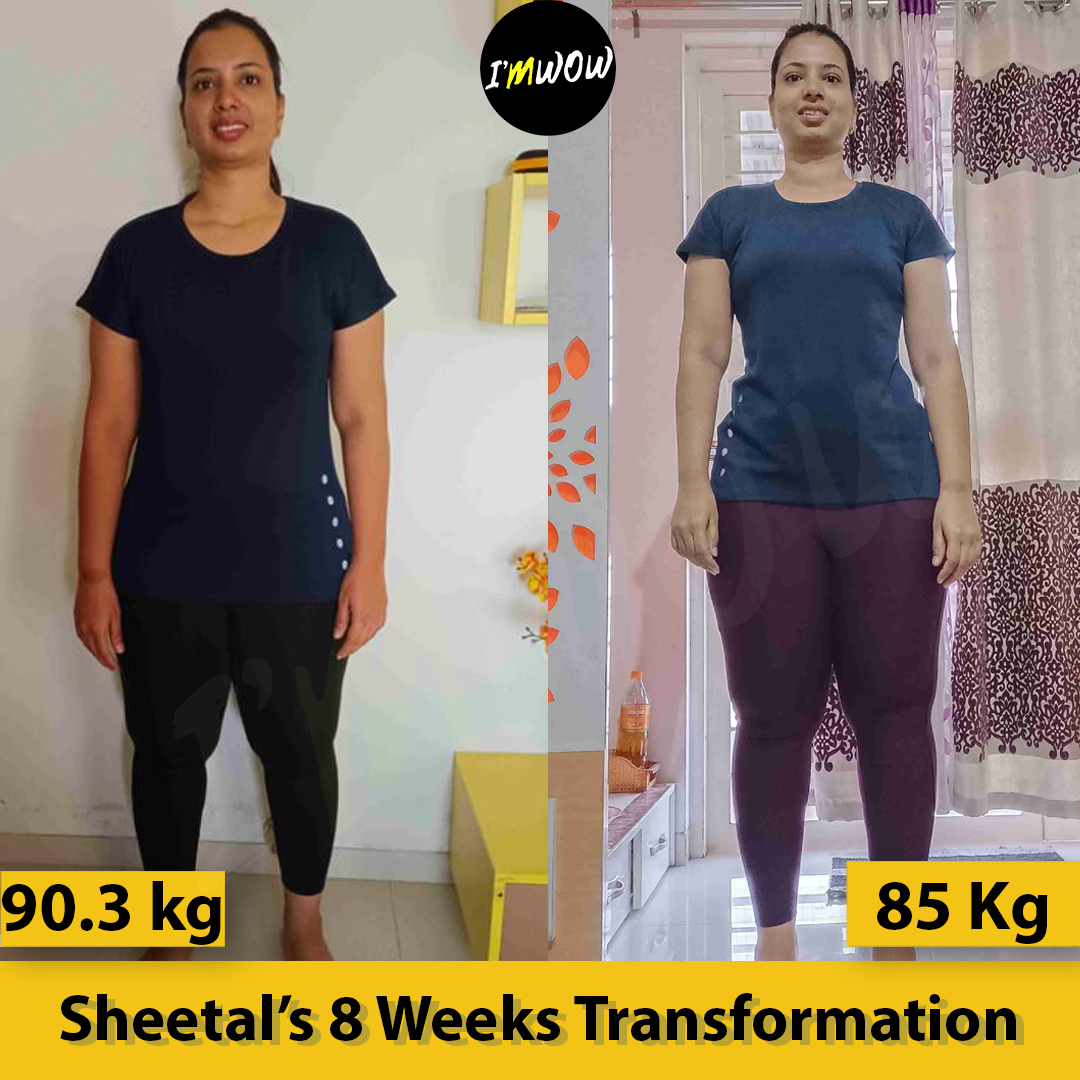 Sheetal Khatale
It was an incredible feeling working on fat loss with Bhumika. I was not on a diet but getting used to a healthy lifestyle and enjoyed many healthy and delicious meal recipes. This is not an end of a diet plan but a Start of healthy life. Thank you very much, Bhumika and IMWOW team.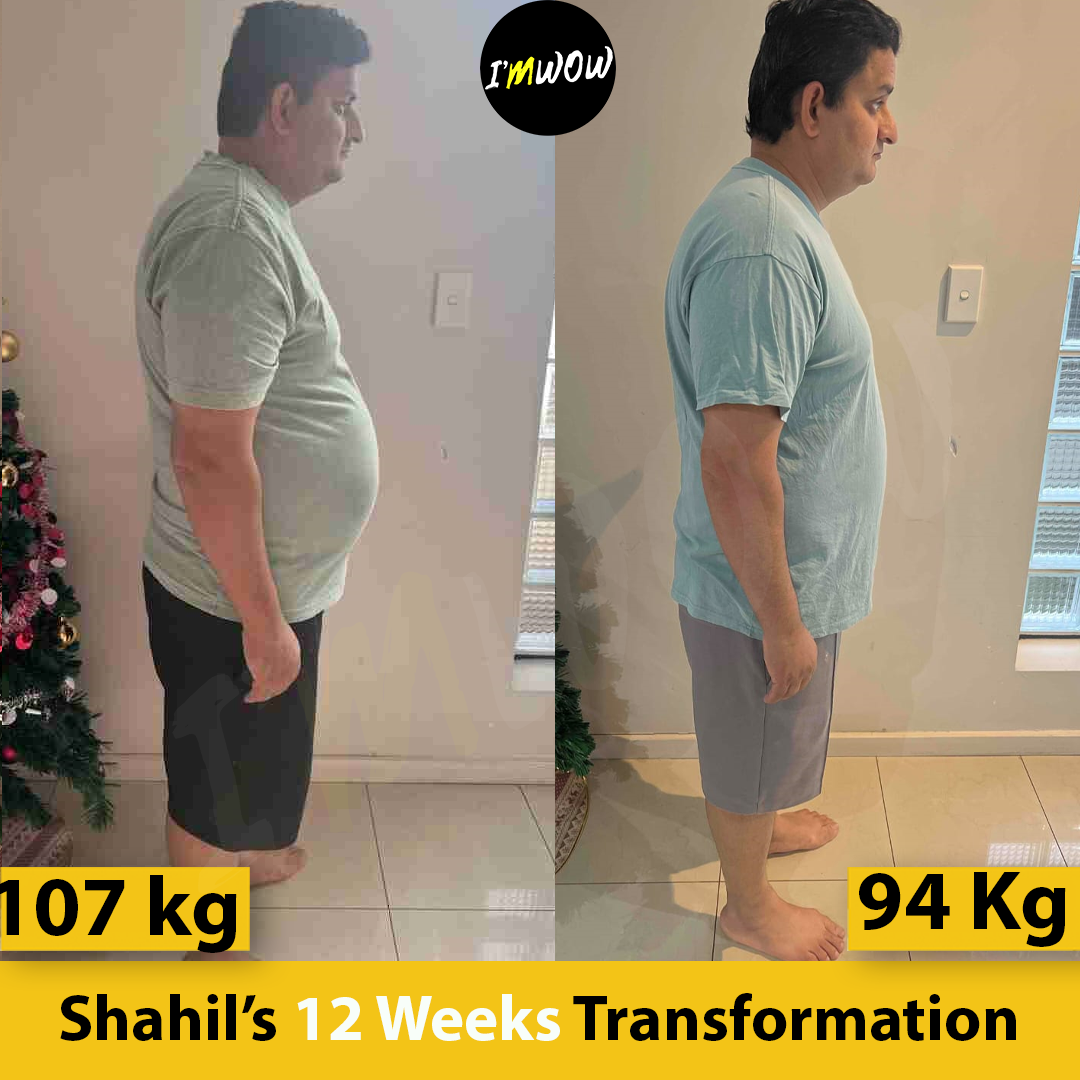 Shahil Thakur
I had reached a point where I had to change my diet habits. By the grace of god, my wife was able to contact imwow. And that's my best decision to start diet plans with ImWow. With the help of an assigned personal coach diet plans are tailored to one's benefit. It's been a lifestyle change for me and I have started cooking the meals too, it's that simple .thanks coach Bhumika and IMWOW simply love it.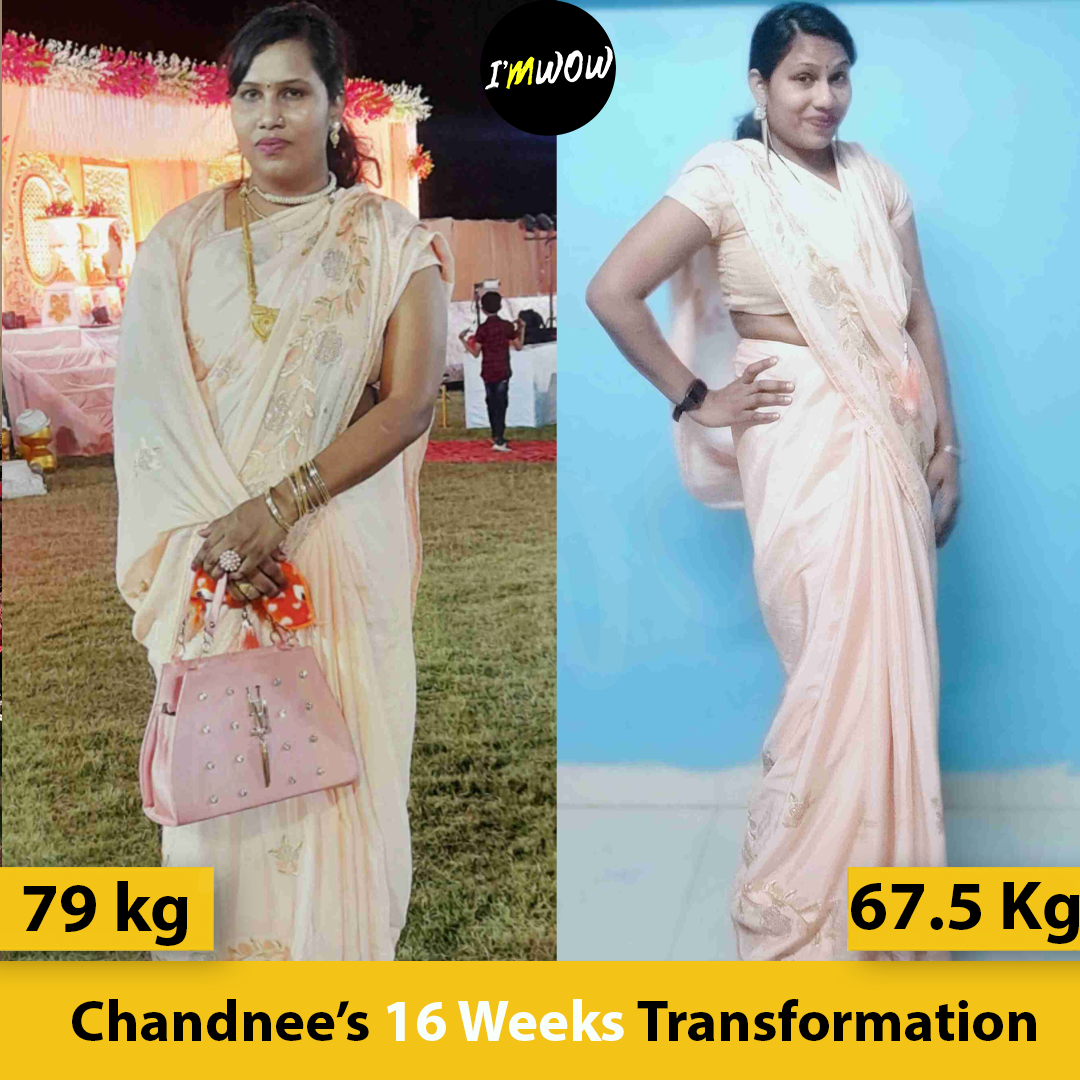 Chandnee
Thank you Aditi mam for helping me find beauty in a disciplined lifestyle and guiding me to achieve my fitness goal. Not only am I in better shape now but I feel much more confident about myself. Many many thanks to you.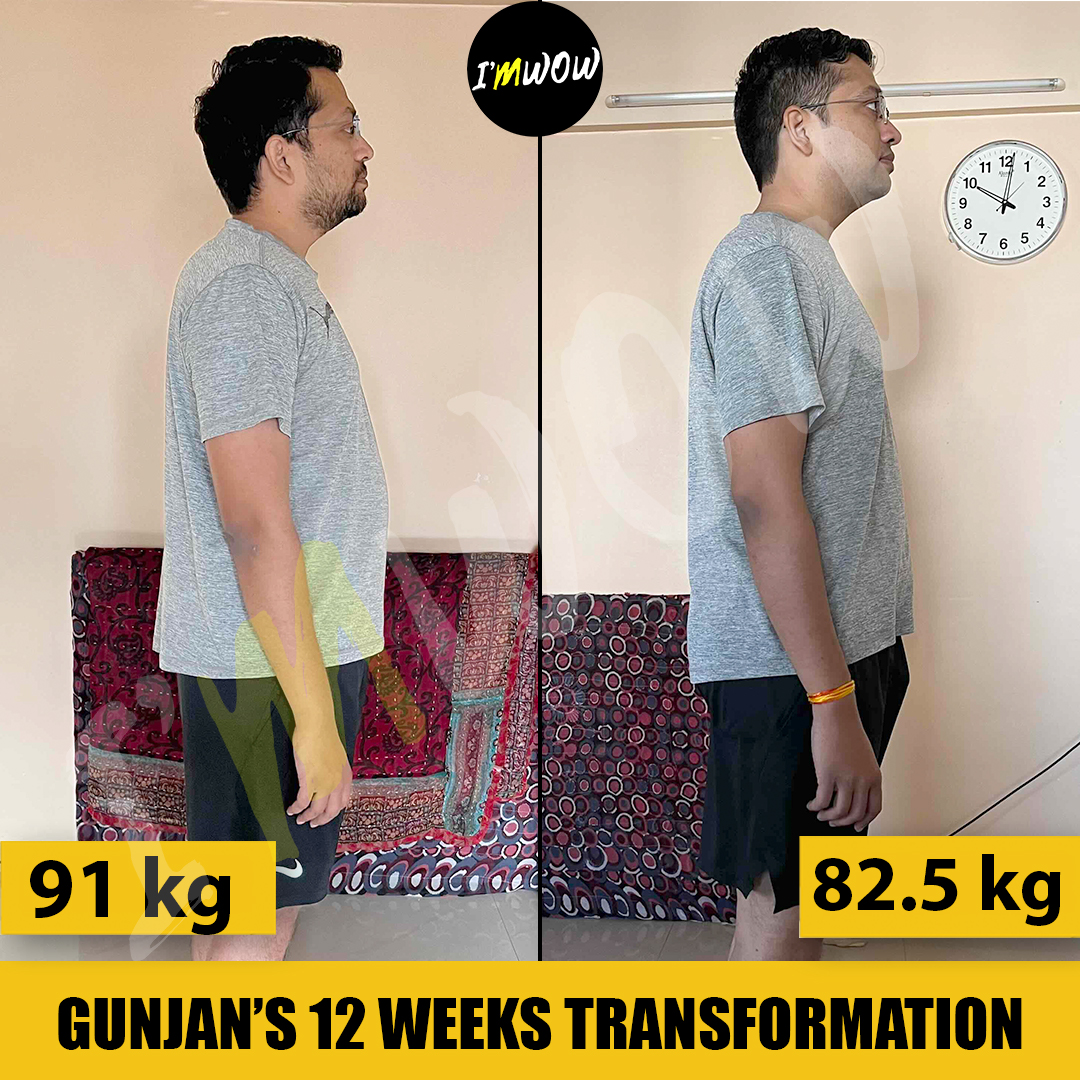 Gunjan Patel
After covering 12 Weeks of transformation, healthy eating, and dedication, Gunjan Patel lost more than 8kgs with the I'MWOW transformation program. With guidance from his coach Vidhi Parekh made this possible. Kudos to him and coach Vidhi for achieving this fitness level.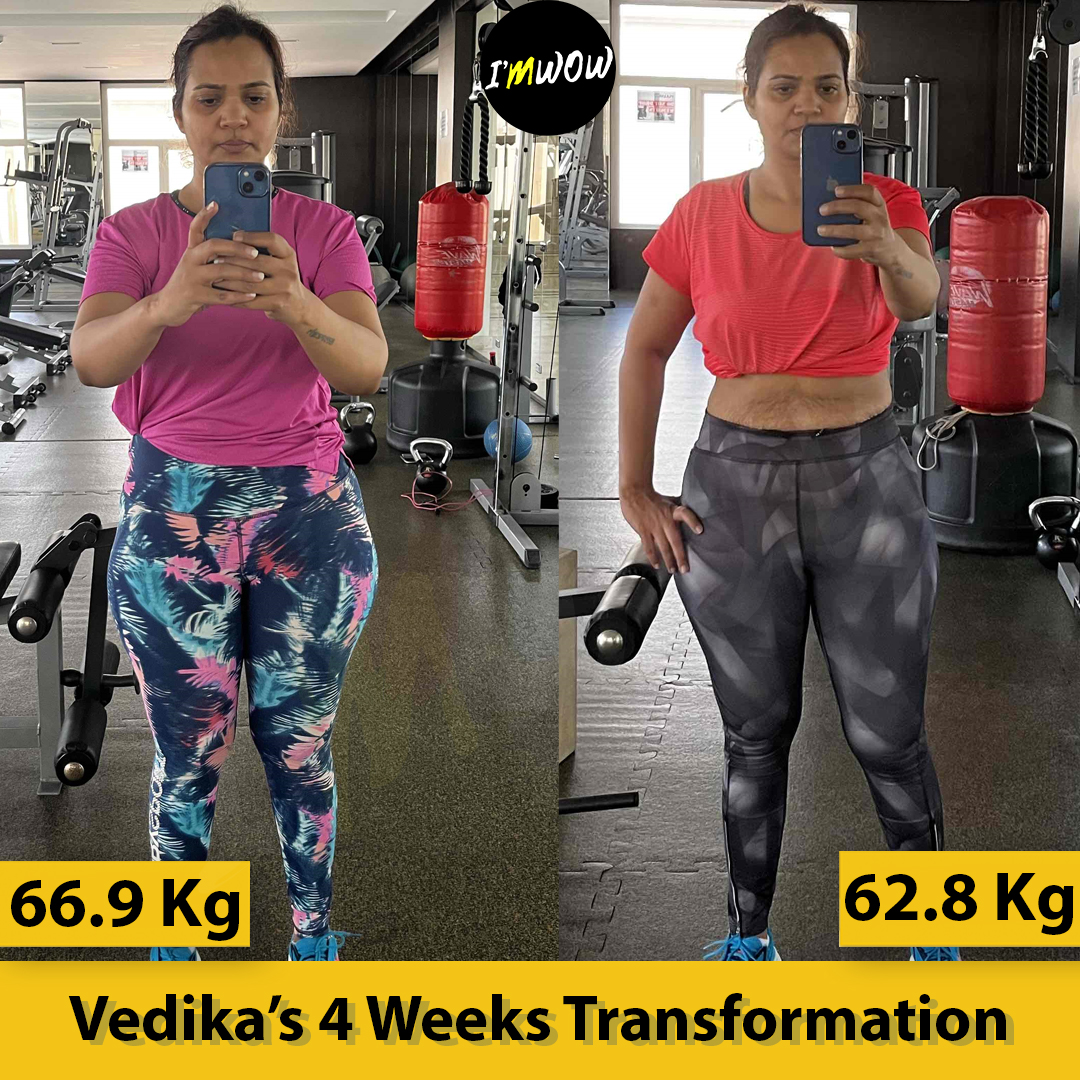 Vedika Kumar
It was a great experience. Though I did not lose much, I learned about the portion size of the food and it helped me to cook everyday fresh food because nothing was left from the previous cooking. My energy level has increased, lost one dress size. Thank you Bhumika for all your help.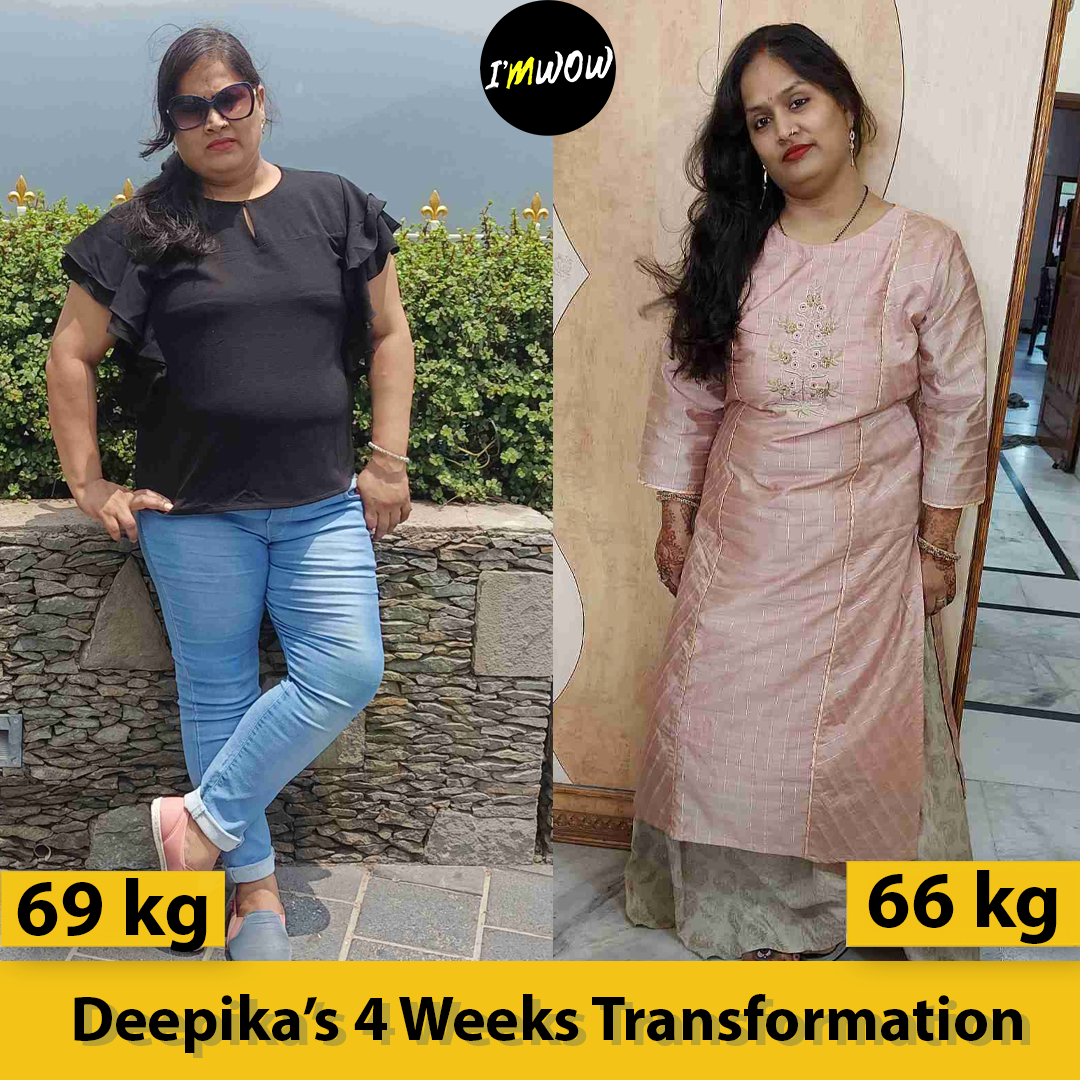 Deepika Tayal
It's wonderful to hear that Deepika Tayal has undergone a fitness transformation and has been working hard to improve her physical health and wellness. Congratulations on your achievements and see what she's to say "My whole experience was very nice coz the supportive coach, especially coach Chetan"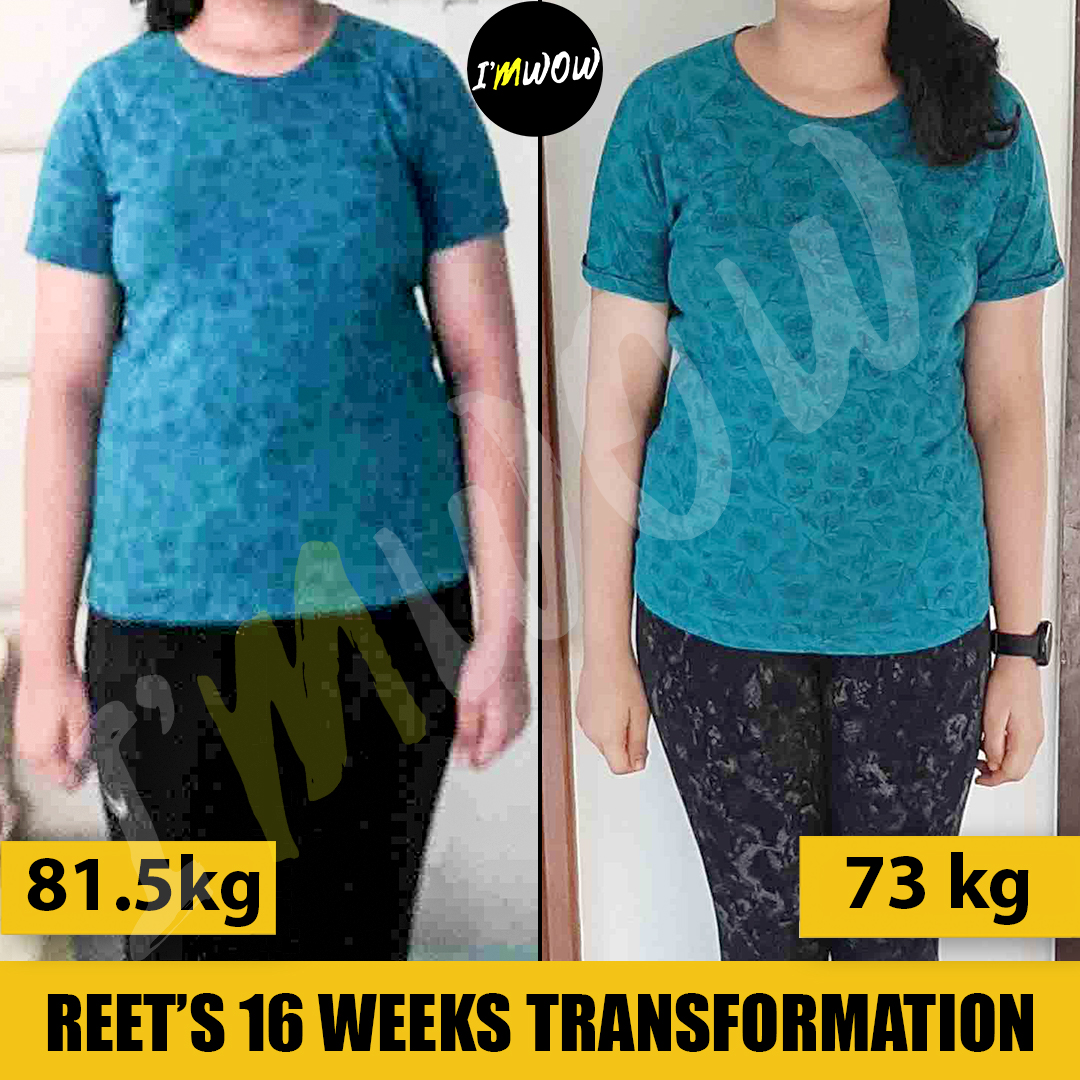 Reet Patni
My 16-week weight loss journey was a really easy one, with the help of I'MWOW and my amazing Coach Vidhi, she is really sweet, understanding, and friendly. I felt very comfortable with her. Also, the diet plan she gave was totally according to my taste and preference so it never felt like a burden and I always stayed consistent... Till now, with her help, I have lost approximately 11kgs and will continue with this until I reach my goal. THANK YOU so much ????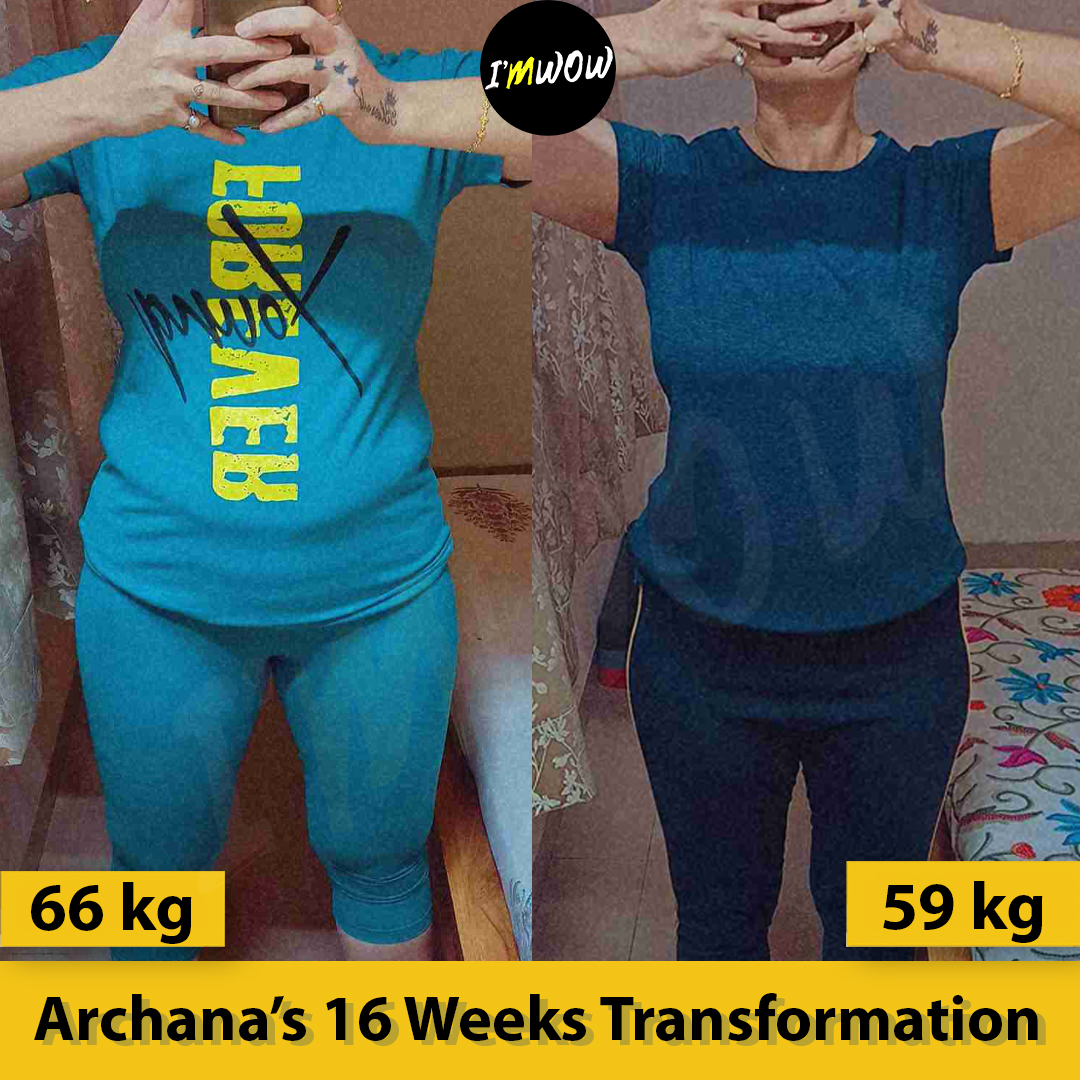 Archana Shetty
Thank you so much Aditi mam & IMWOW ?? mai bahot bahot khush hu , mere weight loss n iches loss journey ke liye ? Thank you so much Aditi mam apke support & apke motivation ke wajh se aaj mai mera goal achive kar payi hu ?? IMWOW best platform hai apna Weight management goal achive karne ke liye ?? Aditi mam apke har ek suggestion & apke har ek tips bahot bahot bahot jada motivational n Powerful the , mujhe kabhi bhi ye journey ke waqt tired / weekness / boring nahi laga ?? apka diet n support ke wajh se aaj mai achive kar payi hu ? Dil se thank u so much mam ?? I love you Aditi mam ?? I love you IMWOW ???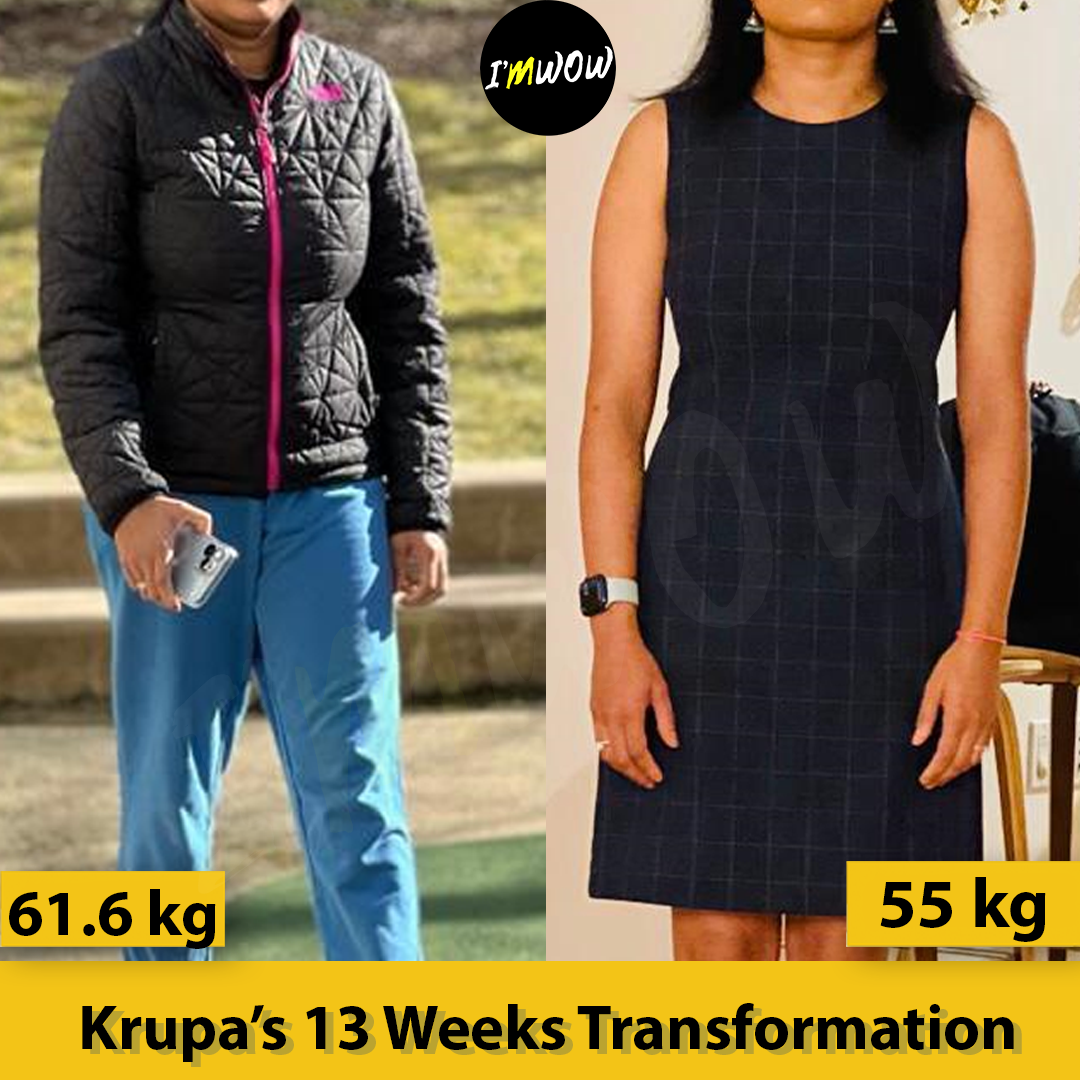 Krupa
Hello, people out there! This is Krupa, I am 36 years old and based out of New York. I have a wonderful 2.5-year-old daughter. Before having the baby I had a very fit and healthy lifestyle. As giving birth is not a menial task my energies were focused more on her and her health. In the meantime, I forgot to pay attention to myself. However, I was not able to give my 100% to her and neither to my family as I was not feeling myself. That's when I decided that I needed to get back on track. Tried multiple things in the world of Instagram and Google but was not seeing the results. Came across the ImWow page on insta and somehow strongly felt that this could work. I approached them and wow it was such a smooth ride. They have such uncomplicated and easy-to-follow plans that it does not feel like a plan. Homemade food with easily available ingredients makes it much easier. The coach Chetan was tremendous with paying attention to my needs and kept me motivated all along! He just listened :-) Workouts were once again amazing and recorded so well. I lost inches and my energies are elevated to a different level altogether. More than weight loss I have gained back my pre-baby confidence inside and outside. Feels great!! To all moms out there, we can do this!! Strongly urge you to join this team! I'mWow Now and Forever!!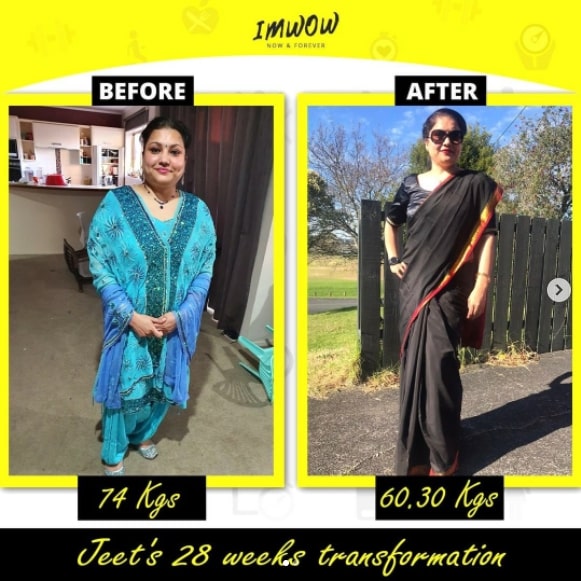 Jeet
You know what, my weight, BMI and body fat was always orange from long time. I know i started from red zone. But last weak body fat entered in green zone and this week body weight, BMI and body fat all in green zone. First time in my life. Thanks again, you have completely changed me. People telling me that i am shrinking in a healthy way with super glow on my face and not showing pale face or weakness. They are recommending me to change my wadrobe as all the work clothes are lose like trouser has become payjama. The scale shows orange zone only for subcutaneous fat. Thanks a lot Dt. Reetal. You are a super star.
Manpreet
I am really excited to share my journey of 12 weeks. May 31, when it started and I was at 118.6 kgs, I am glad that i met Richa through this plan, who helped me out to get down to 99.0 kgs (today's weight) precovid, I used to be into fitness but during covid I reached to a max of 120 kgs and had lost the motivation. It was completely shattered unless I came to know about you guys and fortunately I got Richa as my mentor. I don't have enough words to express my happiness, today everyone is asking about my drastic change and I am guiding everyone to IMWOW. 2 of my friends have aalready enrolled and started their journey. A big shoutout to Richa, I can't stress enough on the patience and positive vibe which i got from Richa. Your mentorship was amazing for me and my sister both. Both of us want to say a big THANK YOU to you for bringing our confidence back and getting us into the lifestyle back.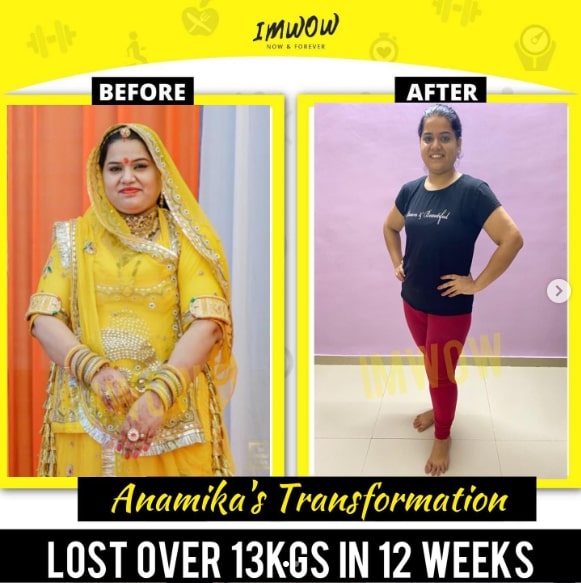 Anamika Bhatti
I would like to thank you for the training session which i have been going through from last couple of weeks. It was amazin g journey and i really enjoyed it. All the sessions and discussion was really inspiring. This journey is turning point of my life which taught me about healthy life style. It completely changed my views towards choosing food. Thanks for showing me right path. You are the best coach who never let me down at any point and keep motivated me. I will continue the same ahead...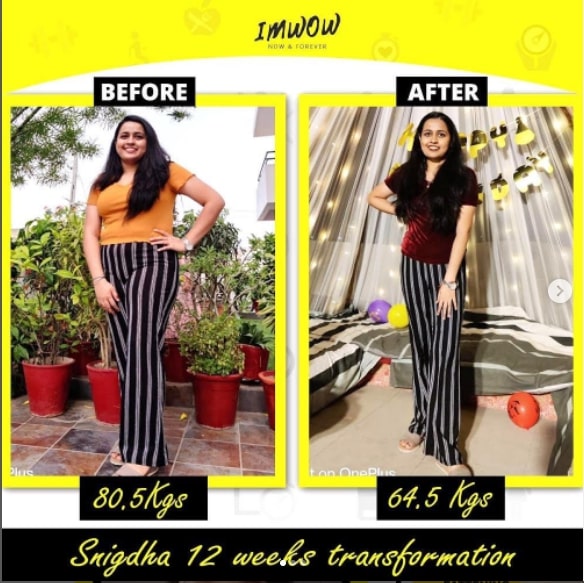 Snigdha
I really can't explain what you mean to me now, you have been a fabulous guru, really a great guru who transformed me so patiently. You always, looked after me, I was going through 'many health problems, I used to get skin allergies sometime, recently I got 'operated for my cyst, I got fissure when I was on my journey, you were so much patient with me ma'am, you always helped me cross all the obstacles during 'my journey. Transformation journey is always different for every individual. You made mine wonderful with you being in it. really cant tell you, loosing weight was a dream for me, I was a very big foodie, yes because of that only I had so many lifestyle problems, I was suffering from acne problems, though they haven't gone completely, but by actually changing my lifestyle to a healthy one, they actually reduced a bit. Richa maam I will miss you yaar, what you did for 'me, I cant tell you what it means to me, you were so nice to me always ma'am, I really wish one day ! can meet you it person and thank you, I really want to do that one day. After seeing so much difference in me, I feel more confident and happy. You have completely changed me, not only by changing my food, but and happy. You have completely changed 'me, not only by changing my food, but actually you made me a person who now always look upon to eat healthy food items even when | am not at home. This is a very big change in me. And you helped me in every step of my journey. You helped me loose almost 16 kgs!! I 'mean I can't believe I actually lost 15.7 kgs. I am very grateful to you ma'am. Very grateful. Stay in touch maam. And also now I will always look upon to your healthy reels you would be uploading and even Gunjan ma'am YouTube videos and reels. Yesterday after watching your reel! I actually ordered ACV tablets for me, so that even after the end of my program, am always self motivated and I am always looking after a healthier version of me. I love you Richa maam, I really love you a lot. Thanks for everything & 103s I am actually super motivated now, I want to eat healthy and clean always. Thank you for existing GUNJAN ma'am and RICHA ma'am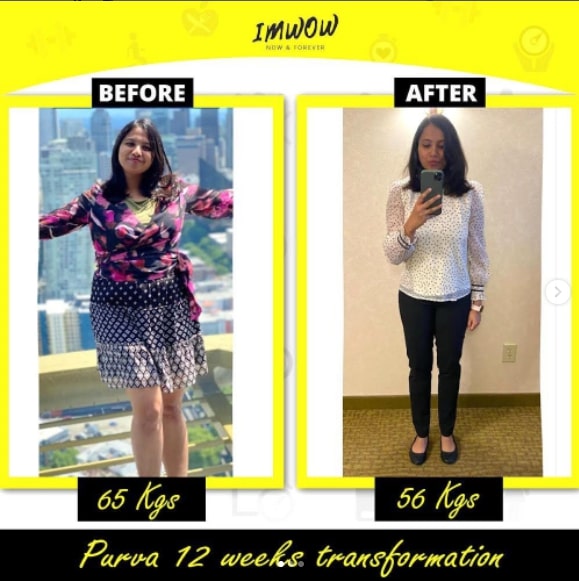 Purva
I never thought that I would gain weight in the first place until covid hit. I was always an active person who never needed to give attention towards weight gain due to my activity levels. However in 2020 I started gaining lot of weight especially due to the comfort of working from home and boredom. Since I'm a huge fan of cooking and experimenting. and since l live by myself, I ended up cooking and eating out of boredom. And May 2021 was the time during which reality hit me by seeing my solo ip pictures. I always imagined my first solo trip will be awesome with amazing pictures and memories. Well, I made amazing memories and I'm still proudof myself going solo, but i was disappointed by the pictures That's when l started YouTubeing sustainable ways to loose weight. wanted a guidance from someone from my origin because even if l live abroad, my food choices were still from my roots. That's when I found IMwow program. I am so grateful that our paths were crossed. Blessings all the way from USA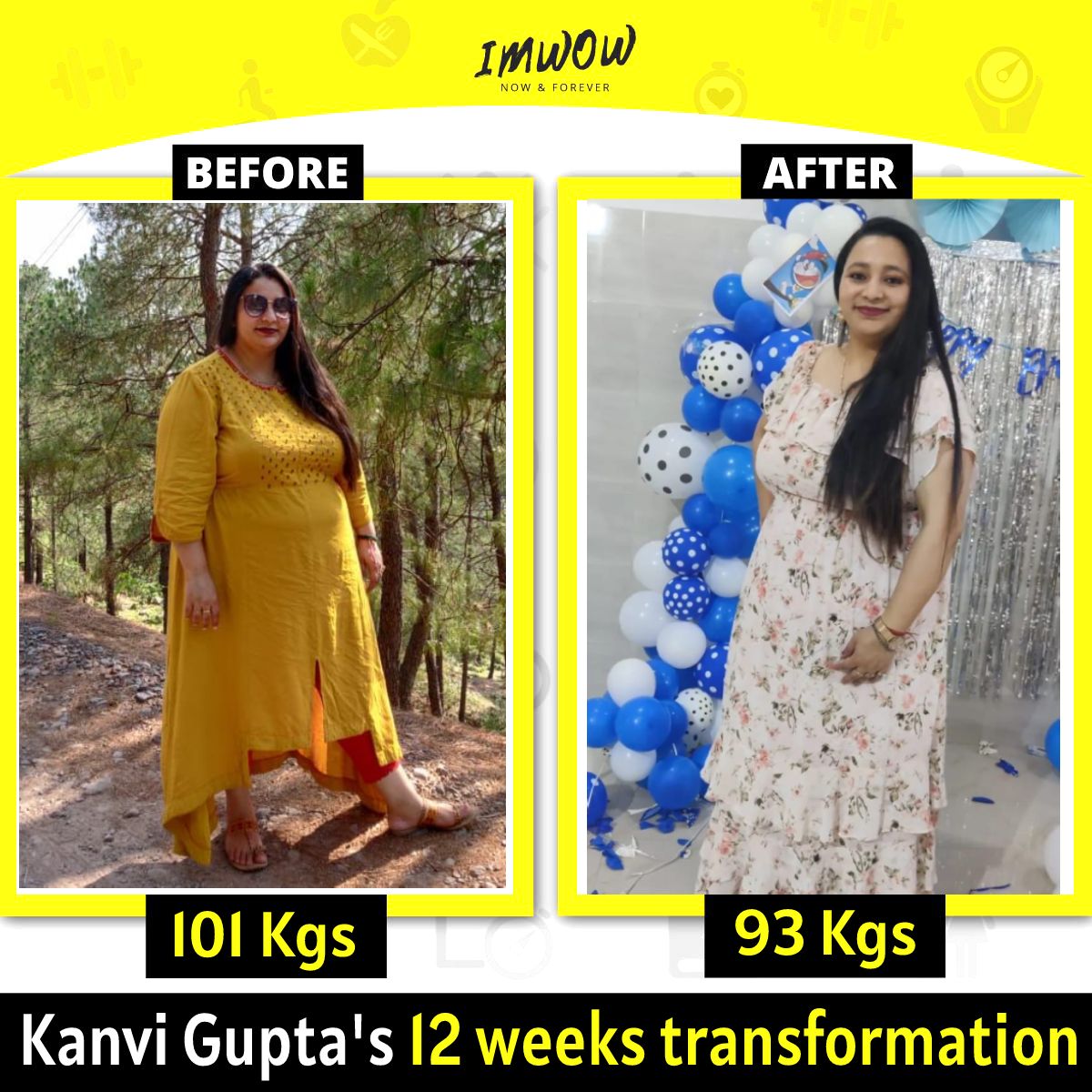 Kanvi Gupta
Thank you gunjan maam for your ultimate videos, your one month regular uploading of ur diet plan motivated me to take my very first step towards my fitness journey ??.. Thank you so much from the core of my heart ANKITA MAAM.. I don't have words to thank you ... U r simply waaooo.. the way u try to understand me with my problems noone can do.. u never let me feel down... Whenever I was having negative thoughts u always pull me towards world full of positivity... I know it's not easy for you, even it's not easy for me too.. my health issues are always with us through out our journey.. u always motivated me get back to my fitness journey ?? U r simply gorgeous, ??? one last thing the picture I m uploading just to show you what you have gifted me , before that I was nt able to get in this dress.. now u can see the difference.... Thank you ????? Thank you Gunjan maam and Ankita alot... Gunjan maam I request to you please keep updating your videos so that we stay motivated..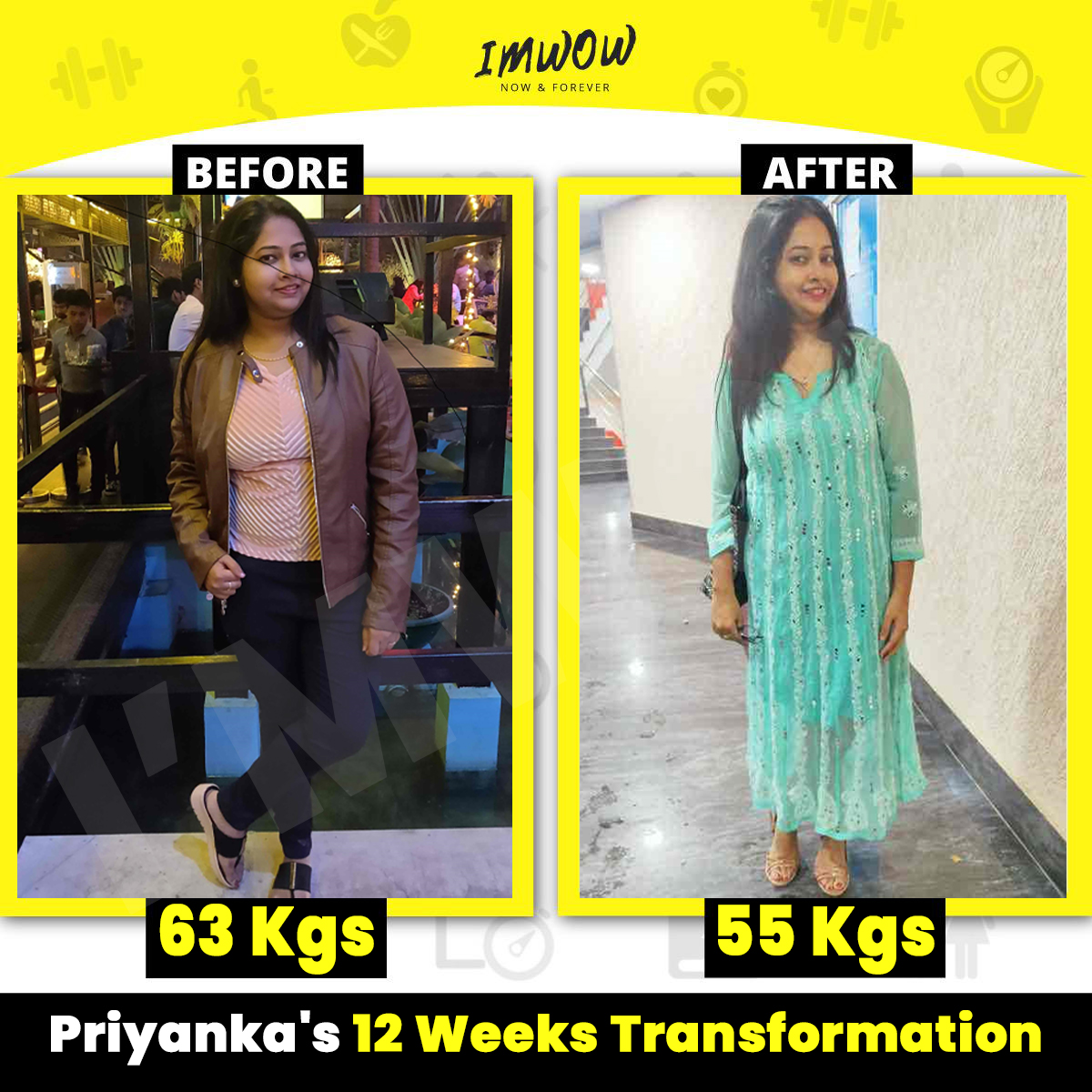 Priyanka Siuli
Hi Aditi, As we complete our 12 weeks journey today, I would like to thank you from the core of my heart for being such a fantastic coach. Your wholesome diet plans, energizing exercises and constant motivation helped me lose 8 kgs in 12 weeks. It's not just the weight, I lost significant inches from my body too. It feels really amazing to fit into my favorite dress which I had given up 4 years ago. Dealing with PCOD for the last 12 years, the diet plan regularised my menstrual cycle after a long time. Bonus points for improved hair health and glowing skin. I am so glad I made the decision of enrolling in the transformation program. This journey has been really exciting. I was able to understand my body's metabolism better. Thank you Aditi for helping me reach my goal and being supportive all the time. The way you accommodated my non-veg-heavy diet and yet make me lose weight, can't really thank you enough. Will keep posting pics and tag you for all the appreciation I am getting for this change. Thank you so much, Aditi!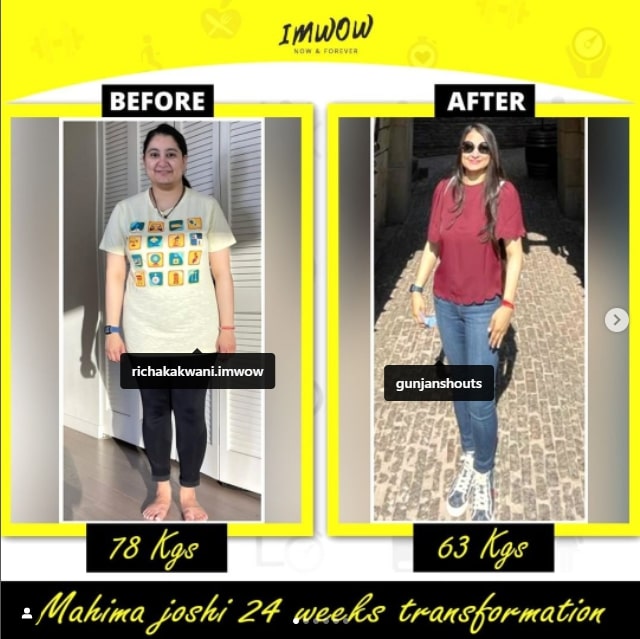 Mahima
A huge thanks to you and the IMWOW team for such an amazing transformation journey. I had tried many methods, gyms and trainers before, but somehow wasn't consistent with any of those. This is the 1st time I enjoyed being on a diet. It was not only a 6 months journey for me, but was a change for life. I loved the interactive nature of the program by being in touch daily through meal pictures, talking weekly over phone. I never thought I would be able to loosen almost 34 pounds keeping my life normal. I was able to enjoy my favorite food, go on vacations, etc. Again, I am very grateful to you for your encouragement and support. This journey and transformation would not have been possible without you Richa."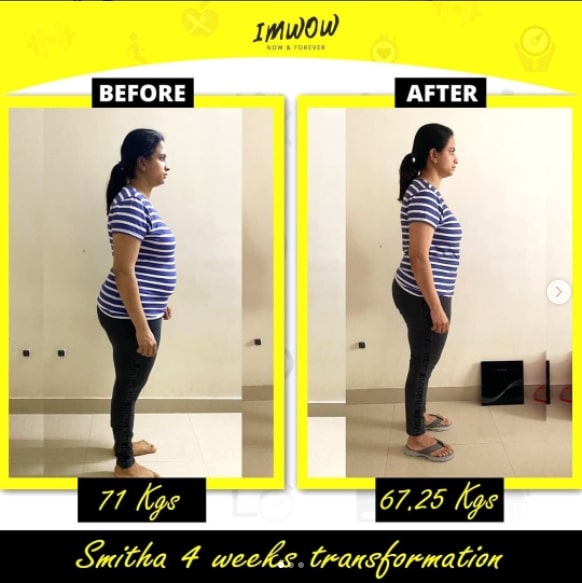 Smitha
"You guys make things possible.. I'm elated to have chosen you guys for my weight loss program.. never for a moment felt cumbersome while I was at it. It was an absolute delight to follow all your guided instructions. Your program isn't a strict water tight menu but rather a wholesome enjoyable, nutritious and satisfying menu which fuels our inspiration ?. I love the workouts as well.More power to YOU n YOUR TEAM ??????. I express my heartfelt Gratitude to IMWOW Team ????."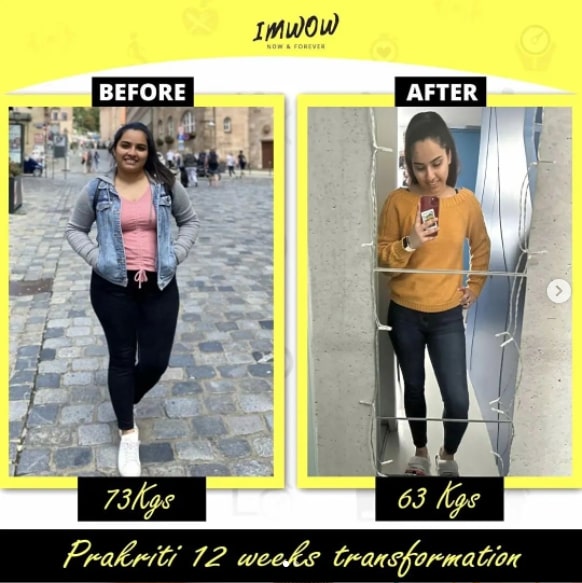 Prakriti
Now that we've reached the end of the 12-week transformation program, I would like to thank you for guiding me through it. Without your guidance, I wouldn't have been able to. Teach what I have over the last 3 months. I lost about 10 kgs according to my tracker in 12 weeks, which seemed a bit difficult at the beginning. As I mentioned a few weeks ago, I had to hold back on my cravings for the first week but after that everything went on smoothly and I was able to manage it all thanks to you. Even after my college started 6 weeks ago, I was able to stick to the diet plan but I was not really able to do the workouts as I could not make out time for it. I assume that did slow down the weight loss but it did not hold me back from continuing. You kept me motivated throughout this period and it helped a lot. I will try my best to maintain my weight now and especially keep up with the healthy lifestyle, that I've adapted to over the last 3 months. I would surely recommend this program and as especially you as a dietitian to other people who want to lose weight.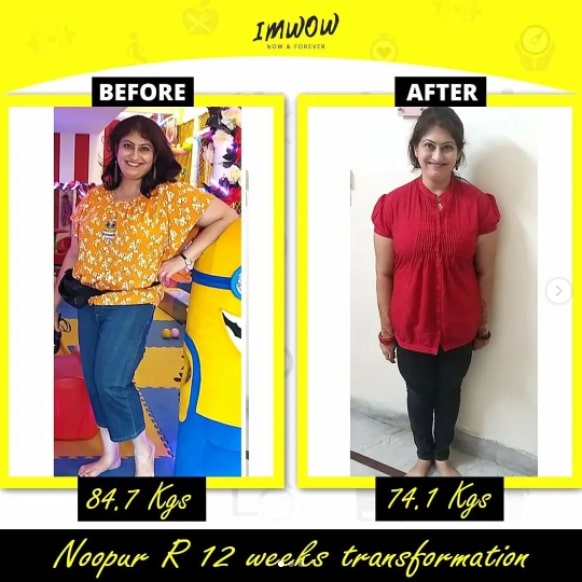 Noopur
I came across Gunjanshouts videos while scrolling Facebook and her videos inspired me to core. Being a bit reluctant on how things would work, | got myself registered thinking something is better than nothing. I got Ankita as my coach/mentor. She was always there to listen to me, guide me, motivate me. Her encouragement and constant motivation pushed me to heights that i have never thought possible. I was able to achieve this transformation by eating flavorful & satisfying food even by celebrating birthdays, festivals and travels. By this program even my hypertension medicine has been stopped. @ The entire program was v. Easy to follow and the best part is she has guided me for continuing this lifestyle for life. At last I want to thank I'm Wow team and especially my mentor Ankita for taking me to this path full of health, energy and life.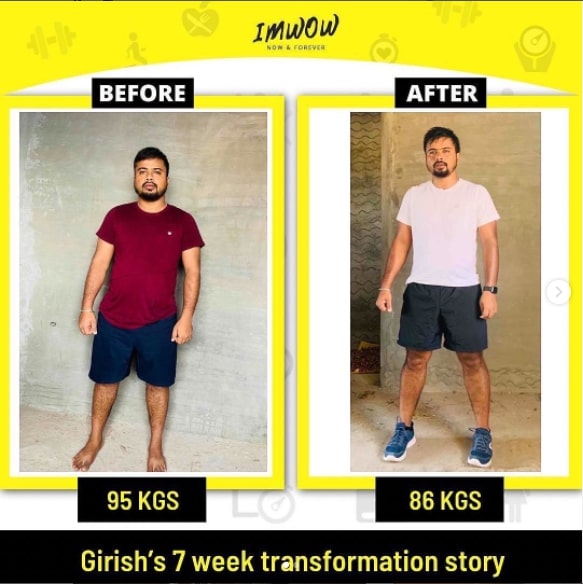 Girish
Hello "I'm Wow" Team you peoples are doing great job, Its feel so good to be the part of your transformation program, Specially Thanks to My Coach Anuja for all the support and Understanding me, You gave me the choices to eat according to my needs and i never get bored with healthy foods. | lost almost 10kg within 7 weeks. this is miracle for me. and Thanks to Gunjan for starting the wonderful program , | wish you all the best for your future Programs, Once again Thanks Anuja for your wonderful support.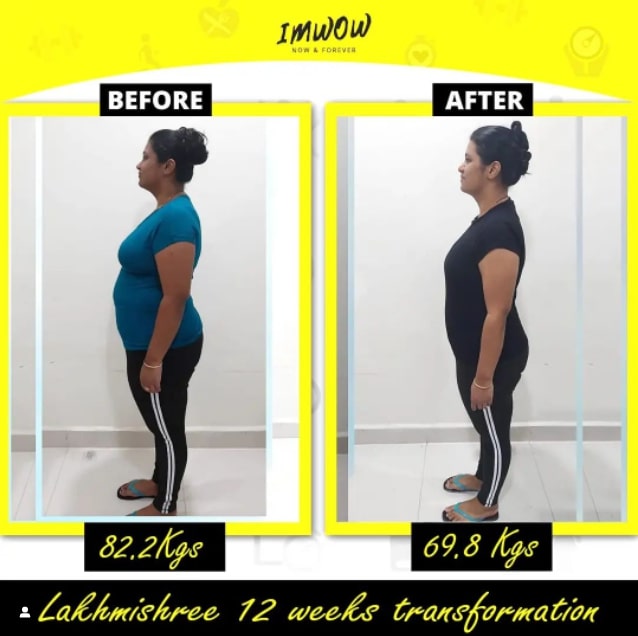 Lakhmishree
"I am glad and thankful to Reetal, Gunjan and team IMWOW, that I could lose 12.2kgs in 3months ? During lockdown I ended up eating lots of junk and was leading an unhealthy lifestyle due to which I gained almost 17kgs. At a point when I reached 82kgs, I realized that I was not in a good shape and this might lead to serious health issues and even my clothes were not fitting in?? It was not possible for me to shred so much without a proper guidance and thanks to IMWOW program which motivated me to start the journey. I am glad that I got Reetal as my fitness coach and through her continuous guidance and motivation, today I am able to lead a healthier lifestyle ? Thank you for keeping me motivated and pushing all the time to workout harder ? It is all because of your support I could reach where I am today ? My journey is still on to reach my ideal weight and hope I will be able to so??"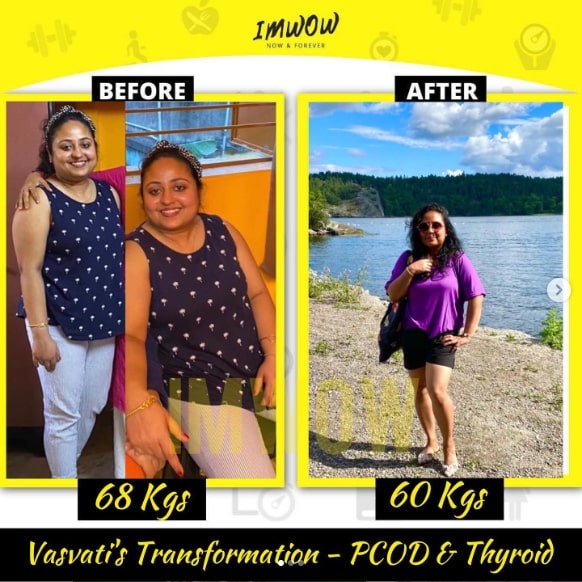 Vasvati
I was extremely motivated and seeing my photos and the food, my friends were also interested to know more. Even one of my close friends has signed up to IMWOW already. I was 68 kgs when started, now I am 60 kgs after 12 weeks. Losing 8 kgs with PCOD and Thyroid is a big deal to me because I also had to deal with so much of mood swings and the cravings ( extra hassle for PCOD). Honestly I fell in trap and had a few cheat meals!. However, i tried to balance that with extra running, but all your efforts seem worthwhile when you can wear all your older clothes and look good and happy! While loosing weight, I have gained so much positivity, inspiration and a few new admirers. To all the girls out there suffering, struggling and failing, please take a deep breath and sign up for IMWOW. They are truly a life changer! Infinite thanks to Richa and the whole team. As I always say each and everything was possible only because I had an amazing mentor Richa! This 12 weeks were not only about diet plan or coaching or exercising, it was a course on how to adapt mindful eating habit and living an ideal life. Love you Richa, wish you a Healthy, Happy and Prosperous Life ahead!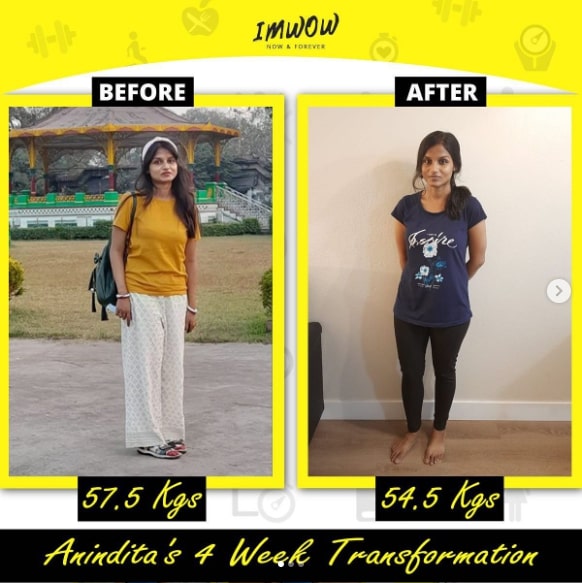 Anindita
Extremely happy that I could achieve the weight goal of 54.5 kg. Enjoyed this journey a lot and built up healthy habits that will always help me to live a fit healthy life and now i don't have to do the decision making of what to make in dinner or lunch, simply follow a week's diet recipies accordingly. Thank you Reevika, thanks to the whole IMWOW team.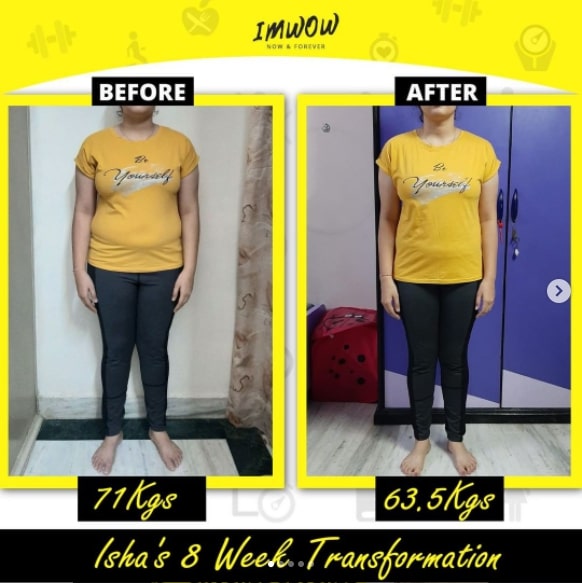 Isha
As i have completed 8 weeks of my weight loss transformation journey I would like to than Aditi for constant support and guidance. Without you it won't be possible to achieve this milestone. I know this is not my goal weight but still feeling so happy to achieve this I know we'll definitely achieve the goal weight in next month (Target for the next 4 weeks is 58-59 kgs). And i know we'll together make it. When I joined this program my weight was around 71 kg and at the end of 8 weks it's 63.5kg, i.e., I lost around 7kgs in just 2 months. I have never thought that only clean eating and workout can help me reduce not only weight but niches too. Loving the healthy but tasty lifestyle... I am feeling so greatfull today. Thank you so much Aditi and the entire team of IMWOW.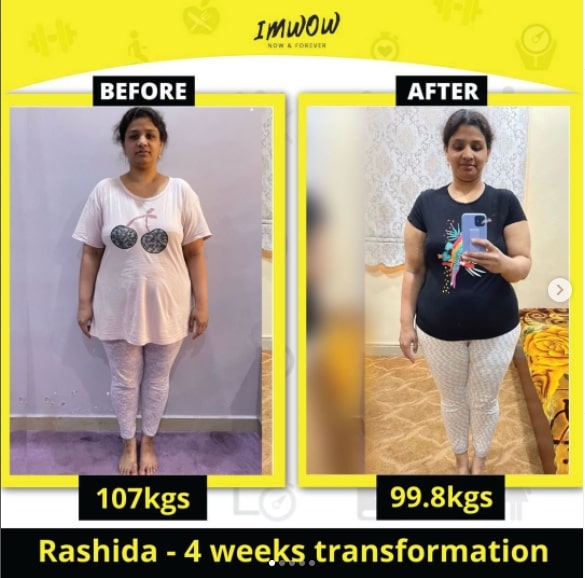 Rashida
I am happy to tell u that today is my last day of 4th weak... and i have started with 107 kgs and now i am 99.8 kgs... so so so happy... thank u so much @Soumya Hajela and team IMWOW. In this weak i am very busy, so workout bhi nahi ho paa raha tha, and ek din to cheat day bhi hoo gaya tha... I think in this weak 1kg vapas up ho jayega... but no, 100.8 se 99.8 kgs, 1kg down... A big thank you to all of you!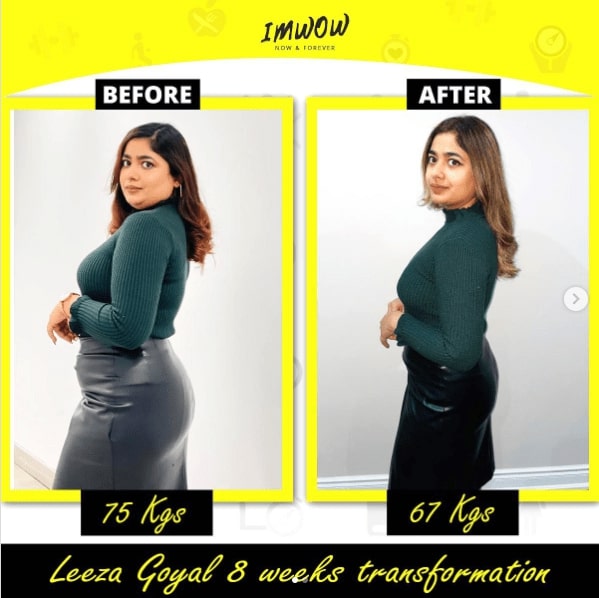 Leeza Goyal
" I actually wanted to take a moment to thank you for the amazing job you have done in helping me losing my weight. I am still in the process but with your diet plan, it has become so manageable and easy. Thanks a lot ? It couldn't have been possible without your guidance ?. You helped me change my eating habits and lifestyle in a way ?"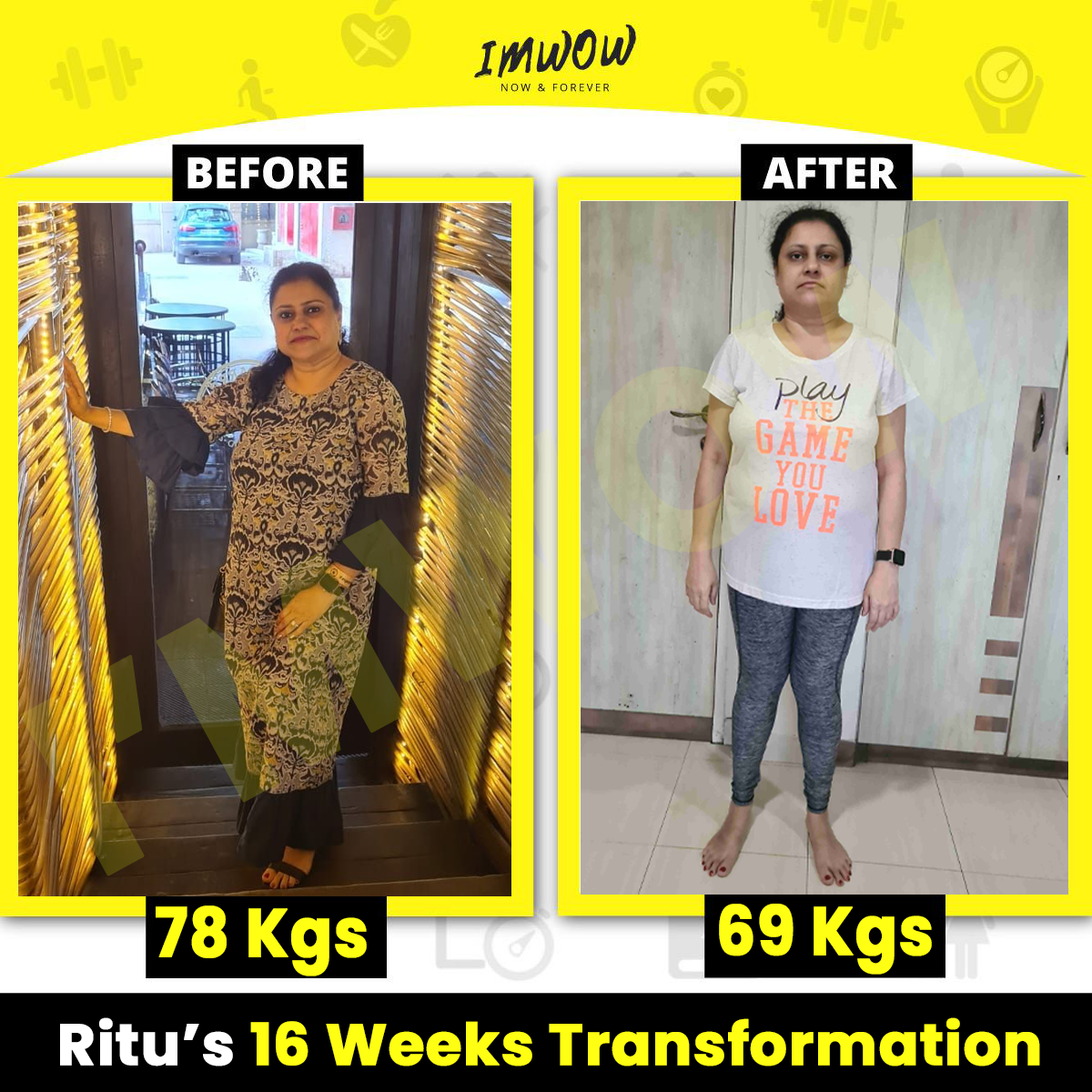 Ritu Goyal
Today I've completed 16 weeks of a weight loss program where I lost 9kgs. Aditi my coach is a super coach very patient & understanding. She guided me so well throughout this journey of 4 months. In spite of so many cheat meals, she got me back on track with much-needed motivation. Thank u, dear Aditi. God bless. Above all the I'MWOW app is amazing. It provided me with every single detail about the weight of the cooked & uncooked food, recipes, tracker, exercise, etc. Simply loved every bit at I'MWOW ? ?3 cheers for u guys?? Reversed diabetes also.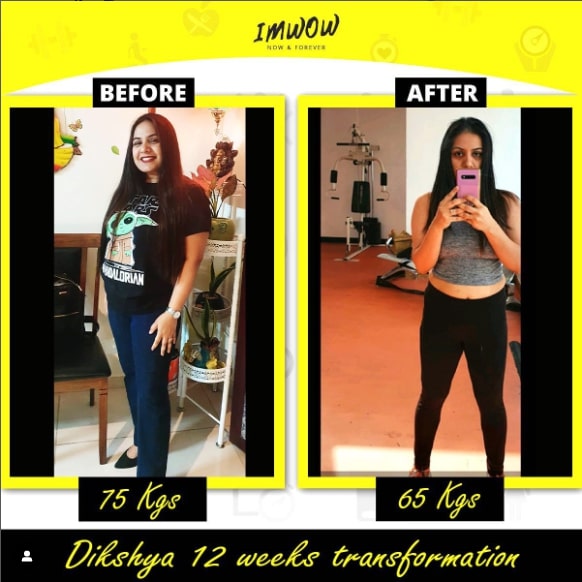 Dikshya
"I started my journey with 75 kg... Now I'm 65kg .. Thank you for giving me such confidence... Yes Imwow now... ps. Wearing 3 years back, jeans ?"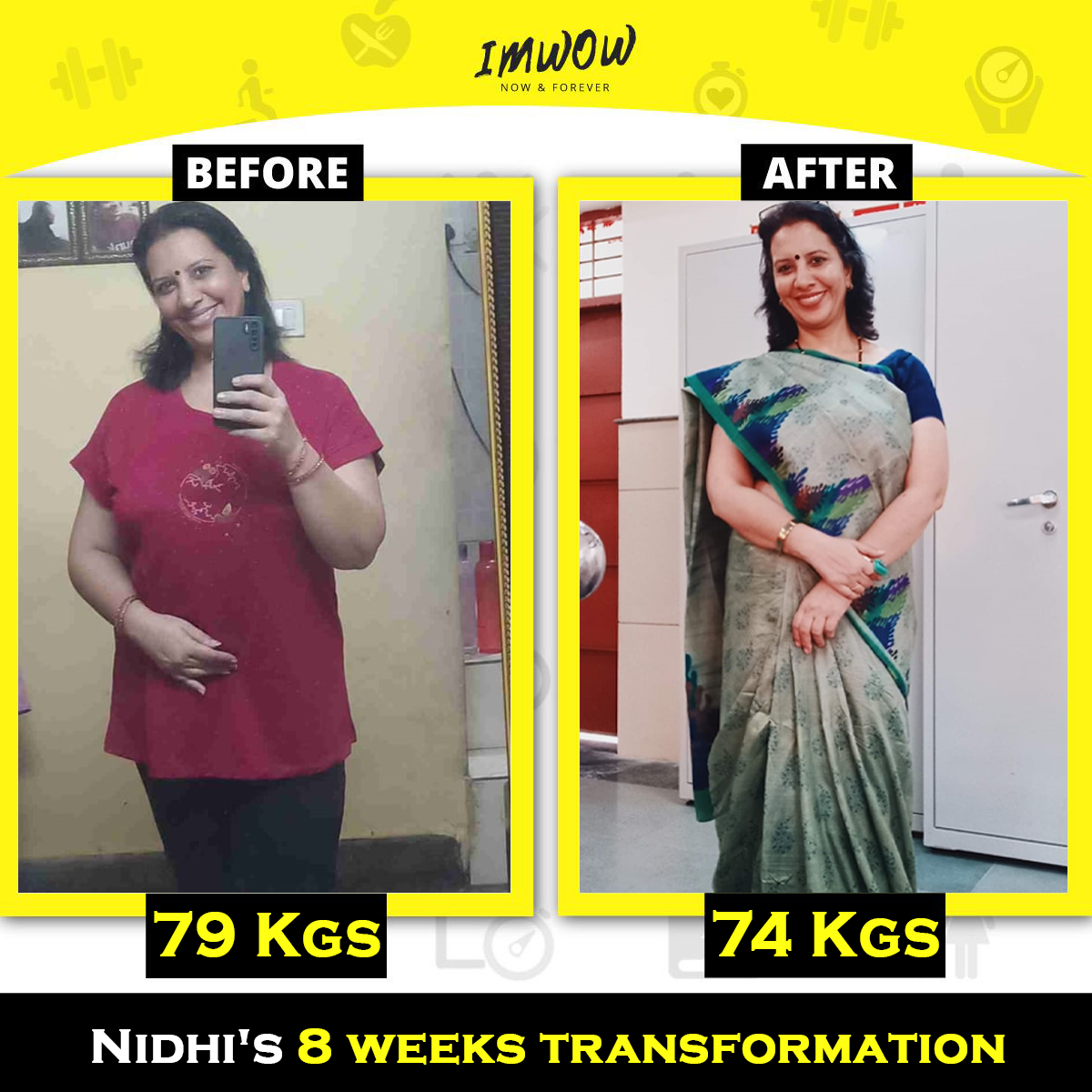 Nidhi Gaur
Weight lose mujhe lagta tha ki ye mere liye nahi hai ??? but after joining I'MWOW program ye sach main asaan laga. Thanks I'MWOW program and my dietician Bhumika maam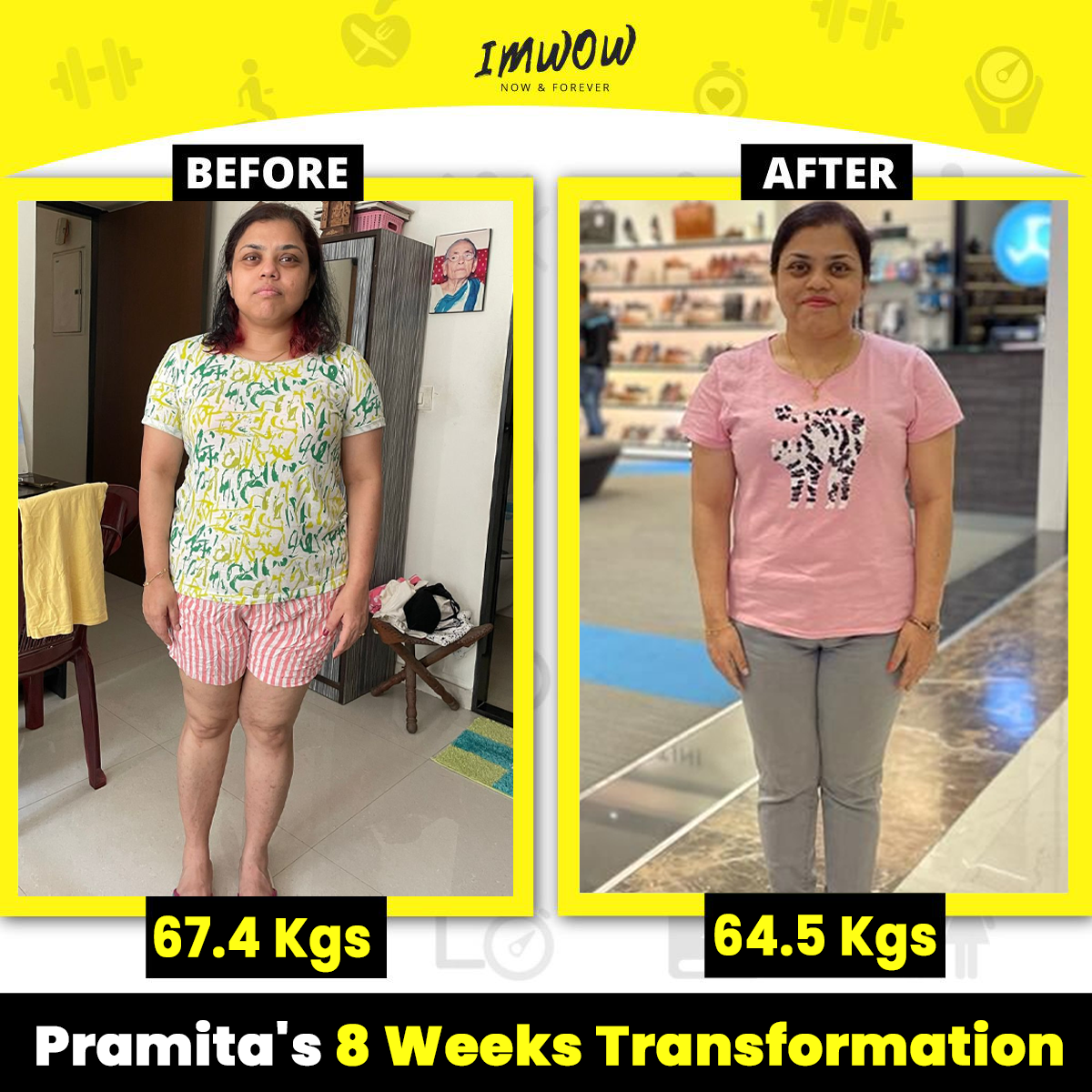 Pramita Joardar
Great food choices, Despite having frequent traveling and eating outside food was able to manage & eat healthy food options with proper guidance throughout the journey.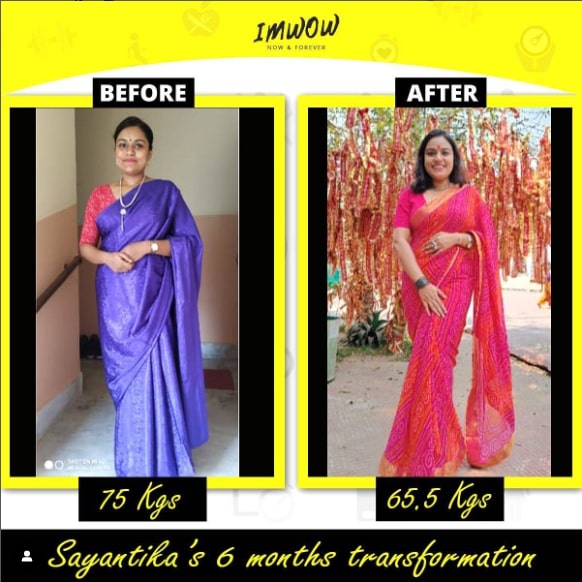 Sayantika
" I started my journey on August with waist size 40...in the middle I took a long break..and again started my journey from February...and today I bought jeans of size 32... And for this change the credit goes to one and only Soumya mam...who motivates me throughout... understands my problems...thank you mam??" Bravo Soumya, You are doing Amazing.?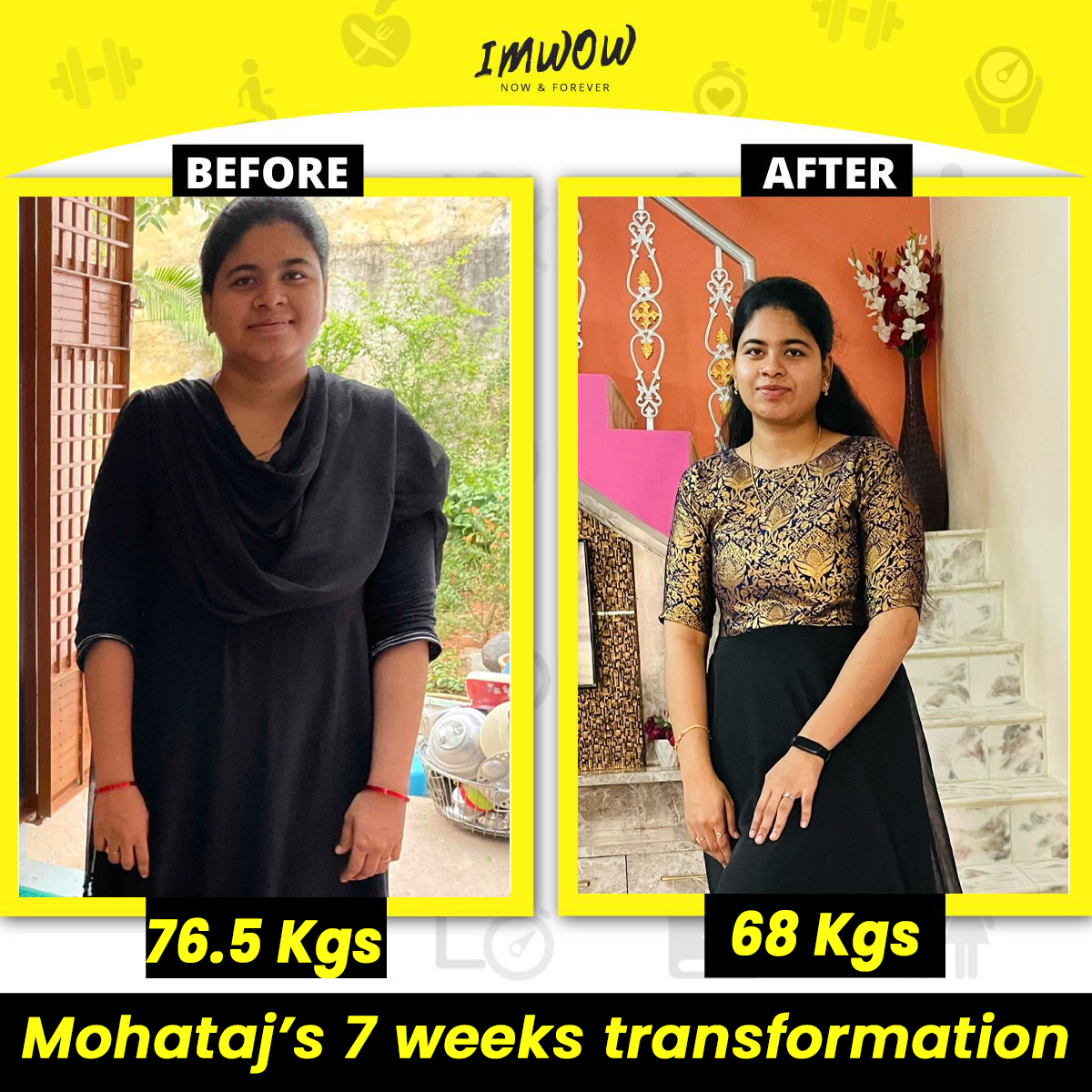 Mohataj
Hi Soumya, Week 7 successfully completed it was challenging for me. I really liked the diet chart and all the healthy recipes. Whenever I was stuck with many doubts you were clearing every doubt with a speedy response. Every week I can see changes in me and I feel a lighter Body now. Really thank you so much Soumya and I'MWOW team.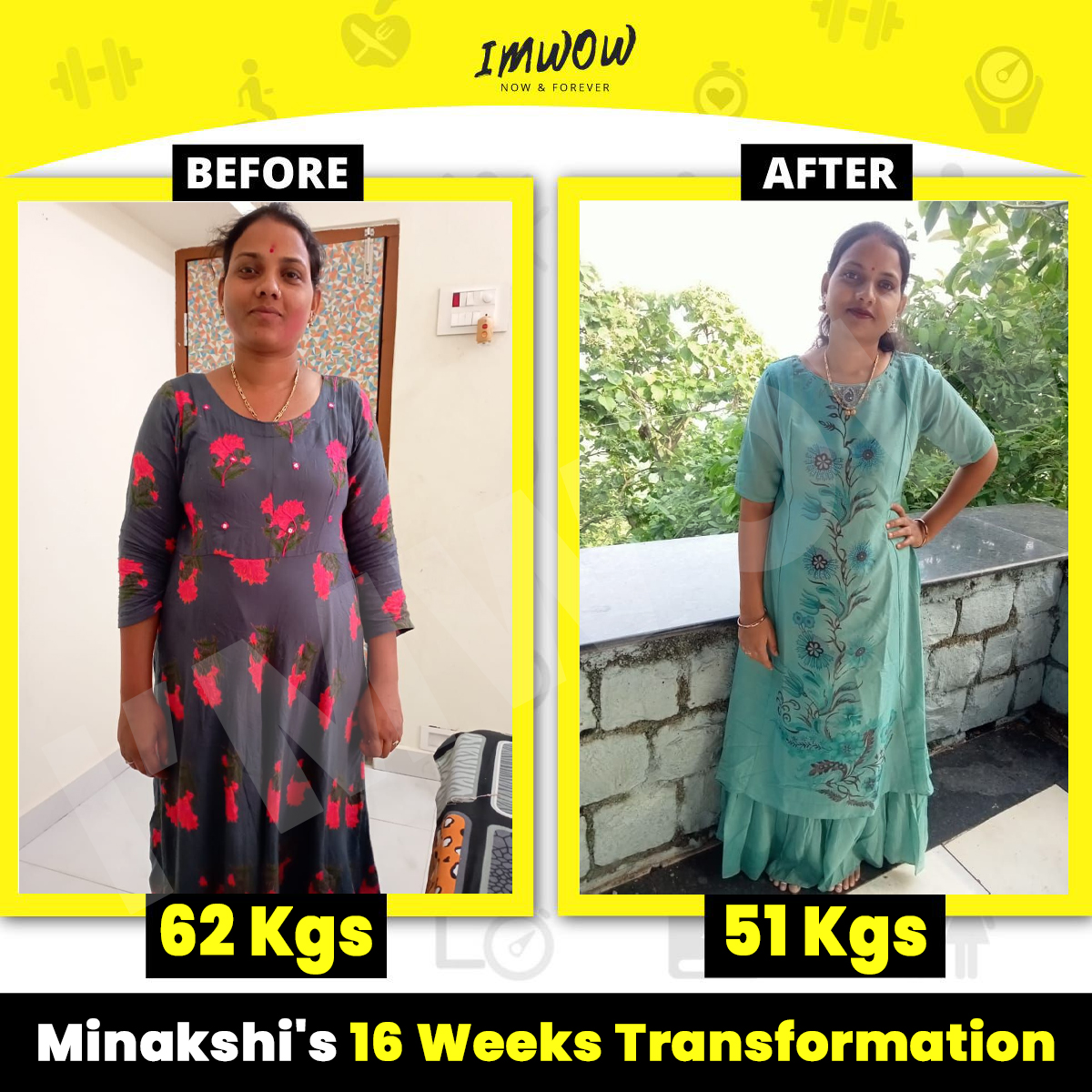 Minakshi Jadhav
My name is Ms. Meenakshi Ashok Jadhav. I used to follow different types of diet plans for the last 3 years but I was always disappointed. I was always looking for a better plan through social media. Then I came to know about Gunjanji's IMWOW plan. After taking complete information about the plan, I started the plan. We started the plan with our coach Bhumika Sharma. From day one, we started well under the cooperation, and guidance of our coach. Our coach always used to solve our small problems. my diet plan About every 7 days there was a talk with Bhumika madam. Whenever there was a desire to change the diet plan, madam used to give another plan instead. Due to this, the diet plan was never boring. During the whole plan, I changed my eating habits, which is very positive. Puri will be memorable for life. Before starting my diet plan, my weight was 62 kg and today I am only 51 kg. My husband Ashok, who is accompanying me in this whole plan, my guide role is a madam and my most important partner is Gunjan Ji. Heartily thanks to ALL??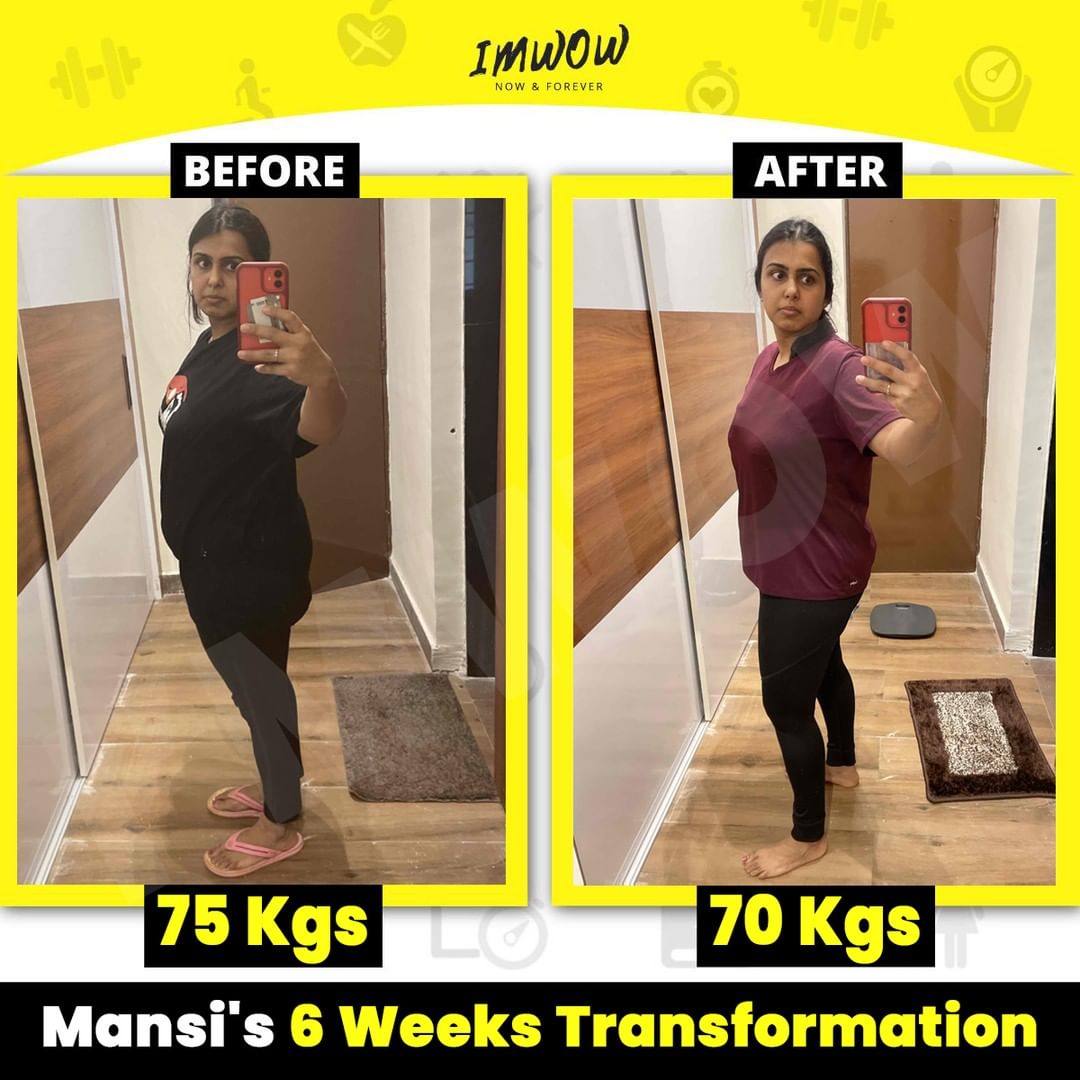 Mansi
I am very happy with the program, I have not only lost weight and inches but my skin is glowing and health-wise improved a lot .concept and diet plan are discussed and planned for our needs. Special mention I am losing weight by eating well and also importantly having very less cravings thank you Sowmya for helping me in my wonderful journey. Looking ahead to a wonderful journey with your support.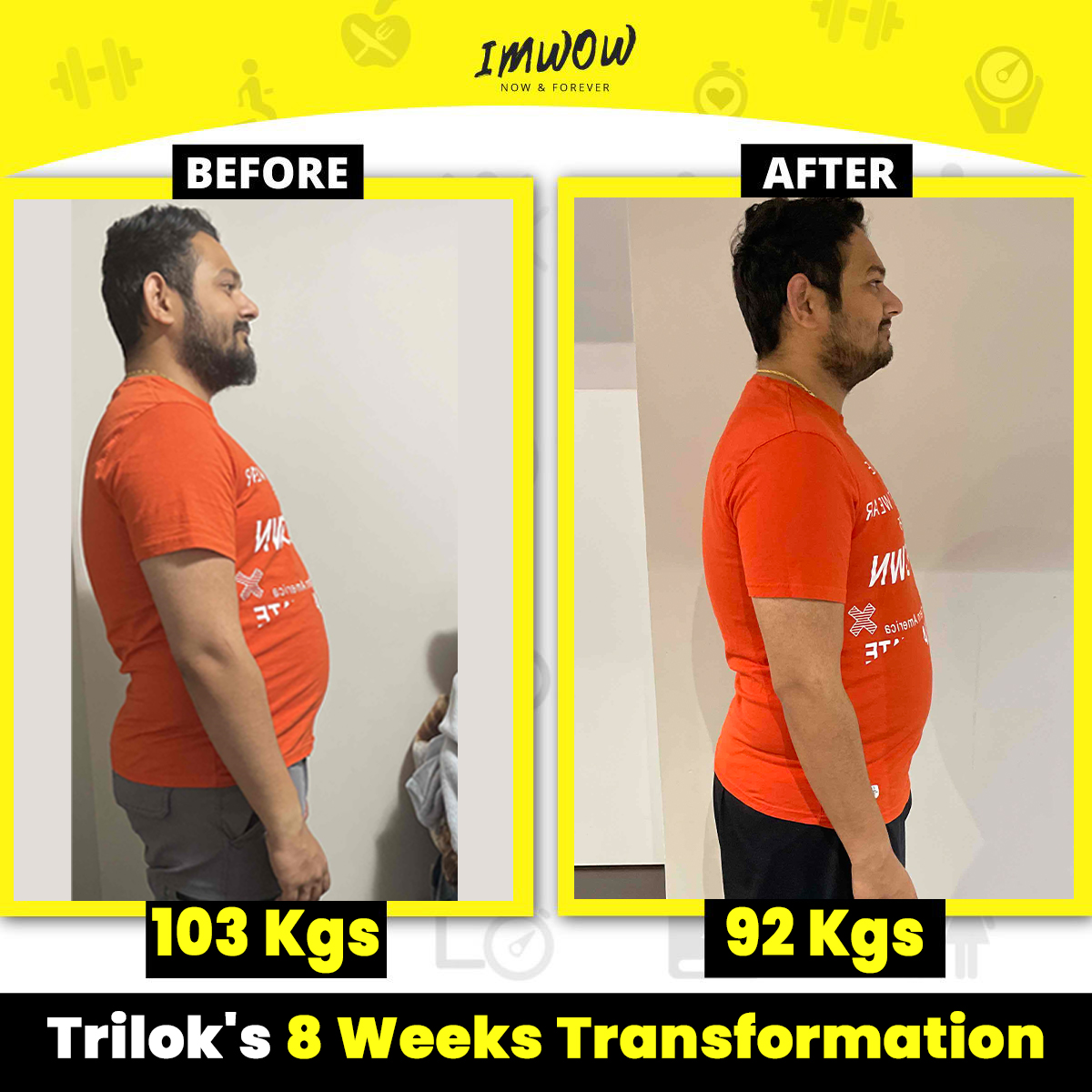 Trilok
I'MWOW team is really helpful and knowledgeable. I started getting the results after the first week of the program. Today completes the second month of my diet, I started with 103kg as weight, and today I weighed 92.3kg Thank you for your help Chetan in getting me to reduce this,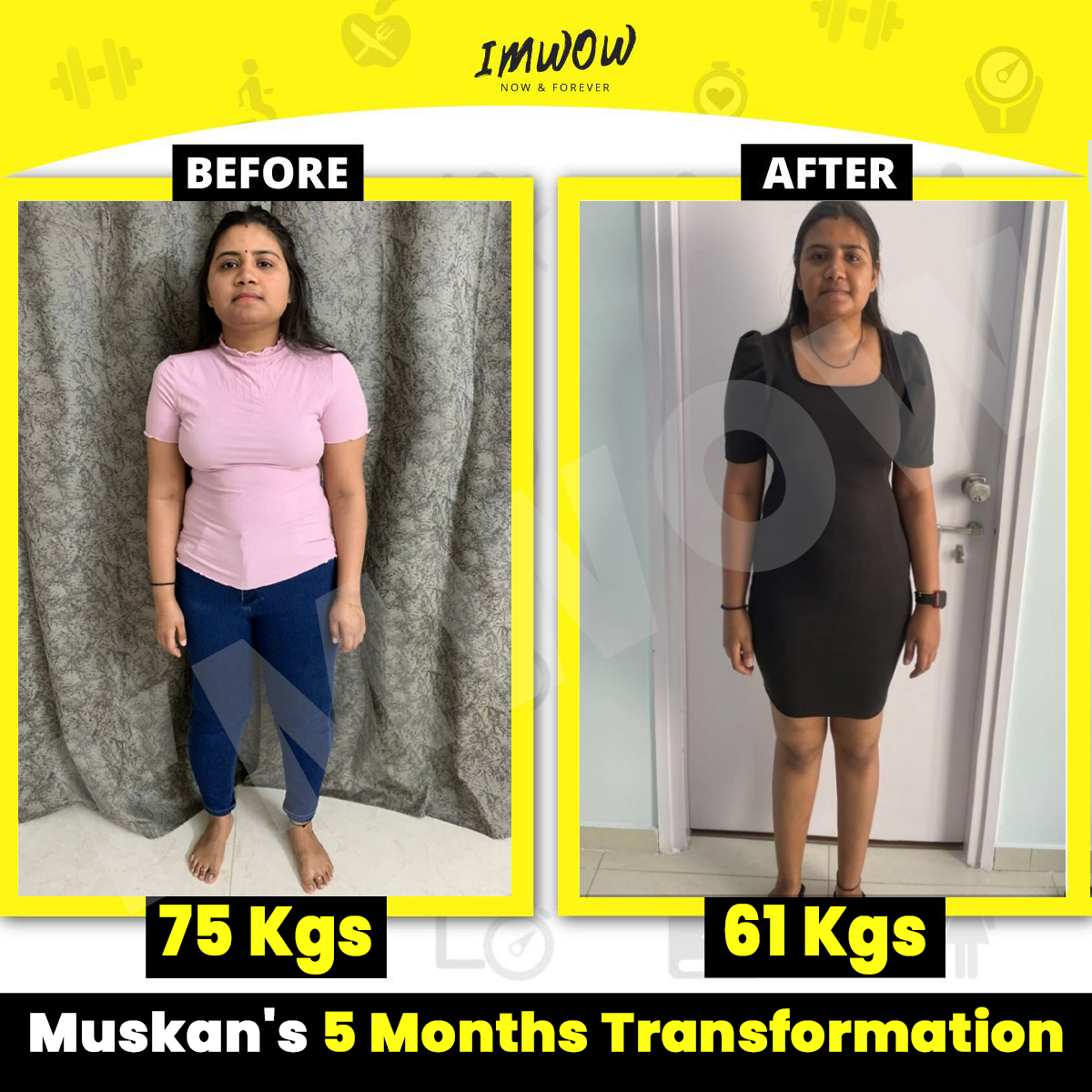 Muskan
Thank you so much, Richa. Just because of you I was able to lose 14kg in 5 months and So many inches I am really really happy that I choose you as my coach because you were so polite and calm. The best thing about you is that you always ask if I want to eat something if I'm craving something or not because of that I was able to eat my favorite food and still lose weight I would definitely recommend I'm Wow to anyone on my journey is not over yet and it is not about losing weight it's all about adapting these healthy habits and follow for a lifetime. Once again thank you so much Richa And I'm the Wow team.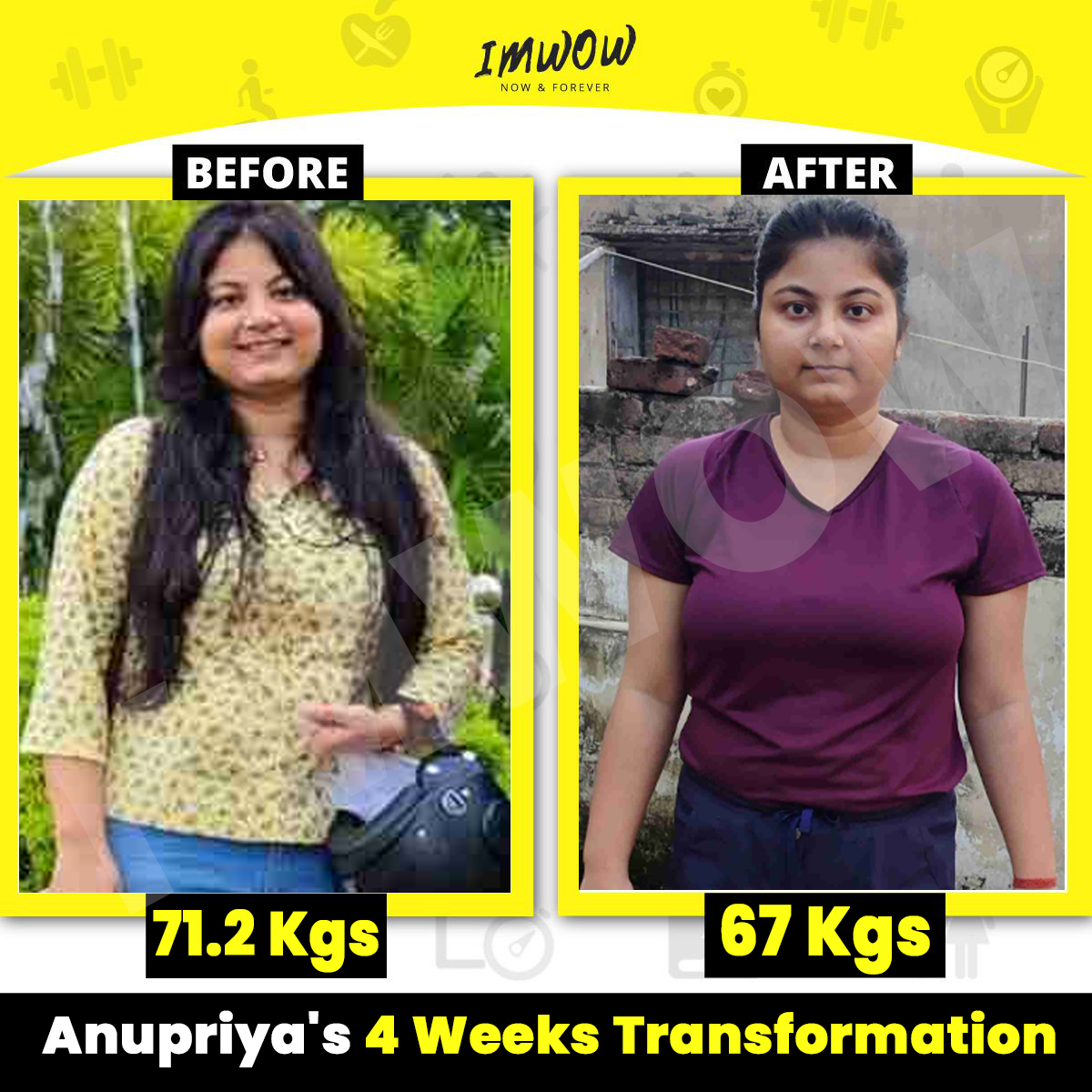 Anupriya
The journey was very smooth I really enjoyed the process. The journey made me realize the importance of diet in the weight loss journey. I still remember I couldn't complete my workout one day. But on this week4 I can say my stamina has increased a lot. These workouts are getting easier for me. I am able to complete these workout sets till the end. Thanks, Radhika for helping me throughout my journey. I know physically the difference is less visible. But internally I can say I am more energetic, strong, and confident. I am enjoying my journey. The day I skip my workout I feel guilty. I will continue my fitness journey and keep eating healthy. Thanks, team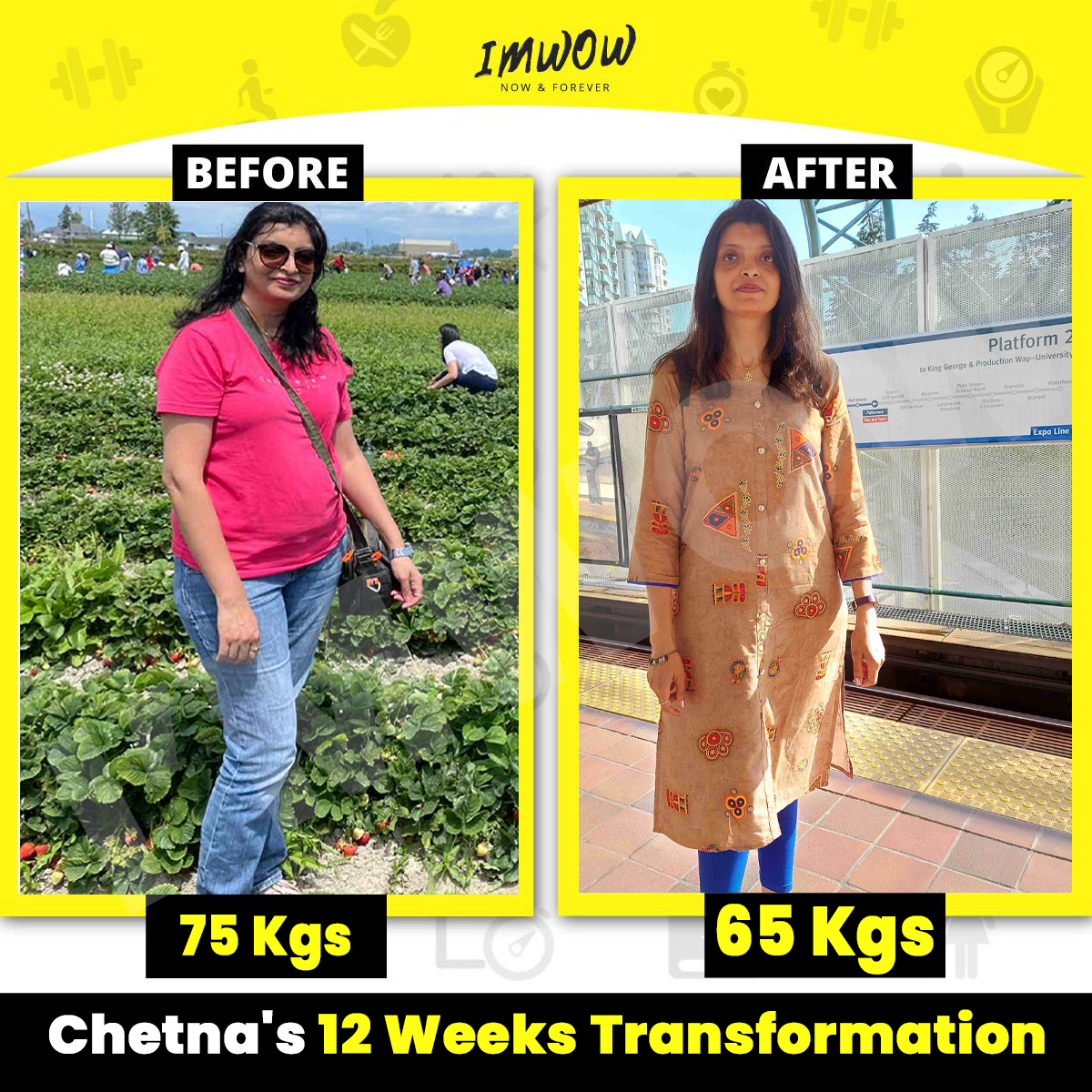 Chetna Jadeja
I am really grateful I joined the IMWOW transformation journey and which has changed me not only in my body appearance but also in mindful eating habits. Big thanks to my coach @Ankita who cooperated with me by all means during my ups and downs as well, she always kept me motivated. IMWOW is part of my family. Thank you @Gunjan Ji and @Ankita S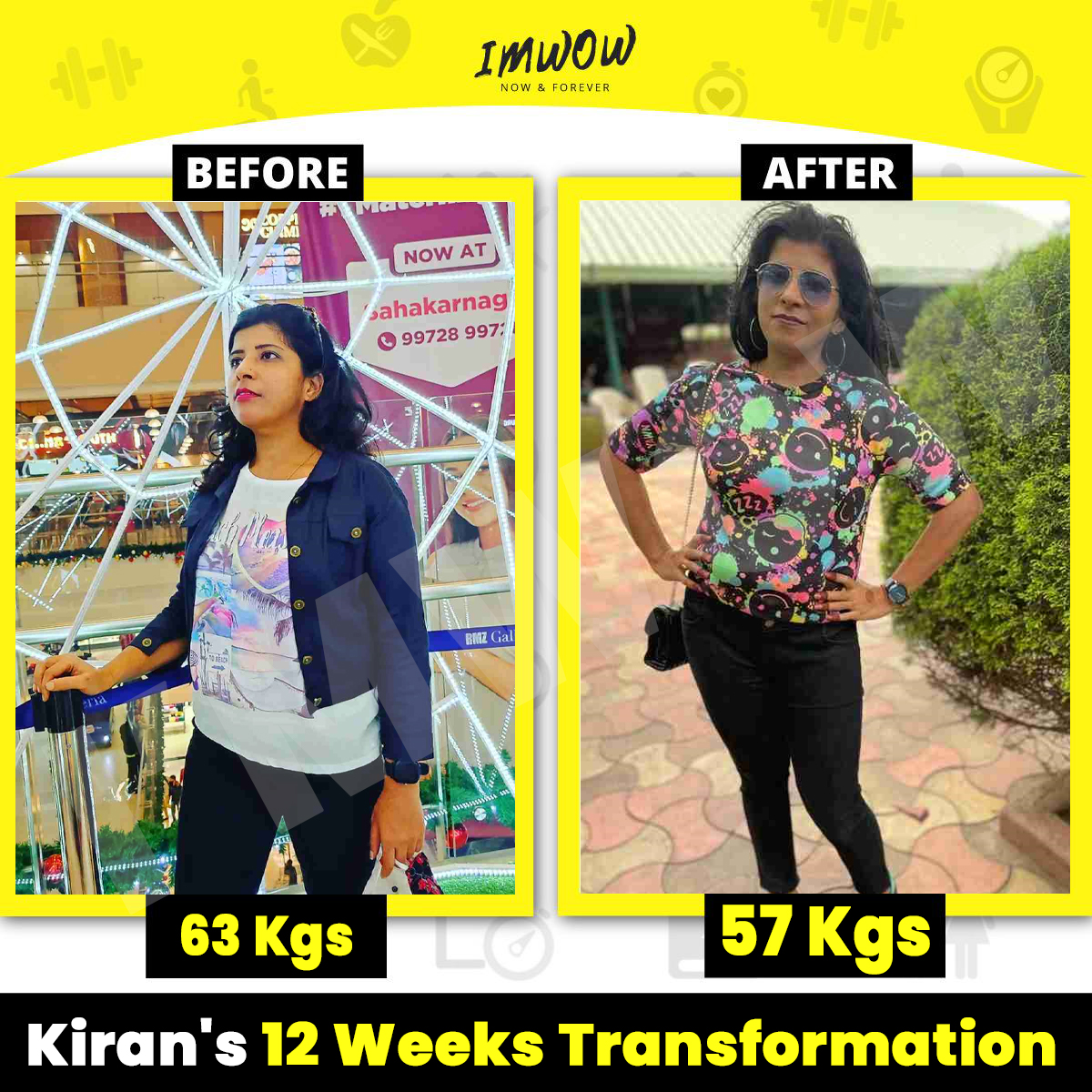 Kiran Khatri
Today I completed my 12 weeks transformation with the imwow team I enjoyed a lot of delicious recipes. No compromise with any kind of cravings., you were there 24*7 to help me. You understood me better than I did. I learned each & everything with the imwow team & especially with my fav Aditi mam. I love to see a daily calorie-counting diet, which I have never seen anywhere. I changed to two dieticians before enrolling in the imwow team you suggested my meals as per my choice with lots of filling, tasty, and healthy, & my skin became too glowy I cured my thyroid, constipation, cravings during periods, & also body pain during heavy periods. Now I'm feeling very healthy, & more energetic & the best part is without any supplements I'm feeling too much better than before 12 weeks You explained to me patiently, and sweetly, & to be honest, I have kept lots of queries to you. More what should I write? My feedback to each & every member of the imwow team is 5 star Thank you so much Aditi mam & Gunjan mam.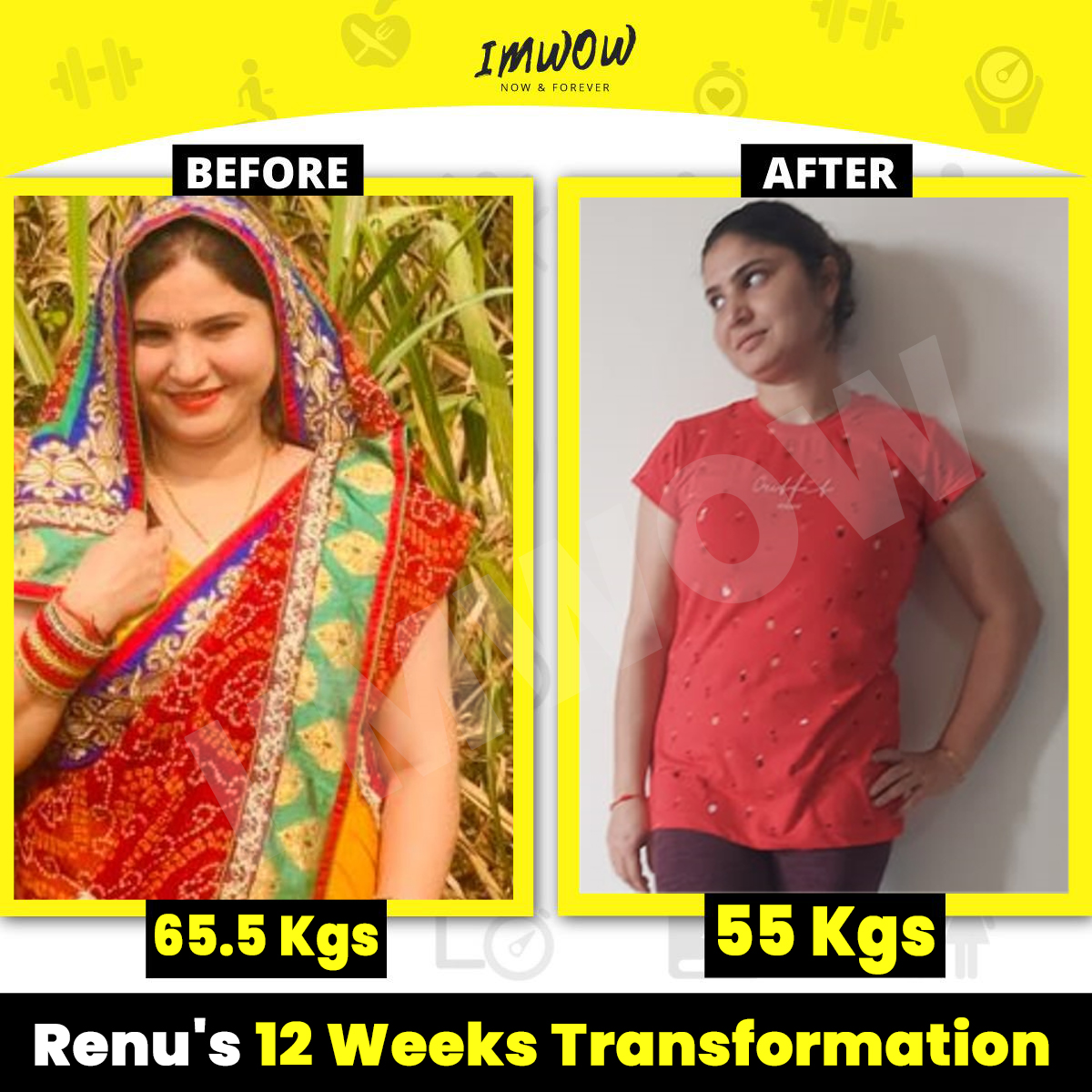 Renu Baliyan
Thank you so much ma'am for helping me with this transformation, I don't have words to say to you Thank you. Thank you so much for your guidance, I never thought dieting could be that easy but with your help, I am able to lose 10 kg and got my shape back. Ankita, you are so humble and always available to help me with any doubts, no matter what time and how much busy you are. I would like to say a very big thank you to the whole I'MWOW team, who help me in this transformation. Thank you!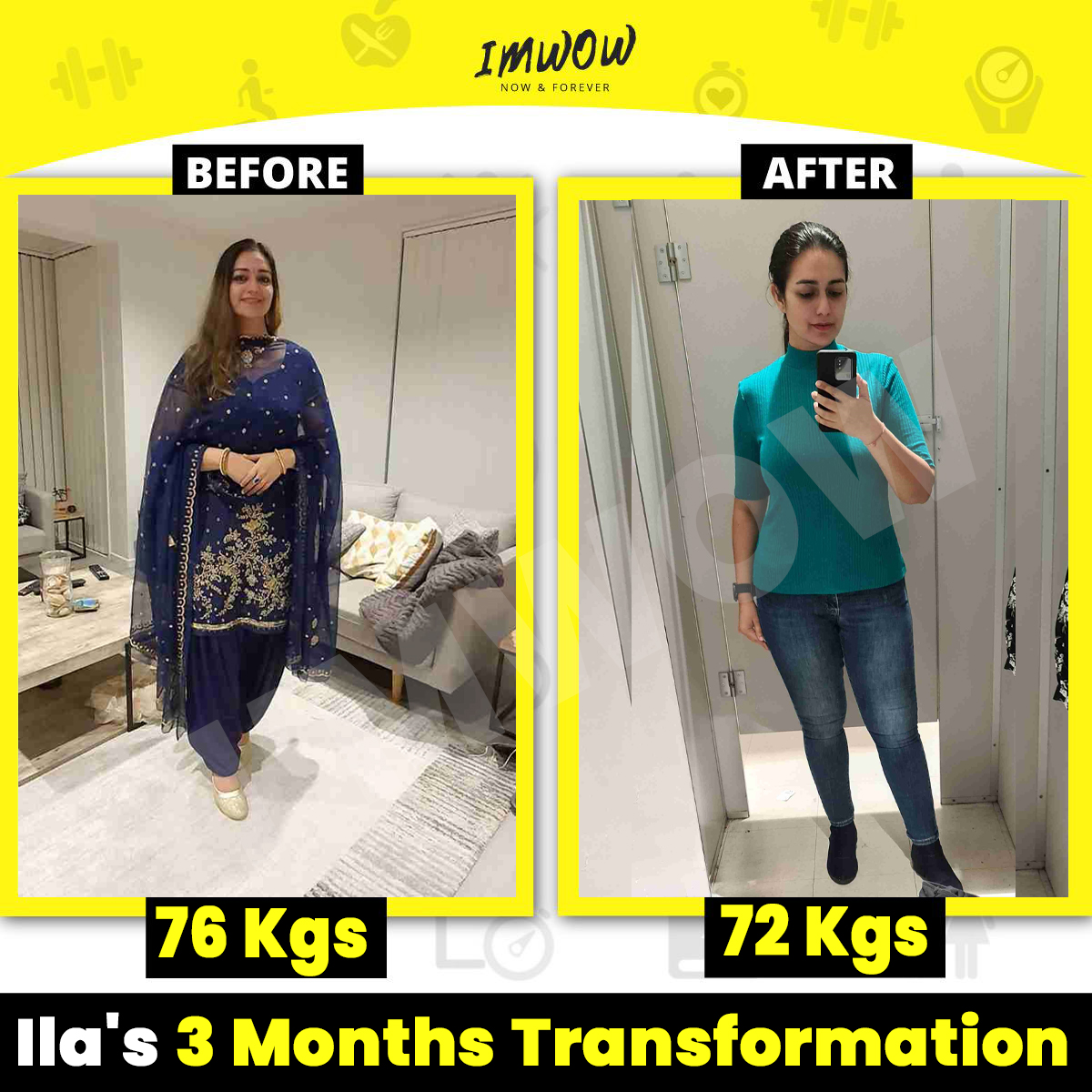 Ila Banerjee
My journey with Imwow has been great. I was struggling to shed some weight and feel fit again but suffering from a condition of hypothyroidism didn't make it any easier. Thanks to coach Radhika who understood my body mechanism and prepared bespoke meal plans for me each week and provided guidance over the weekly video calls. At first, it seemed a bit difficult to manage with a hectic lifestyle however after losing almost 5kgs and a few inches, this has now become a lifestyle choice for me. Thanks to coach Radhika and the team of Imwow for their continuous effort in making people live fit and healthy lives. Cheers.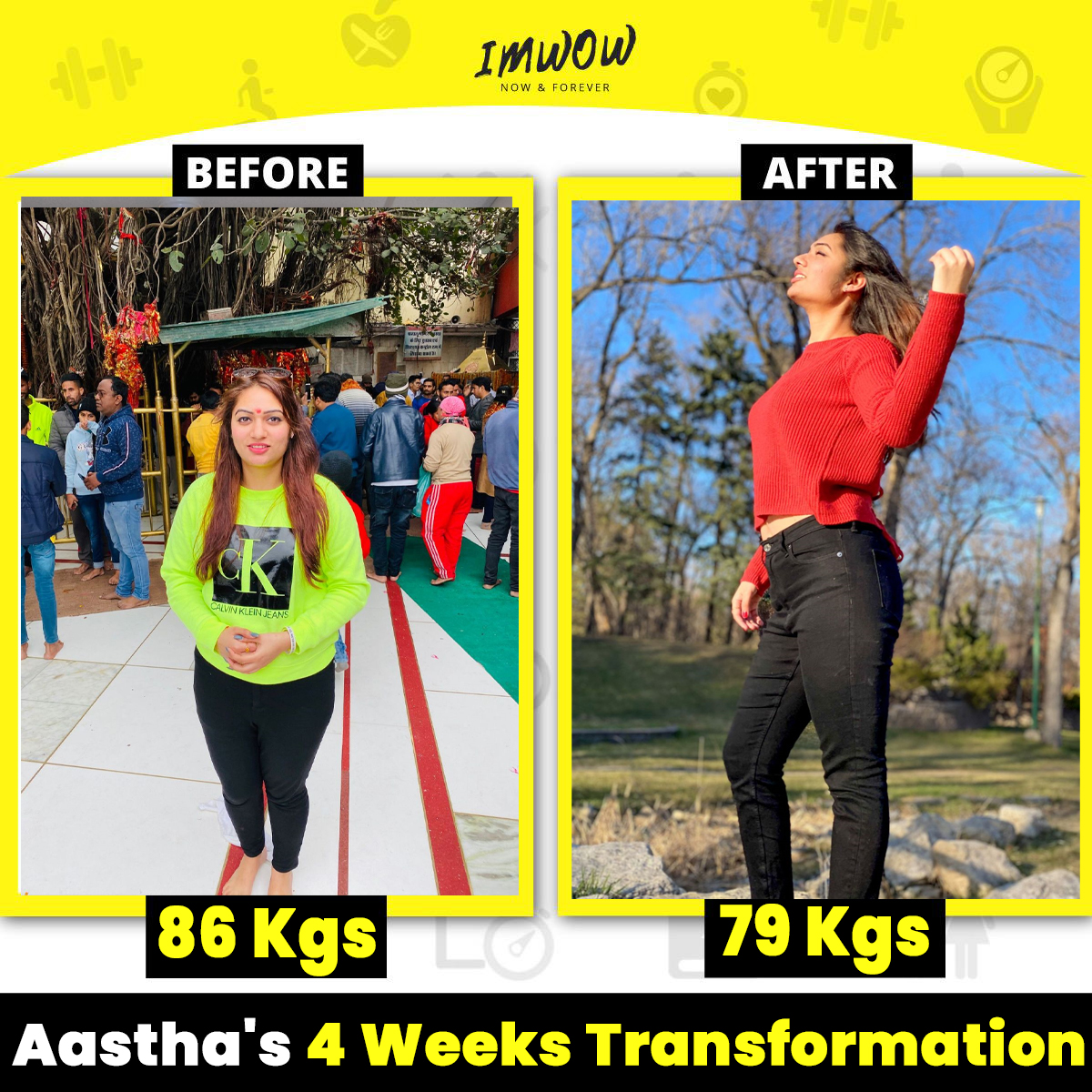 Aastha
Hello, Chetan Sir I hope that you are doing well. I just want to update you that I kept myself motivated for the entire year and I also followed your tips and some guides. Today, I have achieved what I wanted for the last year and lost more than 20 kg at some intervals after. Thank you so much for being a part of my weight and fat loss journey.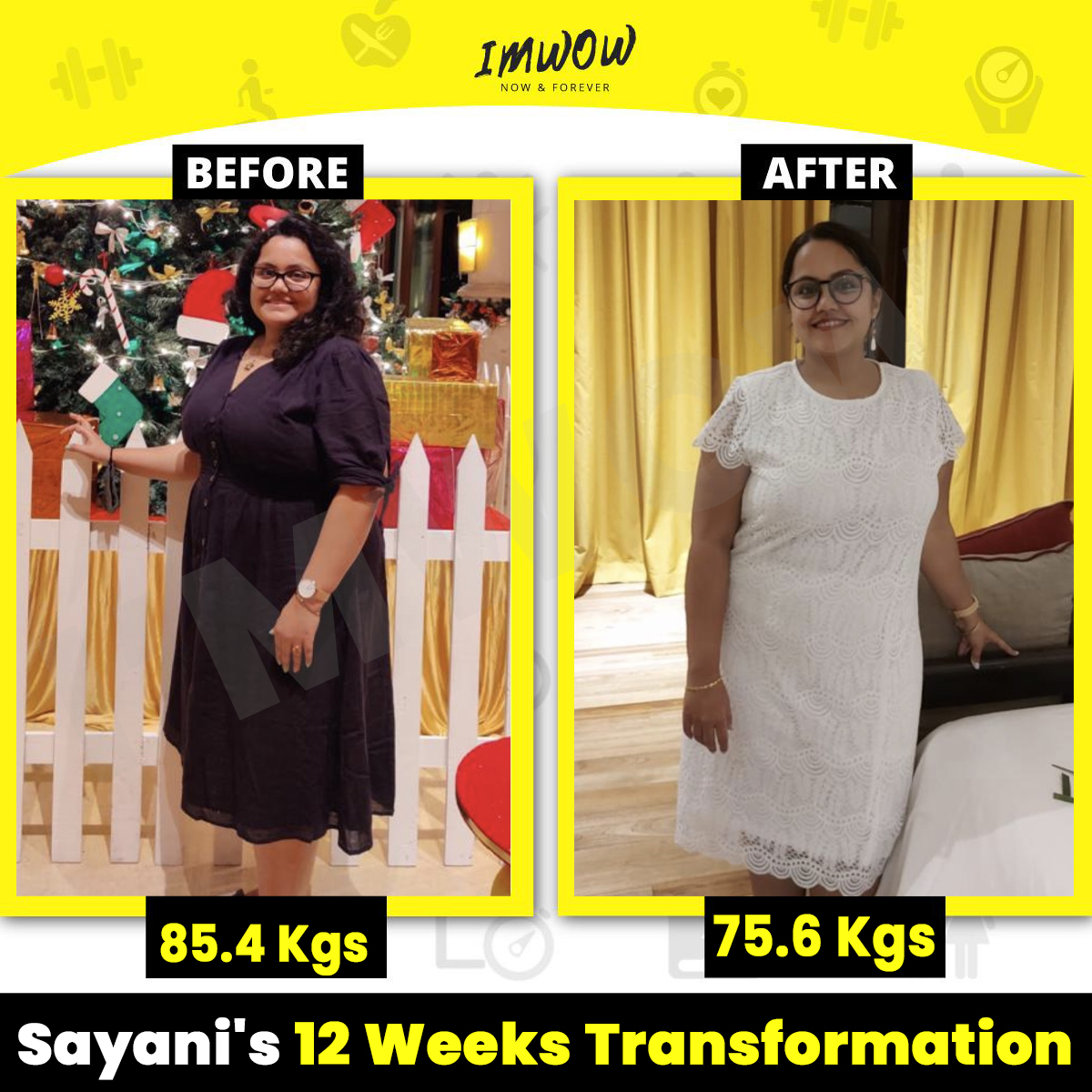 Sayani Das
Hi Vidhi, Today my Iamwow journey comes to an end, but my journey toward fitness doesn't end here. I would like to take this opportunity to thank you, for all your support and guidance. You not only gave me a diet plan but also taught me how to make a conscious decision about choosing the right food. I never felt bored during this journey and found a new love for healthy foods?. Thanks again for helping me achieve this goal, I feel more healthy, fit, and mentally strong about myself?. I was at a point, where I almost believed that weight loss was not possible, but I could lose 10 kg in 3 months, which is there with me for the last 6-7 yrs? , I am very grateful to you and I promise to follow this lifestyle in future as well. I will stay in touch, wish you all the best??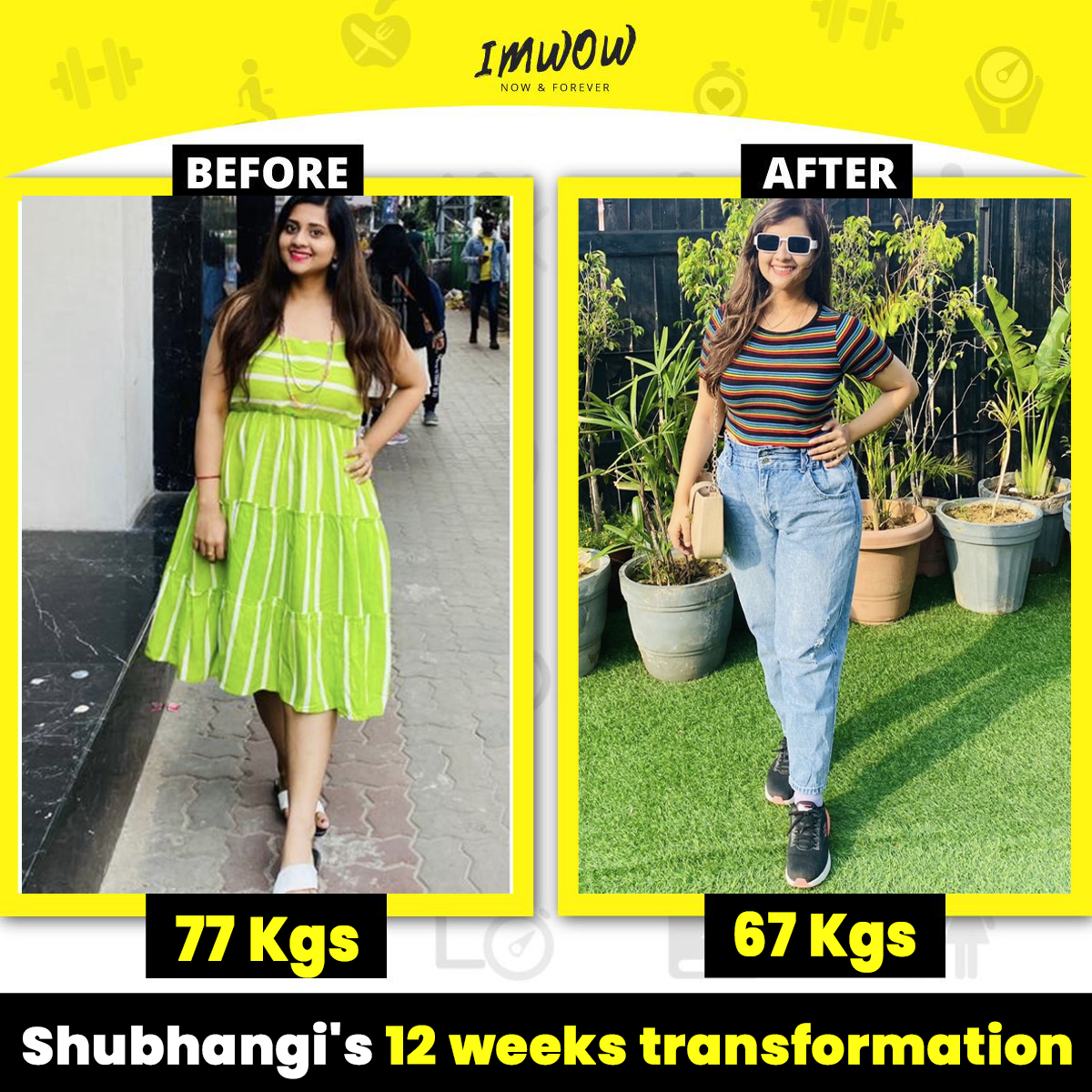 Shubhangi Pandey
All my life I have always been on the higher end of the weighing scale. I never really bothered about it until 3 years ago when I started feeling maybe I am not healthy anymore. I did lose a lot of weight back then but as soon as I became inactive, I started gaining it all back, not to forget the continuous struggle with my Thyroid was always there. I have been following Gunjan for a long long time and this year I finally thought its time to understand how diet plays a vital role in our overall health without a second that I started my journey with IMWOW. Today I feel that was the best decision I've taken so far, coz you changed my perception of food. I am so glad to have you as my dietician on this journey Vidhi, you are truly the sweetest, nicest, and ever-helpful coach. I never got bored of my meal options, in fact, I used to look forward to my next week's diet and our consultation calls. Thank you Vidhi, not just for helping me lose so much weight, but also for helping me understand healthy eating habits. You pushed me whenever I was being lazy and always suggested the best options even when I did so much traveling during my weight loss journey. From 77 to 67 was not an easy task, but you made me feel it was a cakewalk. Thank you for making this so memorable, all hearts for you ?????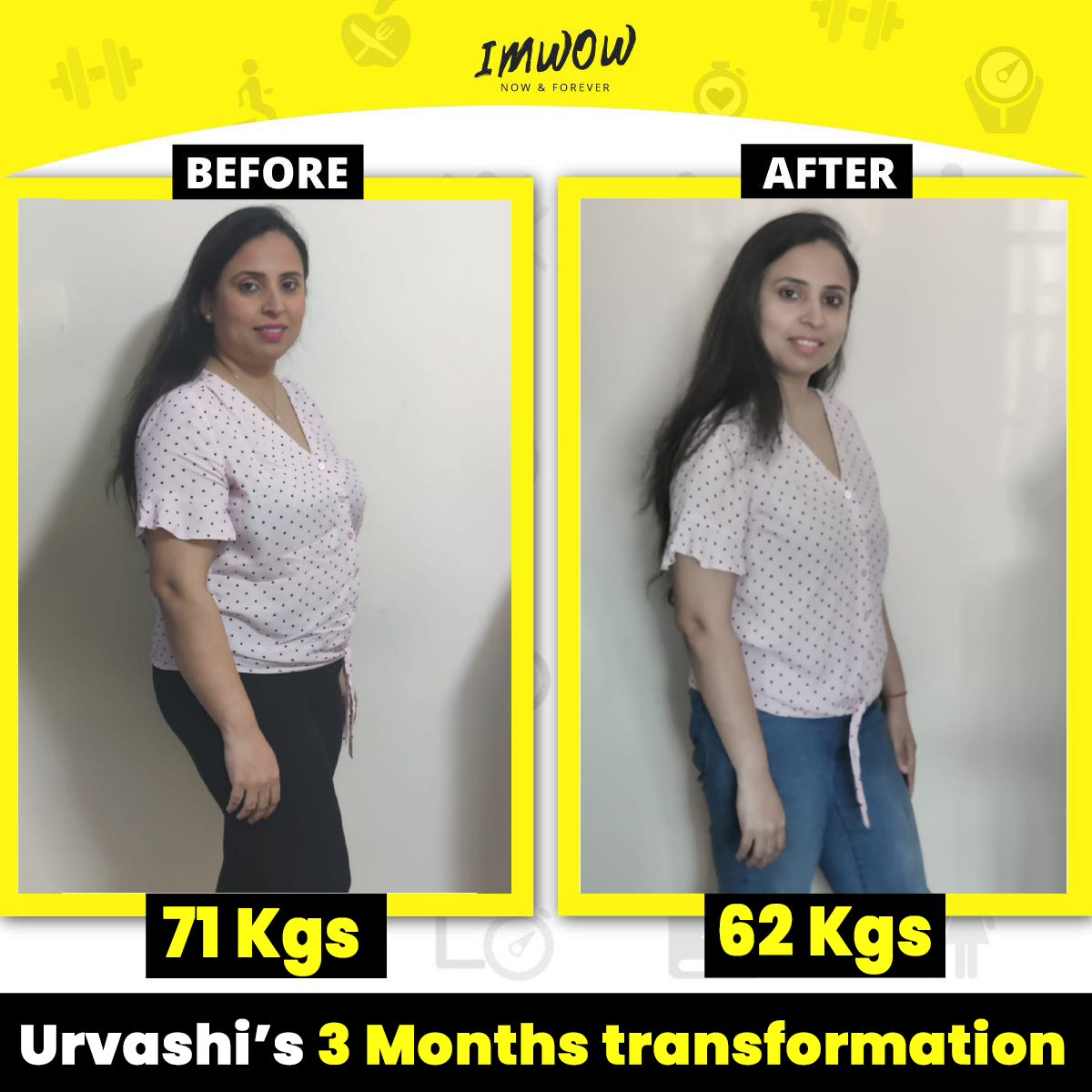 Urvashi
I needed a push to start my weight loss journey... Which I got from IMWOW and my very supportive coach. My weight journey was totally dependent on my diet plan as I could not do workouts due to physical health issues.. still, I lost nearly 9 kgs in 12 weeks. I feel very confident in myself. with the weight plan, I have learned to eat in proper portions and take a healthy diet, which I think will become my everyday pattern now, even after my finishing my plan. Thank u Richa.. for being there throughout this journey.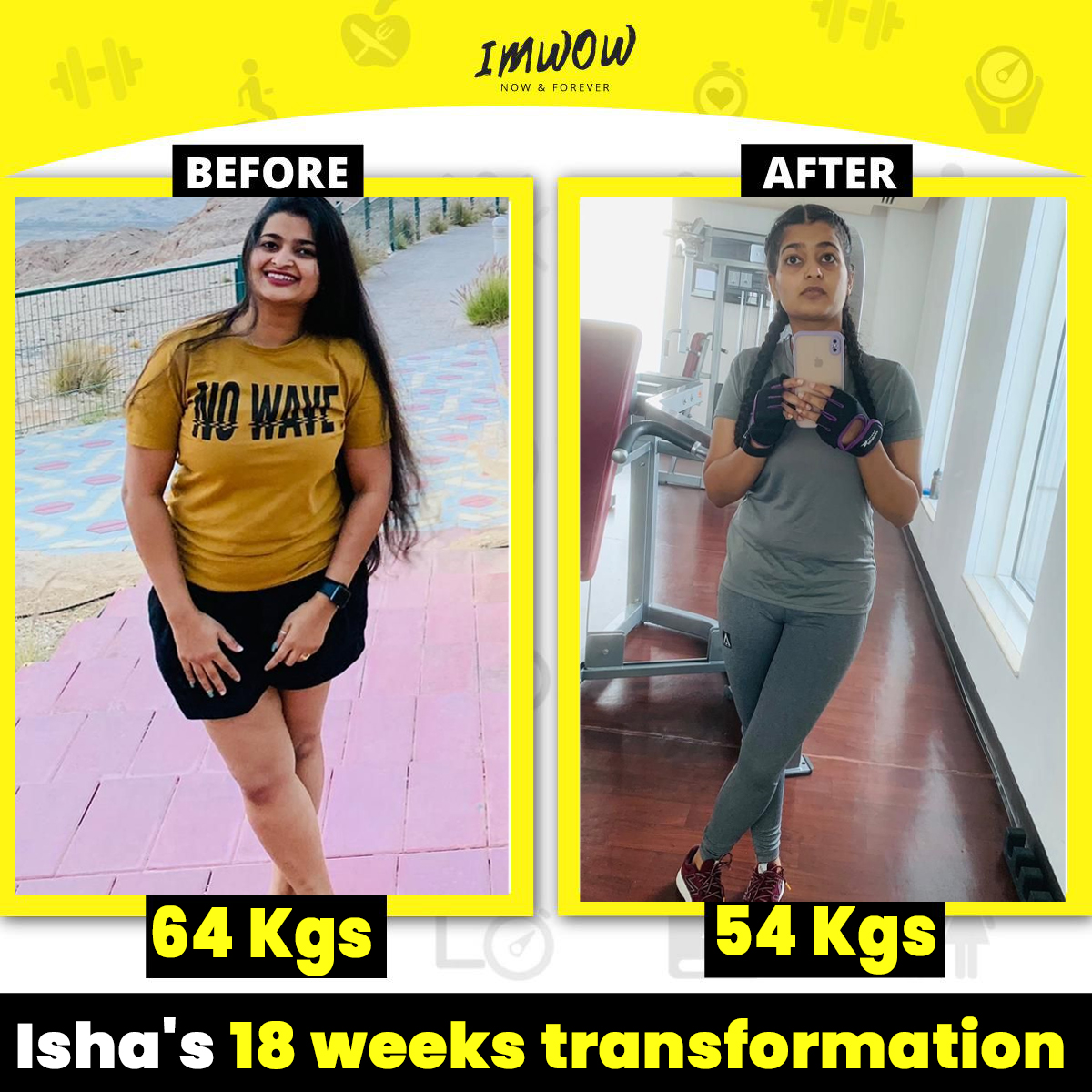 Isha Kaushik
Hello Chetan and Gunjan, First of all, thank you so very much from bottom of my Heart For the last 2 days I am receiving so many compliments from those people who used to tease me by saying thoda weight Kam Karle, Moti ho Gayi, etc and now they are asking me the secret behind my fitness I really want to call you Di if you allow l, as you inspired me so so much. I got so motivated when I saw your videos on YouTube. Frankly, when I enrolled I was so sure that I will be stuck on 58 or 57 not more than but when I started I was 63.7 and now I am 53.9 10kg down And of course big thanks to Chetan for always being available, and for your guidance and taking care of my medical issues as well really as I always say without your help and guidance it was not possible. I am still away from my Goal, so I want to continue with my 4 weeks plan Thank you, and stay safe.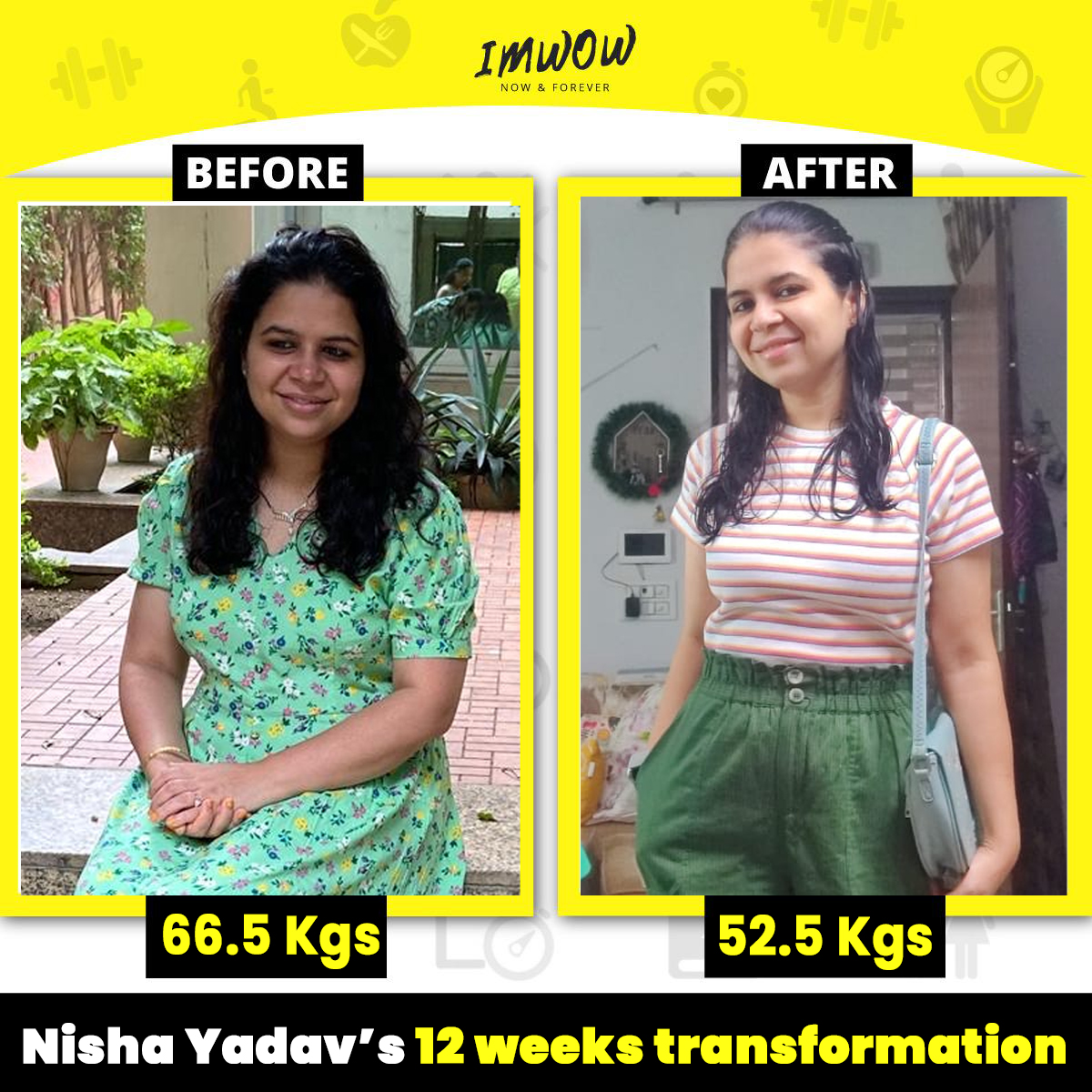 Nisha Yadav
My name is Nisha and post pregnancy I had gained a lot of weight and my day-to-day activities started to feel heavy. The fitting of all my clothes changed making me feel depressed and my visits to doctors and physiotherapists increased due to leg pain. My trust in I is wow developed because of the various successful transformation stories on social media. I started my journey with my beautiful coach Vidhi 5months back and she helped me reduce 15kgs in a simple hassle-free manner and let me enjoy my favorite meals too. I would like to thank you Vidhi from the core of my heart.I do not have words to express, you are simply awesome. The way you have supported me and tried to understand all the problems and still given alternatives and solutions to everything was commendable. Whenever I had negative thoughts you pulled me to be positive. I achieved literally all I wanted and more by putting in efforts in the right direction as guided by my coach Vidhi. Now my size is "S", although the journey from "XL" to "S" was tough, it was worth it. Lastly, I would like to say: Have faith in yourself, as it can make you achieve miracles. Vidhi the words r short for what i feel for you, still tried to thank u!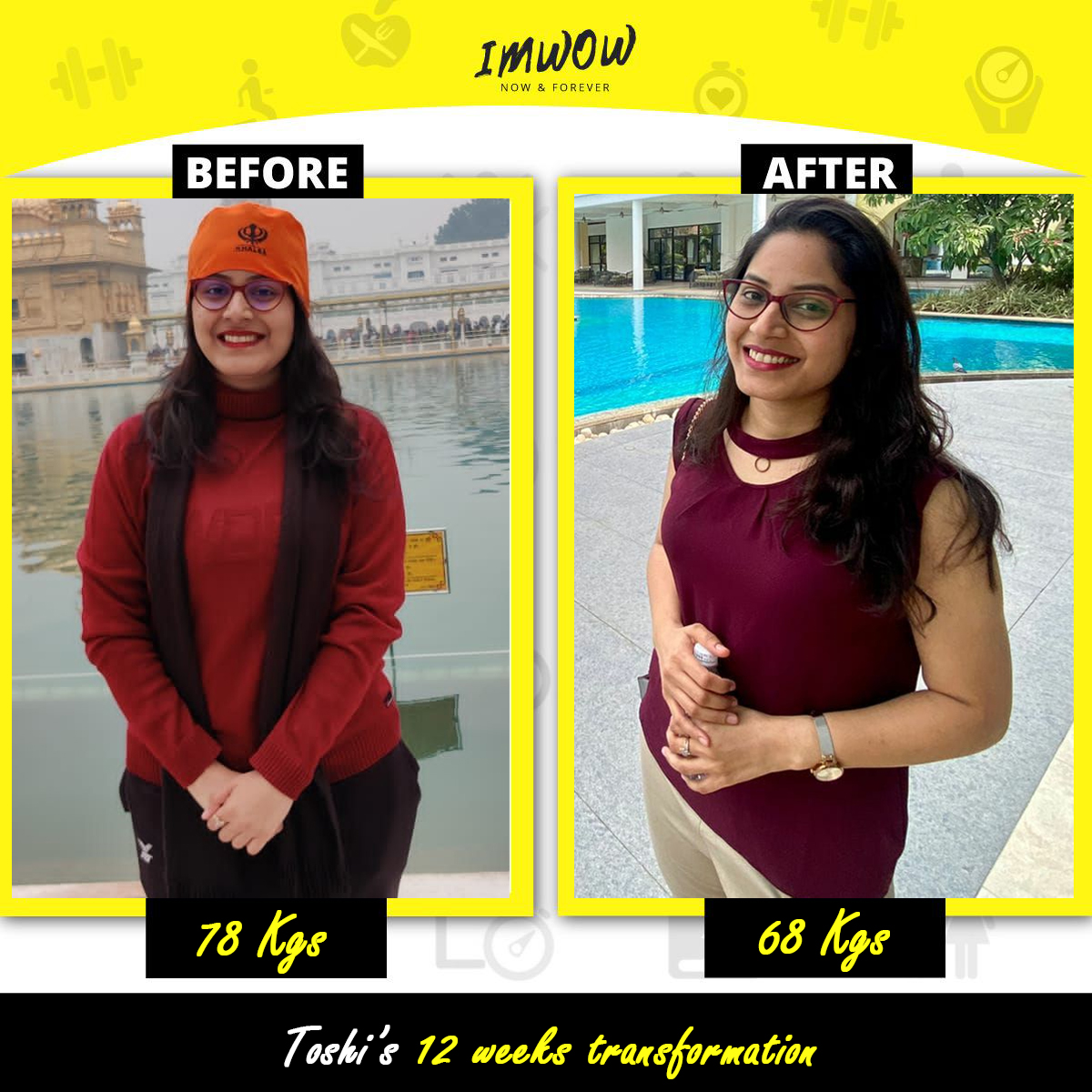 Tosh Agarwal
I'm very grateful to I am wow and Bhumika, my coach as they've helped me in my journey! Bhumika has been very supportive and encouraging throughout, she has dealt with me with a personal touch that always gave me a push. There were days when I hadn't lost more than 200 grams in a week, but also there were days when I had lost 1.5 kgs in a week. It's been wonderful being with her..she has also allowed me with some junk sometimes when I had bad cravings..she is a wonderful coach..it wouldn't have been possible without her at all. In the future, if I ever take any diet program. I'll look forward to being with you Bhumika! Thank you for being patient with me! I've lost 10 kgs throughout the journey which seem to be impossible when I started.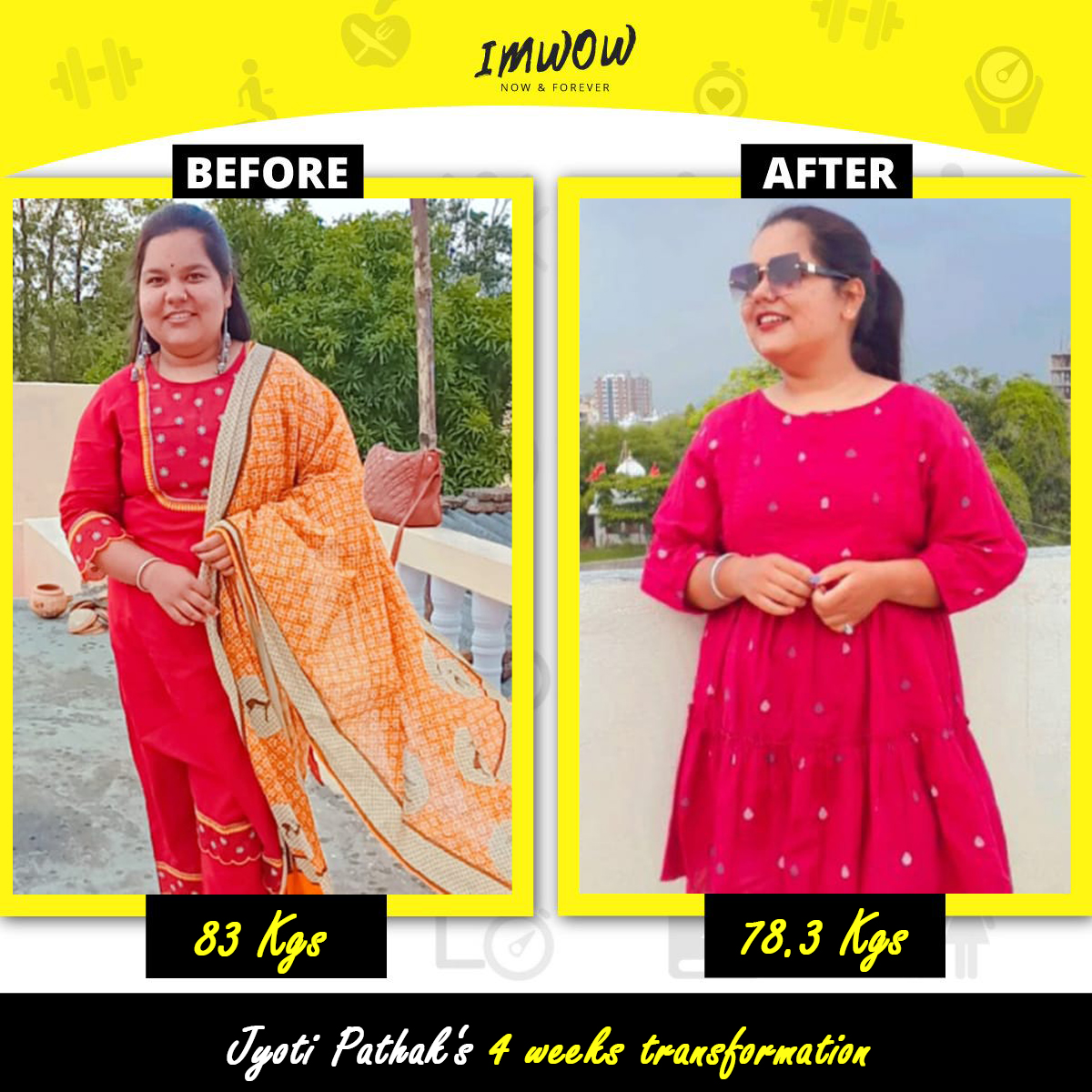 Jyoti Pathak
Like from where do I start thanking you? mere thought mai tha ki to get slim it's too tough but the team I am wow made it possible... The coaches, the exercises, the food, and the app all is good.. in 4 weeks like approximately I lost 5 kgs which is an achievement for me .. my coach Soumya mam is very good and the way she talks blows me each problem away .. thank you Soumya mam and Gunjan mam and the whole team. It was my first week and in the first week only I am able to see the results ..thank you so much Soumya mam your diet plan is so admirable and acceptable. Weight loss itna easily ho sakta hai , ab pata chala ,, thank you so much.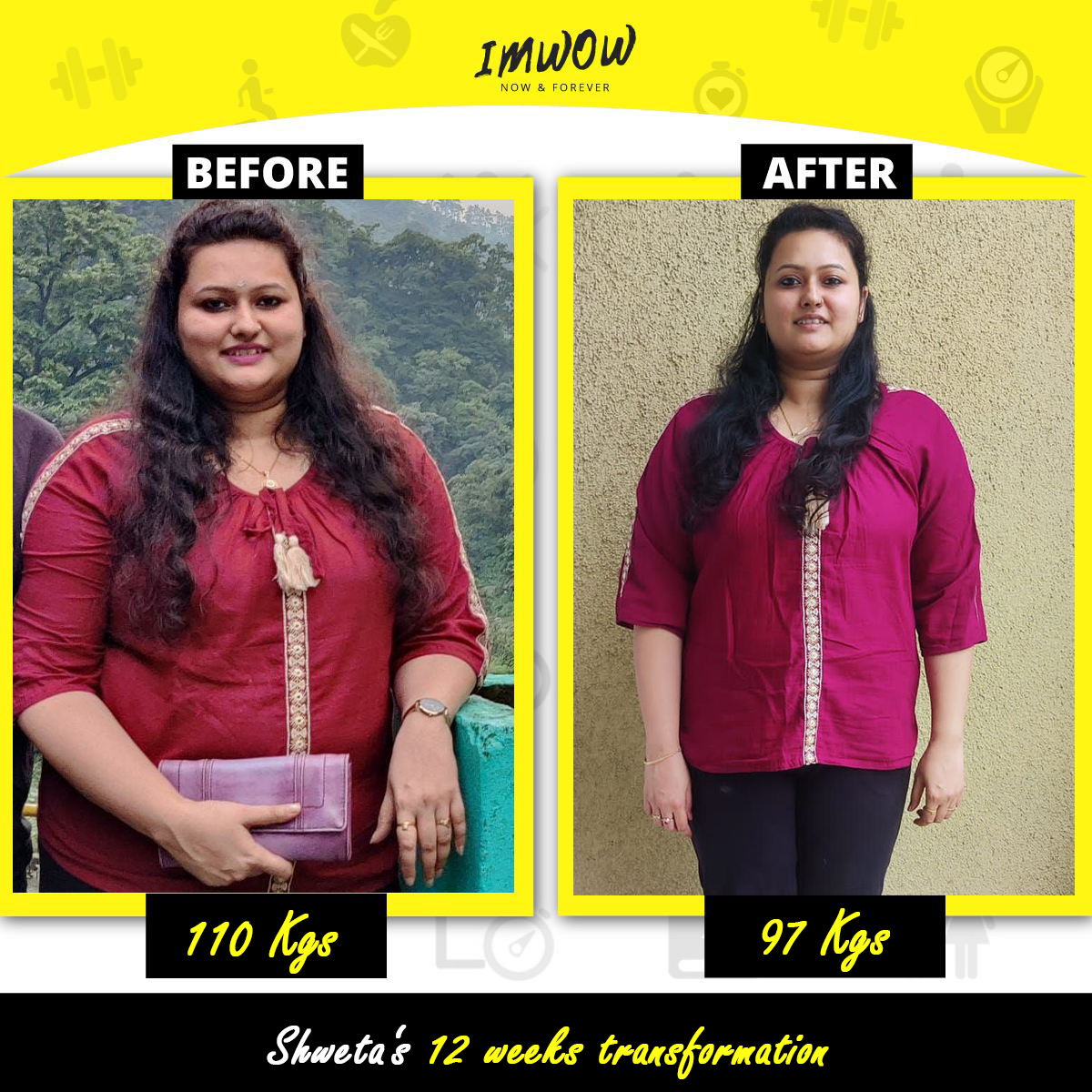 Shweta Varma
My 12 weeks journey with I'mWow coach Bhumika has been absolutely amazing and smooth. Not only is there a change in my body weight and inches, but there is a positive change in my lifestyle. Bhumika has been really supportive in helping me with my food preferences and dealing patiently with my mood swings. Thanks to I'mWow and Bhumika for helping me in losing 13 kg when it was hard to lose even 1kg! I can't wait to start my next set of 12 weeks journey with her again and lose more kilos! Thank you so much!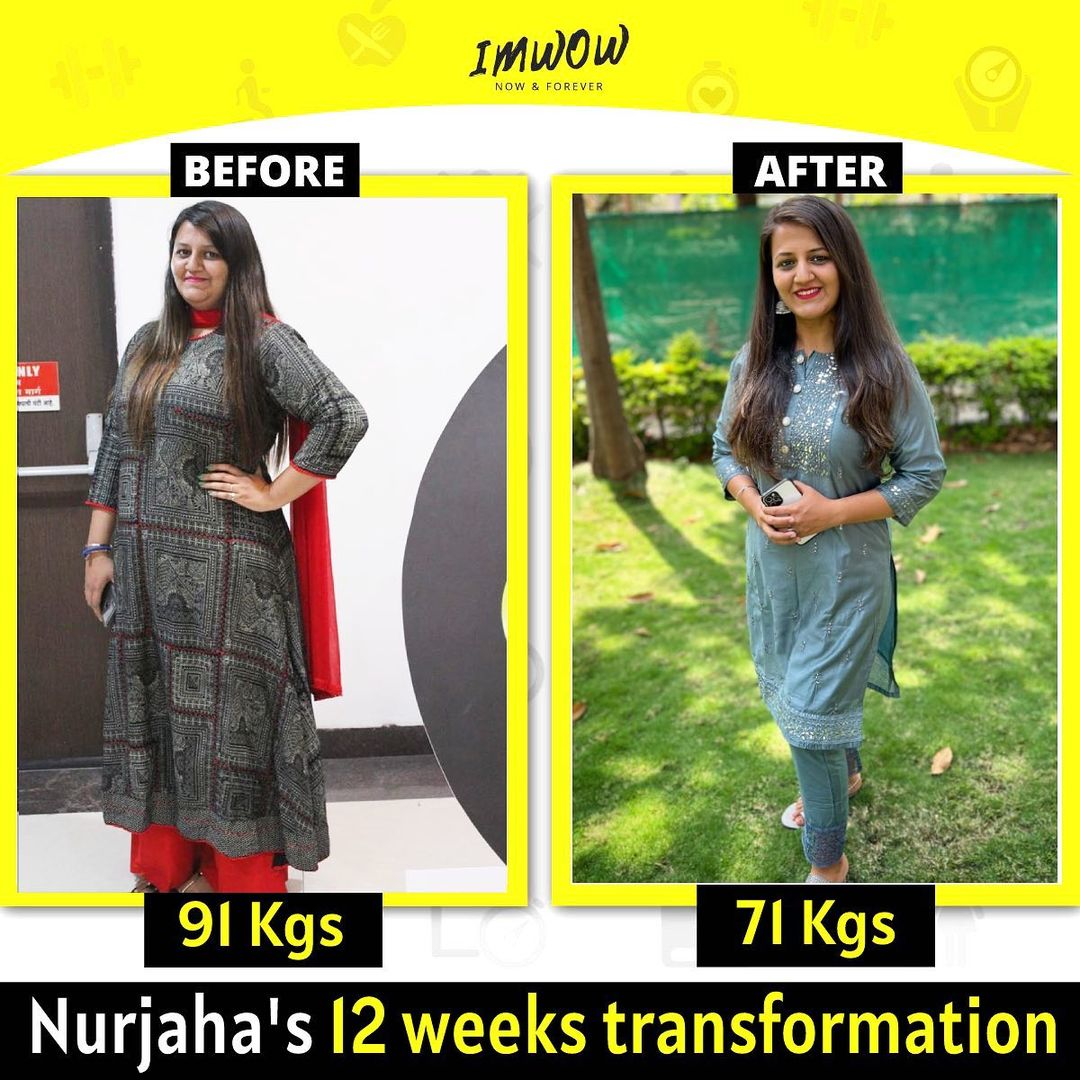 Nurjaha
ImWow has changed my life upside down. I was a girl with PCOS and obese. And once I was looking for a recipe on YouTube and came across Gunjan Shouts and binge-watched all the videos one after another. I decided to bring a change. I've totally lost 20 kgs+ with this program and of course, it wouldn't be possible without you Ankita Mams. Thank you sooooo much for your support and guidance. Loved the recipes you've given in my plans as per my choice. I appreciate the efforts you've taken to plan my meals. Lots of love to you and ImWow. Also, I would like to share my before-after picture just so you know how much change you've bought to my life.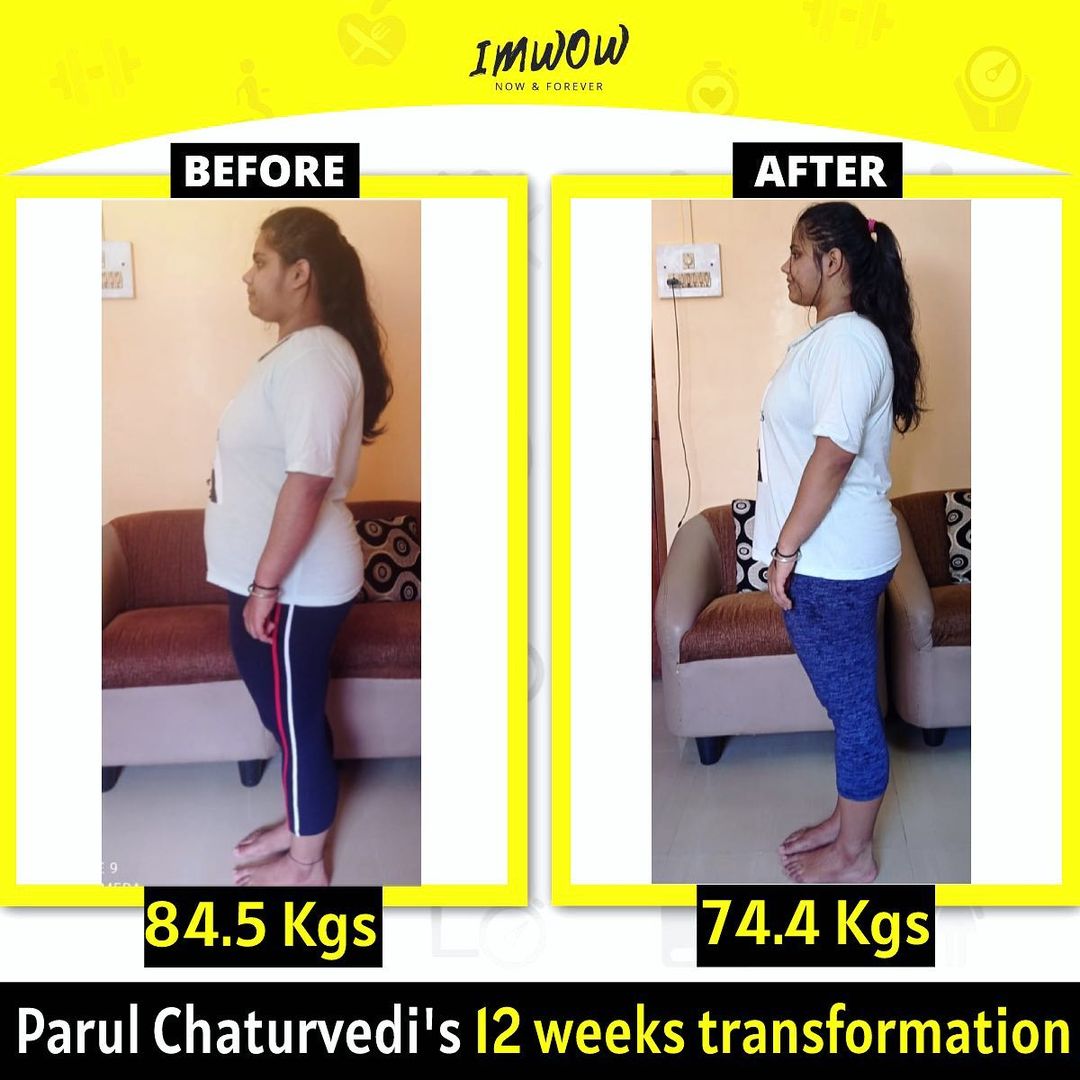 Parul Chaturvedi
Hi, Aditi maam, Can't thank you and Gunjan ma'am for this splendid program. Grateful to you guys for each n every kilo of weight loss. Sharing my pics, it's not even month's end but just felt lighter and better so thought of making this edit to see the difference n I can surely see it ready to show the world soon.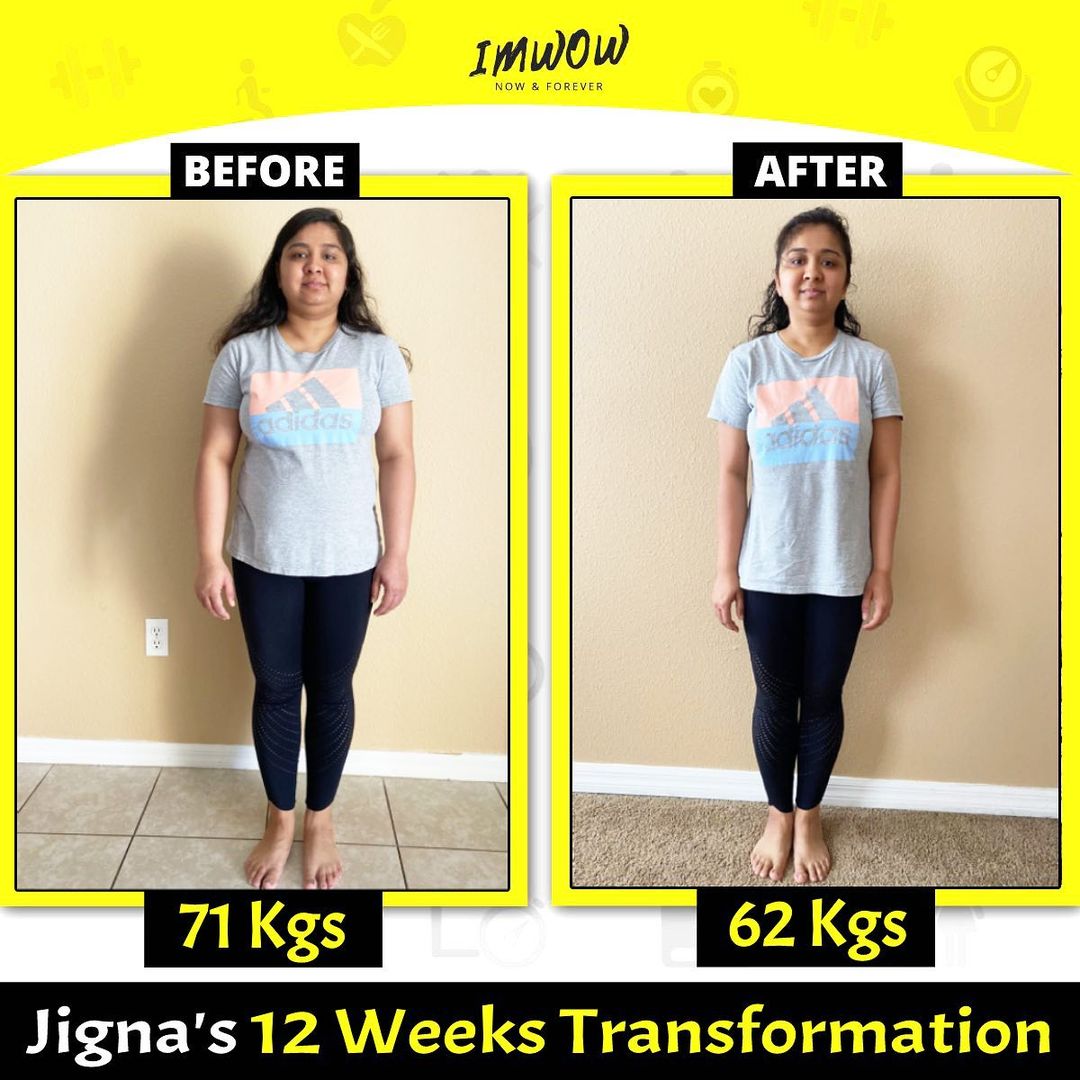 Jigna
Thank You so much for your help. It would not have been done without your help. It was the best decision to join Imwow. I learned so many new things like exercises and recipes. I never thought the weight loss journey can be fun, but it was great. Thank you so much, Richa and the entire team of Imwow?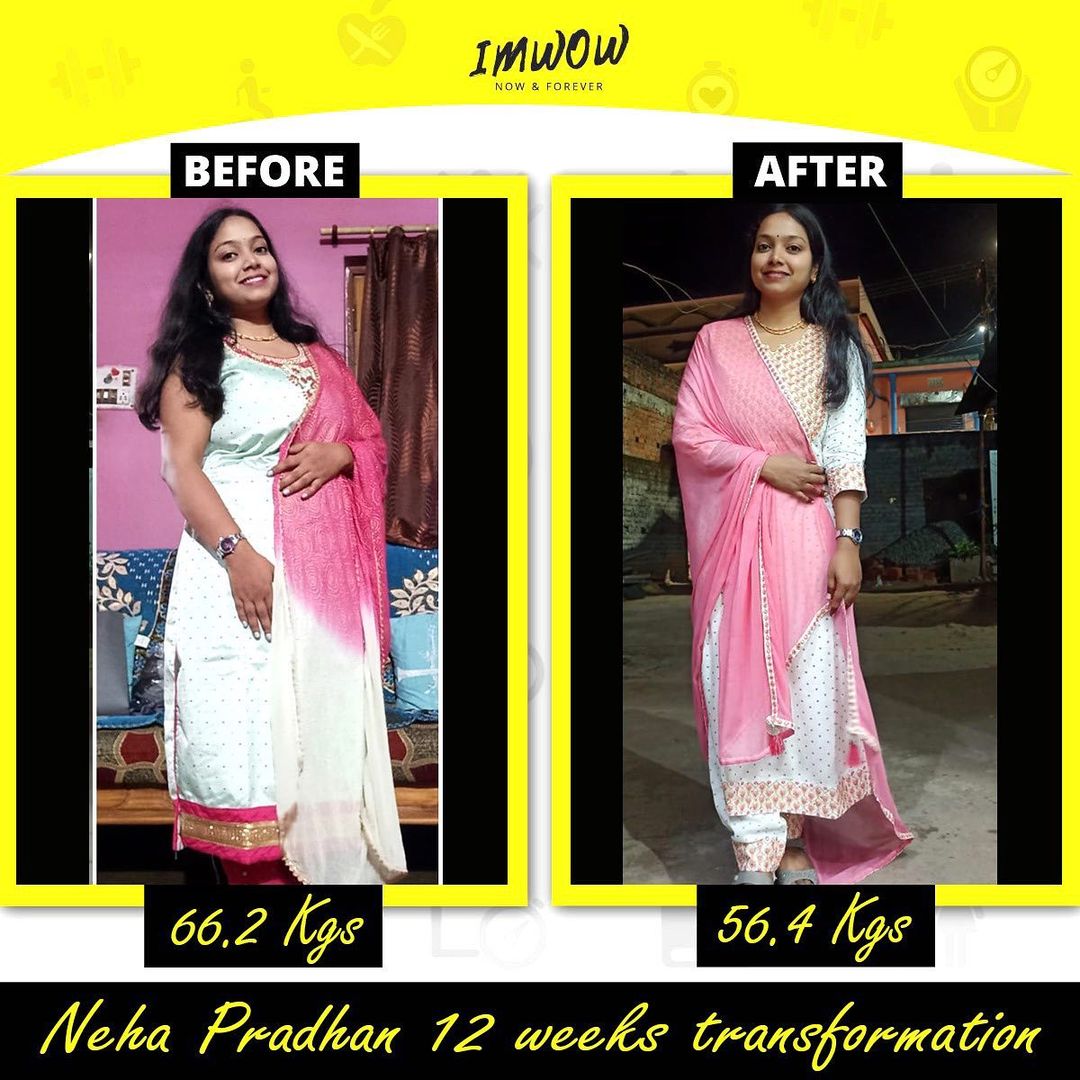 Neha Pradhan
It's been 12 weeks now following your exercise and a healthy diet plan. There's a lot of improvement within myself whether it's my weight, my daily routine, or my habits.? Thank you, Soumya, for being so supportive and the best coach for me.?? Because of I'MWOW, I had a massive and positive improvement within some time only.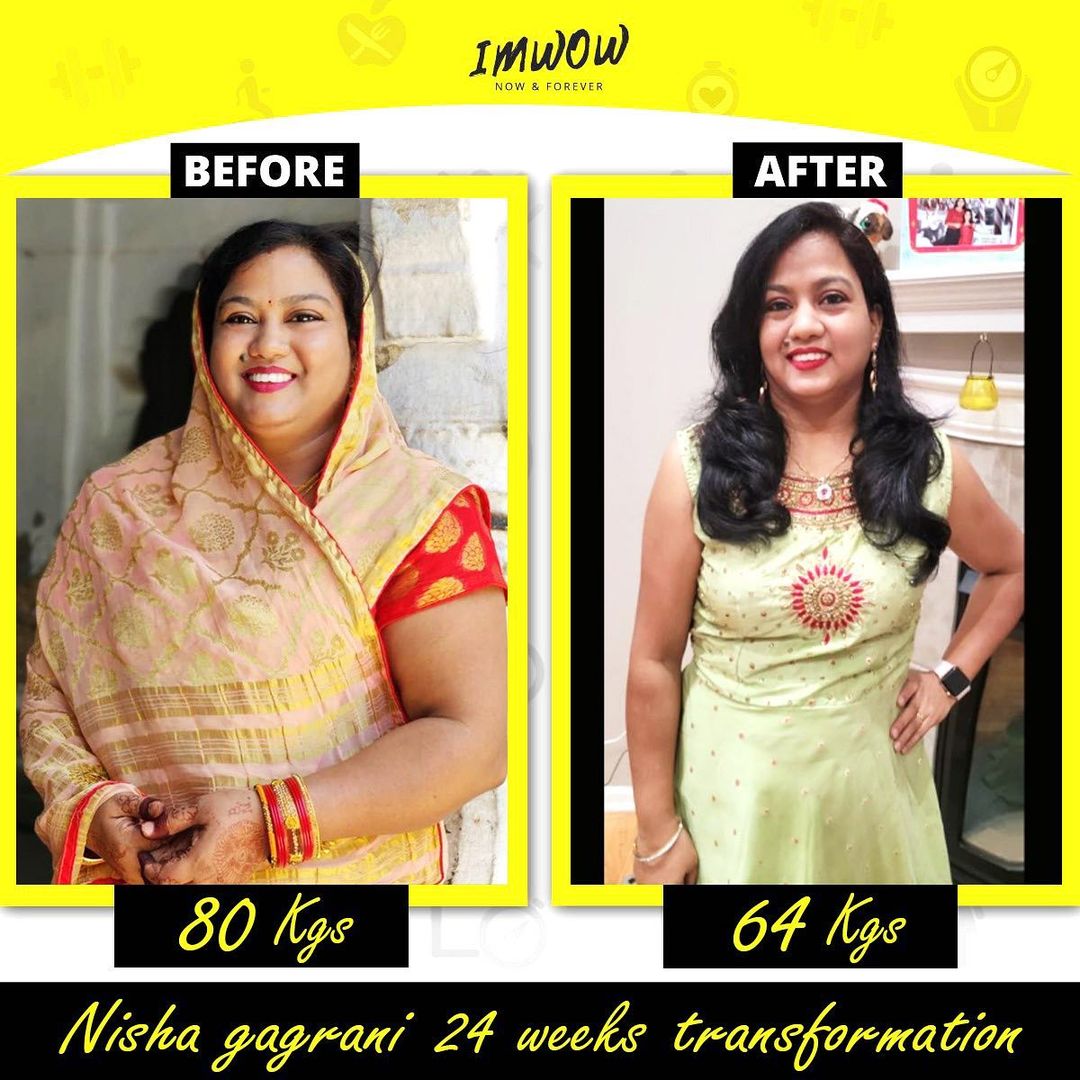 Nisha Gagrani
People ask, there are so many programs available so why do this one? Well, this was the first time I enjoyed being on a diet. I loved the interactive nature of the program by being in touch daily with meal pictures and talking over the phone weekly. Not only that, Richa didn't hesitate to call and talk to me multiple times if I will feel discouraged. She will even call me from her vacation time to encourage me and keep me going. The diet plans were customized to suit my lifestyle, health, weather, and family structure. I was able to enjoy food and go on vacations. I lost 30 lbs in my journey and I am really grateful to you Richa for your support and encouragement. This transformation have not been possible without you. I will maintain this weight with the tips and plans you have provided. Stay in touch.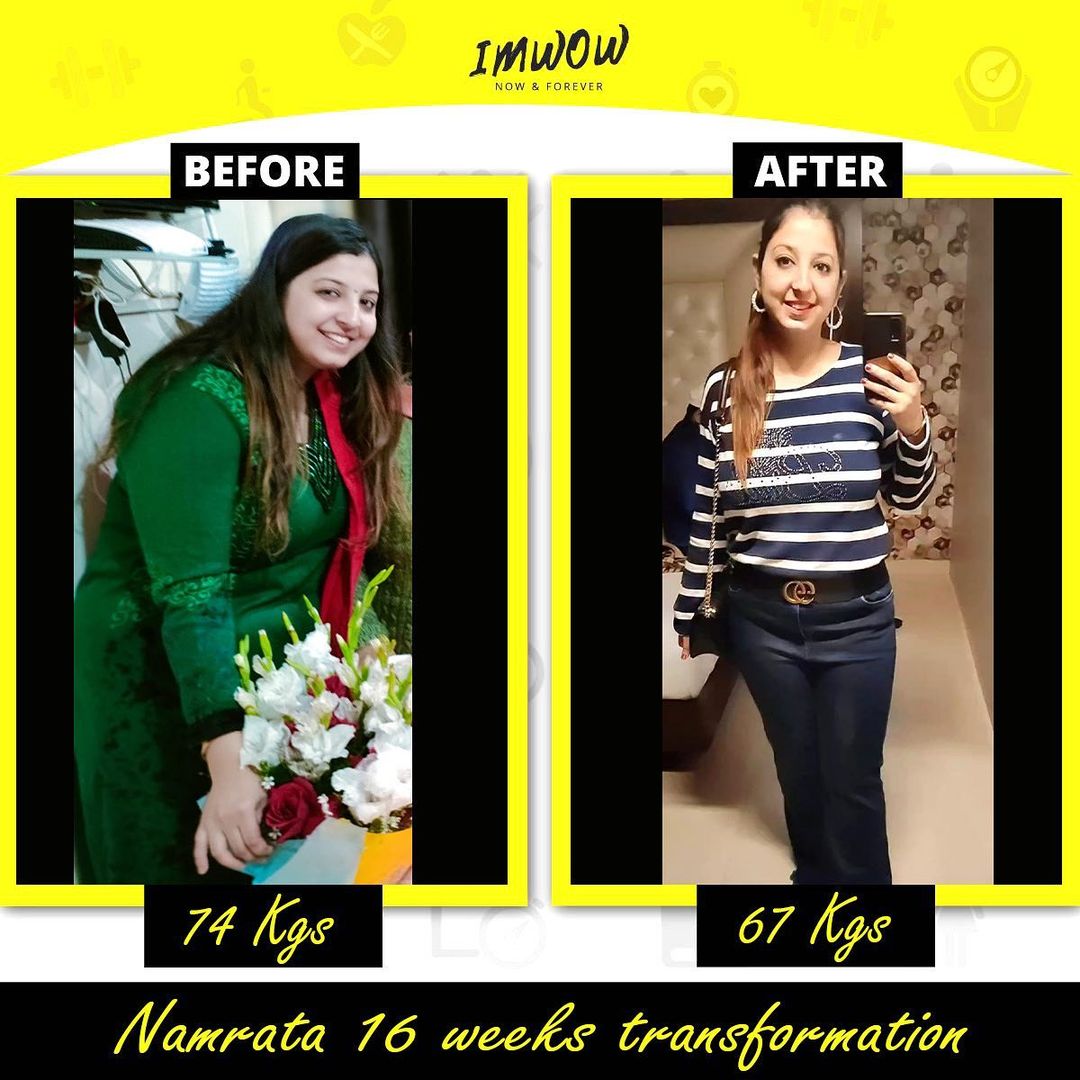 Namrata
Four months back, there was a girl who was struggling with weight loss and finally ended up with the IMWOW transformation program with lots of frustration and hopes that she might change her life. Today after four months, the girl is confident and a delightful soul who is receiving compliments all day because of I"MWOW and Reetal. Dear Reetal, you are like a little angel in my life you have spread your magic wand and gave a new life. Summing up your efforts in just a "Thankyou" is way less. Wanted to congratulate you also as you are doing so well professionally and changing the lives of many people. Thank you for being a precious part of my life. You will always be remembered forever. You are a fantastic coach and an excellent and humble human being who has always been there during my weight loss journey.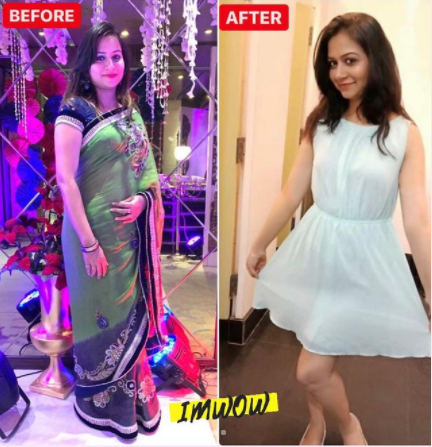 Manisha
I am very glad to be a part Imwow, for me reducing weight was very difficult, but thanks to the Bhumika I am reducing weight, very happy with the process.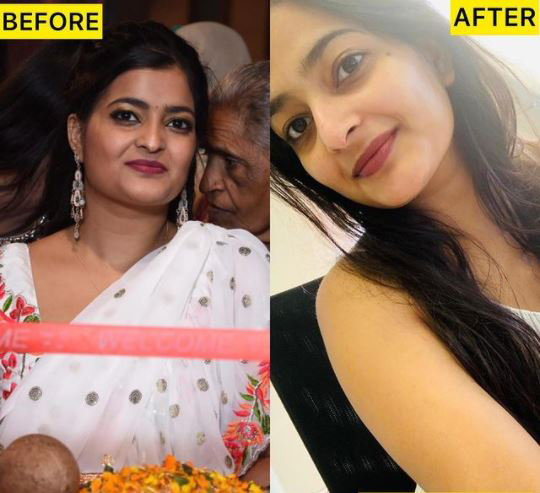 Isha
I got so motivated gunjan , when I saw your videos . I was at 63.7 and now I am 53.9 10kg And big thanks to Chetan for always available and your guidance and taking care of my medical issues as well really as I always say without your help and guidance it was not I am still away from my Goal. Thank you and stay safe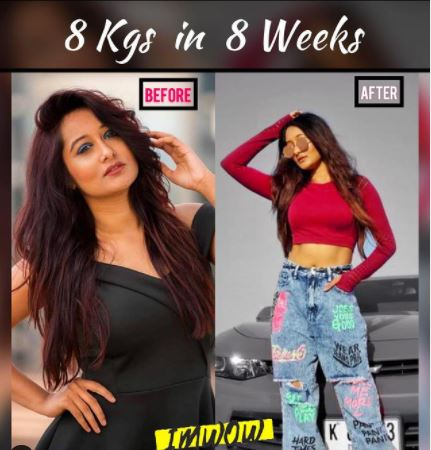 Mariyam
Maybe for the future along with dieticians you can have personal trainers.. who can help with works outs as well. I struggled sometimes to burn the amount of calories per day because I didn't have knowledge about what to do everyday.. Diet wise everything is more than perfect.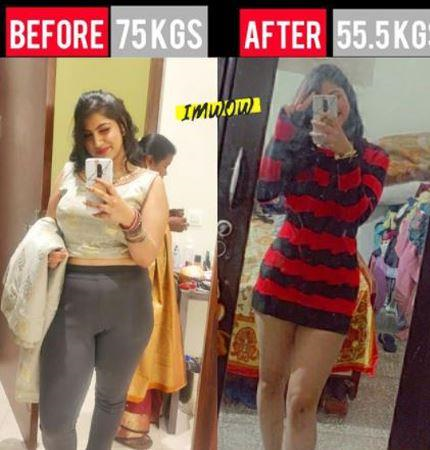 Shehjar
It was great being a part of the program!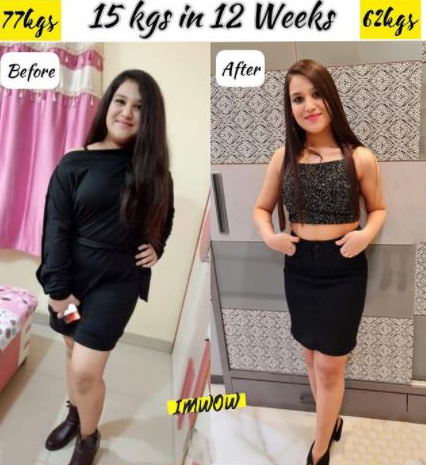 Palak
The journey was awesome i lost 15kg in 12 week which was unbelievable .All thanks goes to you all specially Hetal mam who guide me so well. And i enjoyed the journey. And i clearly see the different in my body as i lost so many inches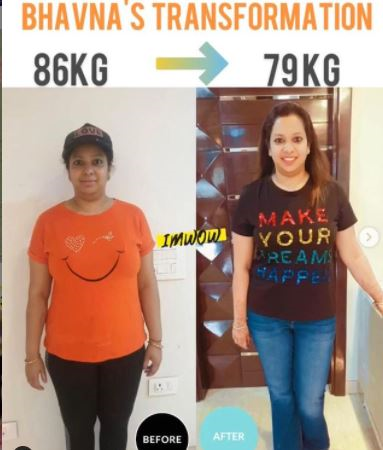 Bhavna
My dietitian guided me at each step and motivate me every time nd under her guidance I got such a good results in just 2 months.....thanks a lot Imwow.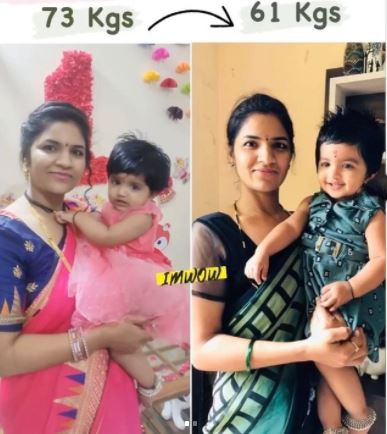 Snehal Mirge
I express my gratitude towards you for all that you did. It was after I came across you, I realized that a proper plan is needed to diet and stay healthy and deal with cravings. Expressing my gratitude towards you for making such a comfortable plan for me.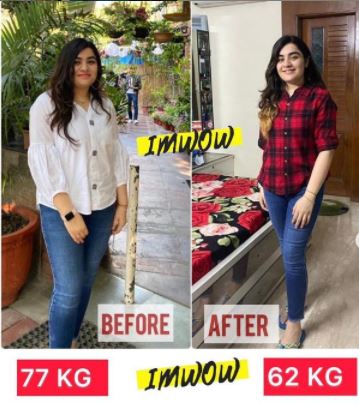 SUBHAGA
My weight today is 62.3 and i cannot even imagine that i have lost 15 kgs in just 4 months. I was struggling even to loose a kg but this transformation program has made my weight loss journey possible. Also i have learned how to take a healthy diet and made some new healthy habits which i wont leave forever. Also this diet has helped me in pcos. So i thank this transformation programme and also gunjan ma'am and hetal ma'am .Thankyou so much for being a constant help in this weight loss journey and making me learn healthy living**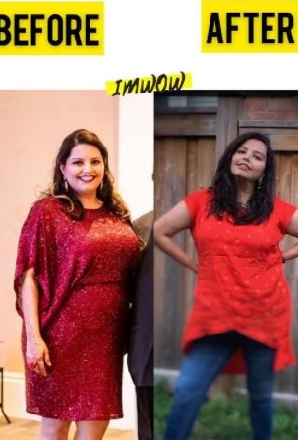 Priyanka Bhatia
Had to make it worth it From Feb to Sep 12 kgs down 15 more to to. 100% diet and dancing till my feet hurt!! Hope this motivates someone to pick up and make this their transformation year. Thanks Hetal Shah for your constant support and feedback! Thanks Gunjan Taneja for promoting this program. Changed my life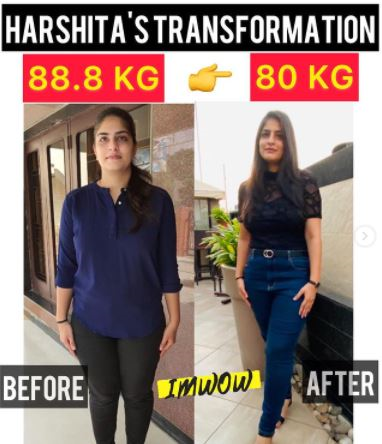 Harshita
My final update is 80kg. From 88.8 kg to 80kg in 12 weeks. I seriously cannot imagine how i did it. I could have done even more if i did not leave my workout in middle of the plan. But now the no. Of compliments i receive has boosted my self confidence so much that i am motivated to continue this lifestyle for long. All thanks to you Bhumika ma'am and Gunjan Ma'am for this program. I never felt i am on diet. Got to eat everything. Also a amazing fact i reduced 3 inches overall. 12 weeks back i took best decision to join imwow community. Keep growing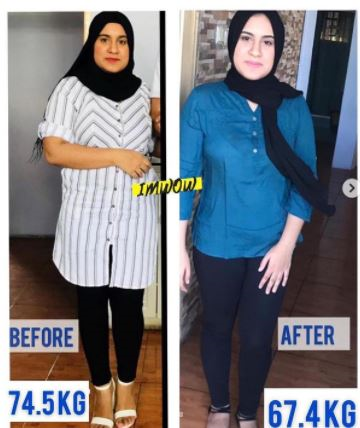 Farzana
Thank you so much this made me more happy and strong physically, my food option are changed and thank you for the amazing diet and workout I will continue to eat healthy and i learnt a lot and start following healthy habits too for my weight at beginning was 74.5 now is 67.4 thank you so much Imwow.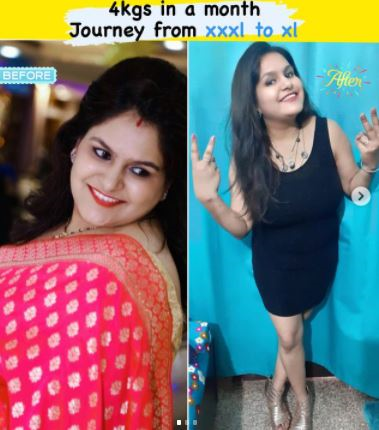 Neha
Thank you so much for all the support & guidance I am really happy i have lost 4 kg weight & some inches in a month my weight was stuck from last 3 months. Before joining you i was not really sure we can loose weight with dal, rice, chapati & sabji but you made easy for me to cook food & follow diet with my kid .And the journey from xxxl to xl was really amazing. Thanks a lot Gunjan and IMWOW.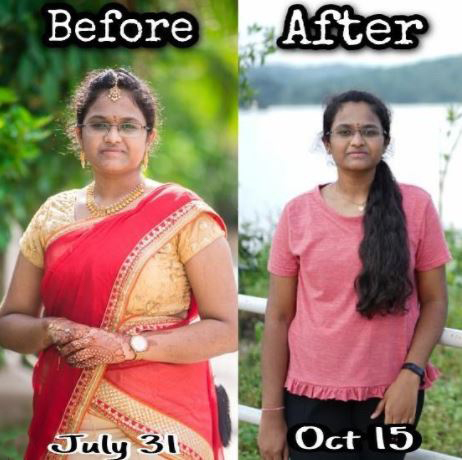 Anusree
"Thankyou soo much Gunjan maam and Reetal maam.. I am soo happy by seeing such a great transformation in me.. i loved the way you care us.. you guide me soo well.. i had never ever expected i will look like the way i look now.. I enjoyed the food you suggested.. and had tasted wide variety of food items.. at present i came to know what keeps my health fit .. There is even a great glow in my face.. At present who ever sees me .. they are saying "Wahh!! You are looking soo pretty.. Great change" and i am soo happy with those words.. Thankyou soo much Maam.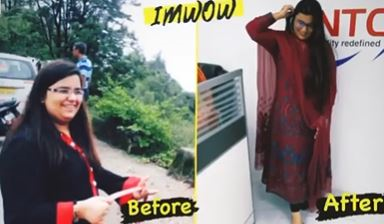 Natasha
I was always called by words Fat ,Moti , weight lose krle achi lagegi,height kam hai aur weight itna Ziyada aage jakr problem hogiii! I was bullied in high school. But sir I am so happy that I got to know abt Gunjan Maam. And finally enrolled for the IMWOW Program. I have lost 7-8 kgs in 3 months and I am very proud of myself. This Diwaliii I got so many compliments which made me more confident and beautiful.I wanna thank chetan sir especially for always guiding me and giving me diet charts according to my preferences. It was an amazing journey Thank you chetan sir and gunjan.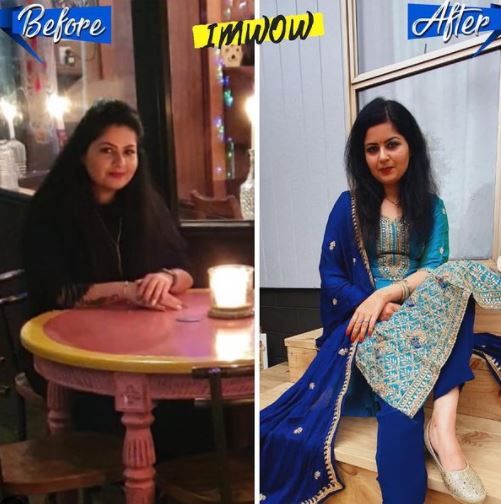 Deepika
I just wanted to express my sincere appreciation for your IMWOW Transformation Program. I have been in good health all of my life, with the exception of having gained about 12-15 excess kgs over the past 3 years and after enrolling in your transformation program I have lost around 10 kgs in just 3 months which is amazing. There are so many time that I have tried and failed continuously to lose weight. But I couldn't do it without a guide. Thanks a ton Bhumika, you were the perfect guide to me who kept me motivated and helped me to think straight forward and not break my diet. I am so obliged to you. Once again thankyou Bhumika and Gunjan for helping me find this wonderful path that has allowed me to take back my health, my energy, my life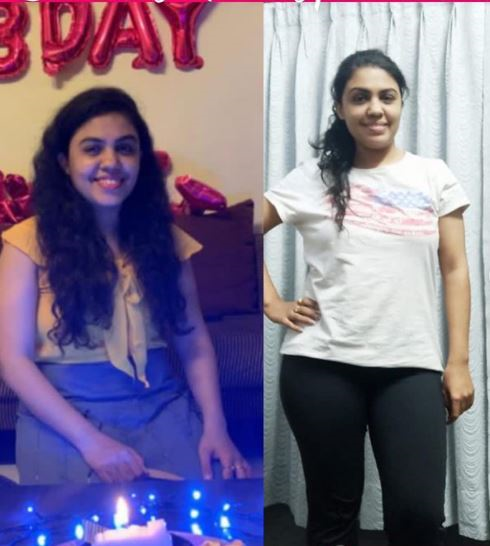 Shruti
Hi Varsha and Gunjan I want to thank both of you from all my heart. I started this journey from 65.5 kg and now I am 59.65 kg. This weight loss journey was not just about weight loss, also its an eye opener for me towards my health, my routine, my eating habits, understanding value of healthy eating. Despite being i never felt diet charts like a diet, everyday there was something new to try and eat, and I would like to follow the healthy routine ever. It feels so good when body feels I have lost 4 inches from my lower body, 4.5 inches from my waist, and I have started fitting into my old dresses, which is really happy thing. Thanks for all the Varsha. I am grateful to both of you Varsha and Gunjan. Learnt a lot during this journey. Thank you so much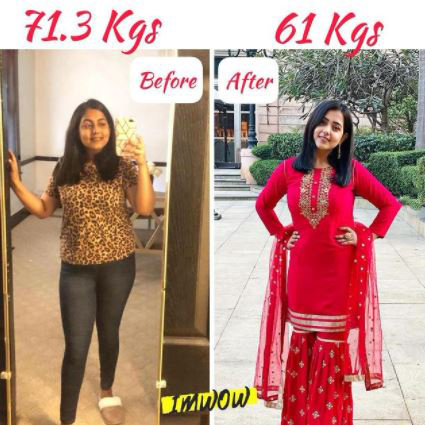 Shruti
Thank you for getting me into a habit of healthy eating and regular exercise.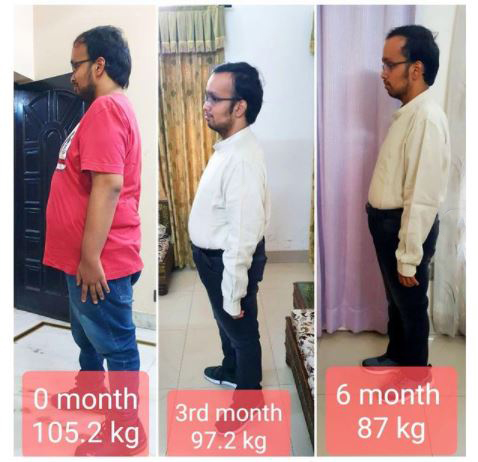 Sachin
Really i never thought that my weight can ever be so less, whose weight was 105 +/- 0.5 kg and this weight was constant from almost 10 years. Even after so many health issues which i faced from march 2019 till march 2020. Due to these problems my weight came to 93 kg And with the recovery i again gained my weight to 105.6 in july 2020 After which i decided to loose weight and enrolled into a weight loss program. After loosing weight i feel more confident and healthy from before. A very very big thanks to all my dietitians.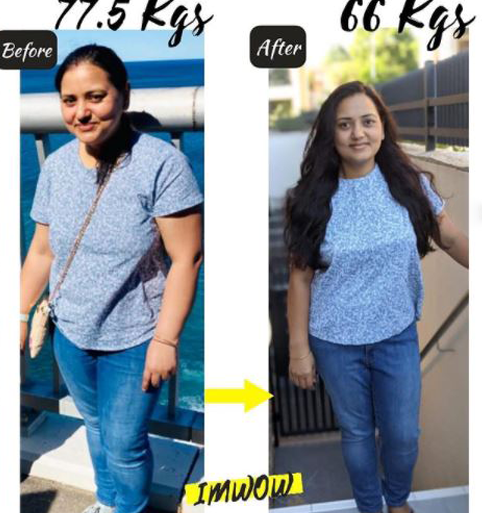 Bobby
I had a lovely experience. If there is a workout coach along with a diet coach it would be awesome as people like me need a coach to get started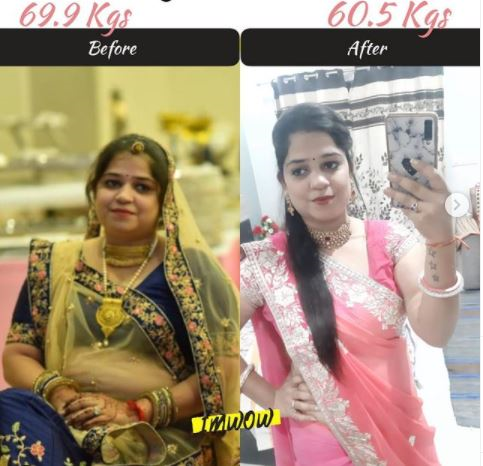 Poonam
I started my journey with 69.9 kgs 2 months ago and today my weight is 60.5 i lost around 10 kgs in these 2 months my weight journey become so smooth because of you helped me every time when i ask something some recipe any thing about my doubts you are all time available for me you are amazing and i have learnt lot of things in this journey like healthy lifestyle healthy booking, importance of workout, importance of water, knowing lots of things. It has given me a way of living which i can continue and the best part is i feel so light so calm and i can wear my favorite clothes without any hesitation about my looks i would like to say thank you for Team IM WOW i am so graceful of you guys u guys are did amazing job and Reetal mam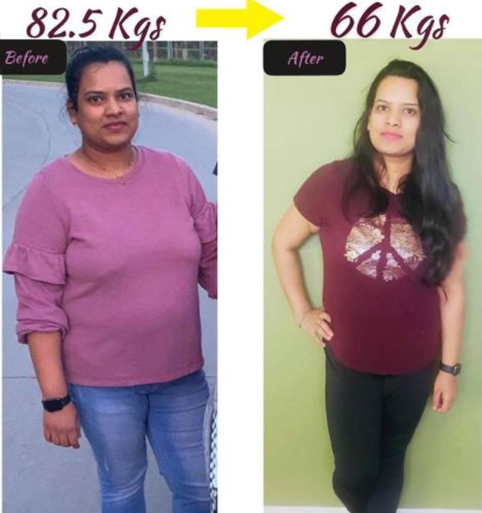 Nisha
Thank you so much Bhumika for the best diet plans one can ever have. You helped me loose more when I got stuck and thought I can not loose more than this. Loosing post pregnancy weight is anyway not easy but your excellent diet plans made this easier. I started my weight loss journey when I was 82.5 kgs and today I am at 66. I don't want to stop here and loose 5-6 kgs more to be fit. Special thanks to Gunjan for initiating this transformation program. I used to watch your videos on YouTube when I kick started this idea of loosing some weight. It feels good when your friends and family appreciate for the efforts and want to know the secret - . Thanks again and keep up the good work. End of my 12 weeks diet plan but not the weight loss journey