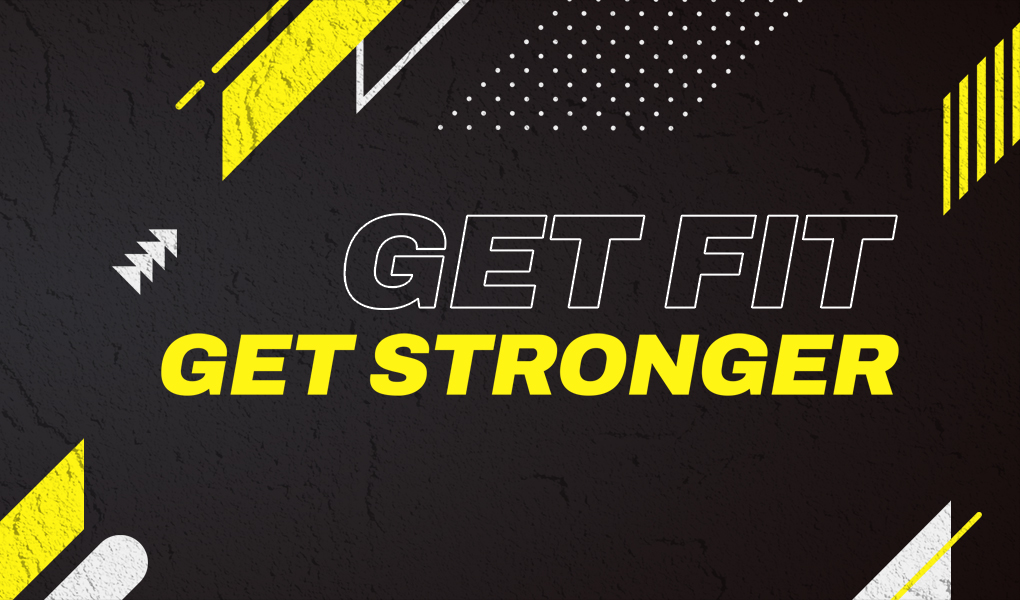 Manpreet
I am really excited to share my journey of 12 weeks. May 31, when it started and I was at 118.6 kgs, I am glad that i met Richa through this plan, who helped me out to get down to 99.0 kgs (today's weight) precovid, I used to be into fitness but during covid I reached to a max of 120 kgs and had lost the motivation. It was completely shattered unless I came to know about you guys and fortunately I got Richa as my mentor. I don't have enough words to express my happiness, today everyone is asking about my drastic change and I am guiding everyone to IMWOW. 2 of my friends have aalready enrolled and started their journey. A big shoutout to Richa, I can't stress enough on the patience and positive vibe which i got from Richa. Your mentorship was amazing for me and my sister both. Both of us want to say a big THANK YOU to you for bringing our confidence back and getting us into the lifestyle back.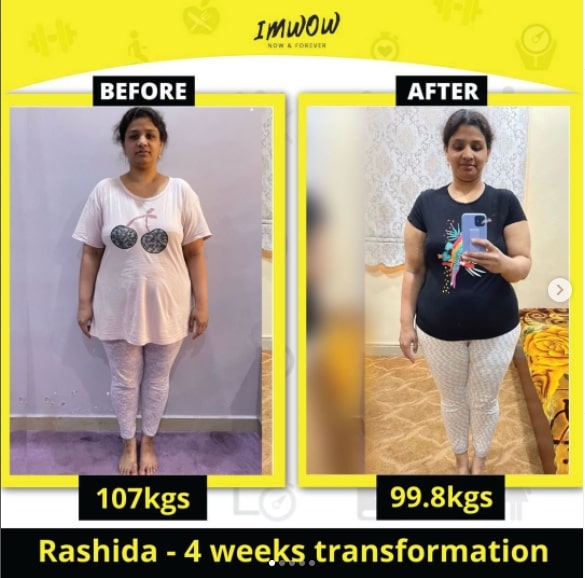 Rashida
I am happy to tell u that today is my last day of 4th weak... and i have started with 107 kgs and now i am 99.8 kgs... so so so happy... thank u so much @Soumya Hajela and team IMWOW. In this weak i am very busy, so workout bhi nahi ho paa raha tha, and ek din to cheat day bhi hoo gaya tha... I think in this weak 1kg vapas up ho jayega... but no, 100.8 se 99.8 kgs, 1kg down... A big thank you to all of you!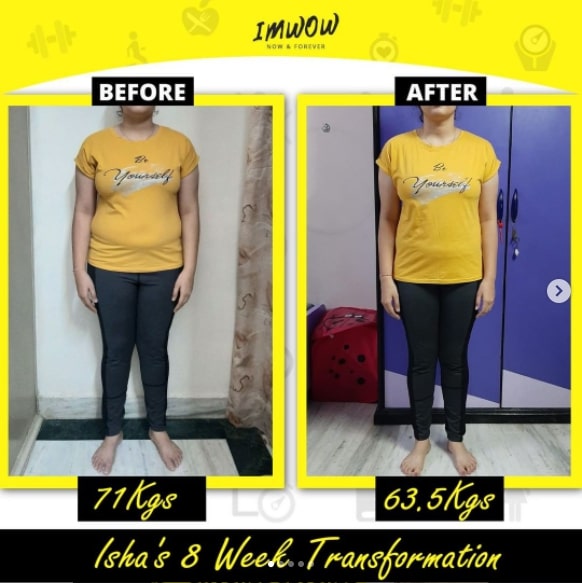 Isha
As i have completed 8 weeks of my weight loss transformation journey I would like to than Aditi for constant support and guidance. Without you it won't be possible to achieve this milestone. I know this is not my goal weight but still feeling so happy to achieve this I know we'll definitely achieve the goal weight in next month (Target for the next 4 weeks is 58-59 kgs). And i know we'll together make it. When I joined this program my weight was around 71 kg and at the end of 8 weks it's 63.5kg, i.e., I lost around 7kgs in just 2 months. I have never thought that only clean eating and workout can help me reduce not only weight but niches too. Loving the healthy but tasty lifestyle... I am feeling so greatfull today. Thank you so much Aditi and the entire team of IMWOW.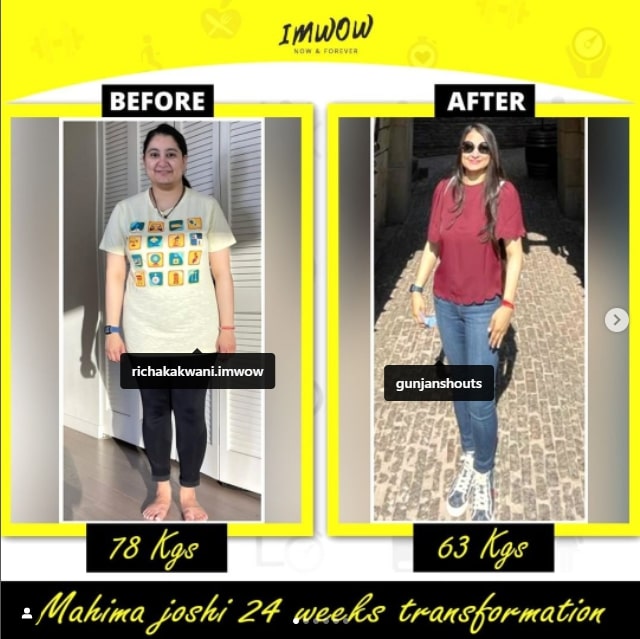 Mahima
A huge thanks to you and the IMWOW team for such an amazing transformation journey. I had tried many methods, gyms and trainers before, but somehow wasn't consistent with any of those. This is the 1st time I enjoyed being on a diet. It was not only a 6 months journey for me, but was a change for life. I loved the interactive nature of the program by being in touch daily through meal pictures, talking weekly over phone. I never thought I would be able to loosen almost 34 pounds keeping my life normal. I was able to enjoy my favorite food, go on vacations, etc. Again, I am very grateful to you for your encouragement and support. This journey and transformation would not have been possible without you Richa."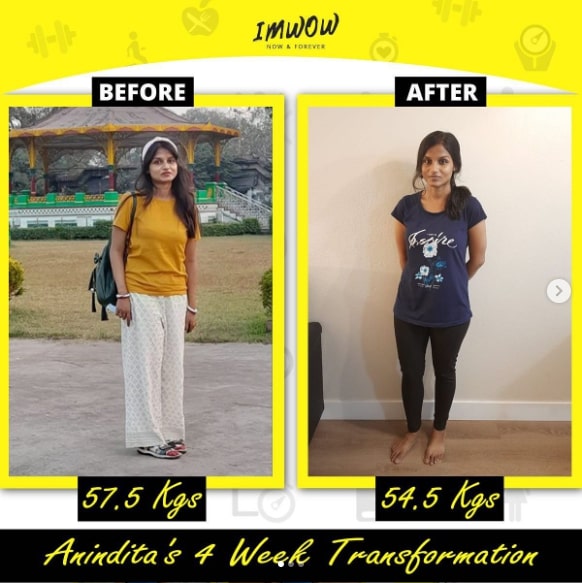 Anindita
Extremely happy that I could achieve the weight goal of 54.5 kg. Enjoyed this journey a lot and built up healthy habits that will always help me to live a fit healthy life and now i don't have to do the decision making of what to make in dinner or lunch, simply follow a week's diet recipies accordingly. Thank you Reevika, thanks to the whole IMWOW team.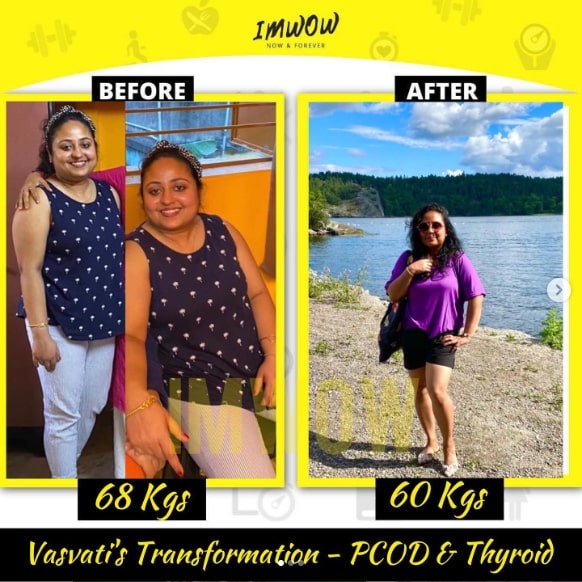 Vasvati
I was extremely motivated and seeing my photos and the food, my friends were also interested to know more. Even one of my close friends has signed up to IMWOW already. I was 68 kgs when started, now I am 60 kgs after 12 weeks. Losing 8 kgs with PCOD and Thyroid is a big deal to me because I also had to deal with so much of mood swings and the cravings ( extra hassle for PCOD). Honestly I fell in trap and had a few cheat meals!. However, i tried to balance that with extra running, but all your efforts seem worthwhile when you can wear all your older clothes and look good and happy! While loosing weight, I have gained so much positivity, inspiration and a few new admirers. To all the girls out there suffering, struggling and failing, please take a deep breath and sign up for IMWOW. They are truly a life changer! Infinite thanks to Richa and the whole team. As I always say each and everything was possible only because I had an amazing mentor Richa! This 12 weeks were not only about diet plan or coaching or exercising, it was a course on how to adapt mindful eating habit and living an ideal life. Love you Richa, wish you a Healthy, Happy and Prosperous Life ahead!